Research Desk
Podcast
#116 How to be Honest with Women and Keep Your Integrity (Even in Open Relationships) with Johnny Soporno
#116 How to be Honest with Women and Keep Your Integrity (Even in Open Relationships) with Johnny Soporno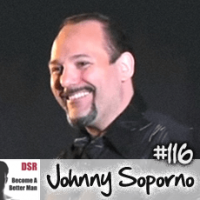 Press Play and Wait up to 10 Seconds for the Interview to Start Playing
Update Required
To play the media you will need to either update your browser to a recent version or update your
Flash plugin
.
The topic today is something that I know is hyper-important. I know in our coaching and interaction with students that this is a key pain point for you guys, for a lot of you. As soon as you've fixed the foundations and you're meeting and dating women, a lot of men in their 20s and 30s, and even older, come up against this problem.
It's how do I maintain my honesty and my integrity, but get what I want and not hurt the girl or woman in front of me, because I don't want to hurt them. So, typically, this is where you don't want to be super-serious in relationships, and you feel that the girl does want to be super-serious. She wants to get into a long-term relationship only, and you don't. Your problem there is how do you maintain that honesty and integrity without hurting her, and that's what we're going to answer today.
Virtually every guy comes up against this and it's a really important thing to fix because it leads to much, greater satisfaction for you. You're going to be much happier. You're going to feel better about yourself. You're going to have higher self-esteem, which will actually lead to better dating qualities. You're going to get better quality women, and so on, a little bit naturally because of that, right. So it's hyper-important.
Today's guest introduces us to his experience and long-term perspective on how he has remained polyamorous - dating multiple women, casually or otherwise - while having multiple relationships without sacrificing his integrity and honesty.
It's a great, in-depth interview, lots of detail in it. So it's a bit longer than usual. So that's great. I enjoyed this chat a lot. The guy we have on today is Johnny Soporno. That's a bit of a take on Johnny Soprano. He took his name because he looks a little bit like Tony Soprano from The Sopranos. So that's James Gandolfini who passed away in June 2013, unfortunately. A lot of you would have watched that show so you'll recognize him when you see the photo of Johnny Soporno who looks quite similar to that.
He has a lot of life experience, this guy, and he's really seen a lot in life. He hasn't held back from exploring everything, and that really comes across in this interview. He's a great person to have as a mentor. He's seen a lot of things. He can walk you through a lot of the problems and things, and challenges he's taken on. So I think that's a good point to make.
Through The Worthy Playboy Institute, which is his organization, he's talking and doing seminars for a very long time also, all over the world actually. He's been to Russia, Eastern Europe, and all sorts of places. He continues to hold these big coaching events in Las Vegas every year, quite intensive events. His tagline is: Enlightening men, emancipating (that's freeing) women. So, very much something he proposes as a win-win solution to men's and women's relations.
He's not trying to get you everything you want and not help the girl out. He believes, fundamentally, that his work is helping both men and women. As you can imagine, he's very passionate about it. He has a lot of conviction about it. He's not conflicted. He really feels that he's putting this information out that we're going to listen to today and it's making everyone's lives better. As you know, that's pretty much what DSR focuses on it too. So it's great to have him on the show.
Most importantly, he has been living and experiencing this lifestyle openly for a very long time. His girlfriend, Violet, is also very open about it. So it's one of the examples where you can actually see honest communication from two people in a relationship who live their life this way. If you google him or you look at the references in the show notes, you're going to see videos of his girlfriend and him talking, and so on. You can actually see and experience what he's talking about.
Don't Miss New Dating Skills Podcast Episodes
Specifically, in this episode you'll learn about:
Johnny's background and social lifestyle (07:05)
Johnny's open relationship, and explanation of the relationship structure (10:05)
Open communication in a polyamorous relationship (16:30)
Breaking down the wall of sexual exclusivity (19:25)
The ability to grow from external relationships: addressing the primary, secondary, and tertiary (28:55)
The unspoken truth that women do not trust each other (35:55)
The mis-programming of women, the reality of knowing the truth as a woman sees it, and applying this perspective to new relationships (42:15)
Is there a trend towards Johnny's philosophy and perspectives on relationships? (52:27)
How men can present themselves honestly to women (55:40)
Approaches to communicating your openness to multiple dating (1:03:45)
Consider what you like in a woman / relationship instead of what you think you want or setting expectations (1:17:55)
Trends and changes over time in the world regarding dating and sex (1:27:25)
How to connect with Johnny to learn more about him and what he does (1:35:05)
Recommendations for high quality advice in dating, sex, and relationships (1:37:22)
Top three recommendations to help men get results as fast as possible in dating, sex, and relationships (1:39:50)
Items Mentioned in this Episode include:
Books, Courses and Training from Johnny Soporno
Comment Rules: You know that James Bond factor? The "cool" factor. That's how we're gonna be - cool. Critical is great, but if you're rude, we'll delete your stuff. Please do not put your URL in the comment text or use your business name as your name, as it looks like spam. Have fun and thanks for adding to the conversation!
Help Us Improve DSR Podcast Interviews for You
DSR Podcast is a weekly podcast where Angel Donovan seeks out and interviews the best experts he can find from bestselling authors, to the most experienced people with extreme dating lifestyles. The interviews were created by Angel Donovan to help you improve yourself as men - by mastering dating, sex and relationships skills and get the dating life you aspire to.
Help us improve the quality of interviews by sending us feedback about what questions you'd like answered or who you'd like to see interviewed.
Contact: [email protected]
"Listen In As We Share The Top Takeaways From The Best Dating Products Ever Created... Shave Years Off Your Learning Curve As You Discover What Really Creates Success With Women"
Here's just a few things we reveal in this info-packed interview:
The surefire products that are proven to work - based on 15+ years coaching men to dating success.
Why we dubbed this one product 'idiot-proof' and how it can transform a woman's reaction to you almost immediately.
Feel anxious about approaching women? Discover how to bypass that and set up a stream of dates with gorgeous women in as little as 20 minutes a week.
Dating Skills Review has been featured or quoted in: