#90 How Women Compete for Men with Maryanne Fisher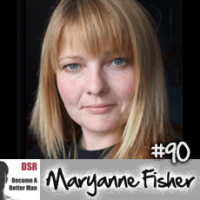 Press Play and Wait up to 10 Seconds for the Interview to Start Playing
Update Required
To play the media you will need to either update your browser to a recent version or update your
Flash plugin
.
We've covered a lot of social intelligence kind of topics in this podcast, and all of that helps you to build social awareness so you can become more in sync with your environment and work with it, rather than against it.
Today we're looking at a topic related to building your social awareness. You've probably come across situations where you're competing with other men for the same girl, and you've noticed that you have to navigate those social situations. What you may not have noticed is that women also compete for men. Better understanding how women compete for men can help you understand the situations around you and how to navigate those as well; because sometimes it may affect you also.
It's just general female psychology today and better understanding women and their dynamics, as well as your social environment. Understanding when women are competing against each other for you, or for other men, also provides you indications of when they are actually interested in you. So it's a good thing to understand from that point of view also.
Today's guest is Maryanne Fisher, PhD. She's the world's top researcher and expert on female intrasexual competition. That's basically how women compete for men. She's published over 60 peer-reviewed journal articles, and is Associate Professor in the Department of Psychology and works for the women and gender studies program in Saint Mary's University in Halifax Canada.
She also covers some other research topics. So we will also explore a few of those, including what determines women's physical attractiveness; what makes them attractive to men.
Don't Miss New Dating Skills Podcast Episodes
Specifically, in this episode you'll learn about:
How Maryanne became involved in studying female intrasexual competition: how women compete for each other for men, or to retain the men they have (02:47)
Synchronizing menstrual cycles when women are around each other (e.g., living together, working together) and its indirect course into social dominance (05:00)
The types of things women compete for: access to good men or retaining the men they have (07:00)
Variations in the definition of a "good man" (09:00)
Research showing that people are more focused on genetics when they are younger (09:28)
Important traits women use to attract the men they want: their competition tools (10:13)
The influencers of competition (e.g. gossip) (13:00)
The correlation between changes in facial expressions and unappealing behavior, and how that diminishes attractiveness (15:23)
The cycles of a woman's competitiveness (16:47)
Comparison of competitive trends based on geographical locations, and your local environment (18:05)
Measures of quality of resources in figuring out the competition and the market (20:10)
Is there increased competition as a result of women (generally) peaking sexually in their thirties? (22:00)
Waist to hip ratio (WHR - compares the size of your waist to your hips) in order to identify the "ideal" measure: the attraction of men towards women based on this measure (body mass, physical attractiveness, and the Marilyn Monroe comparison) (24:20)
Data related to men offering women sex and differences in receptivity (Clark and Hatfield study, see show notes below) (26:40)
What competition among women means for men in terms of how a man approaches a woman he is attracted to (30:45)
Best way to connect with Maryanne and learn more about her work (32:26)
Recommendations for high quality advice (32:45)
Research regarding women and sexual responses, in terms of their physiology, and the book by Daniel Bergner - What Do Women Want: Adventures in the Science of Female Desire (see show notes below) (33:11)
Do women more frequently steal men from other women than men steal women from other men? (35:27)
Top three recommendations for men starting to date and improving how they interact with women, and the results they achieve (37:55)
Items Mentioned in this Episode include:
Comment Rules: You know that James Bond factor? The "cool" factor. That's how we're gonna be - cool. Critical is great, but if you're rude, we'll delete your stuff. Please do not put your URL in the comment text or use your business name as your name, as it looks like spam. Have fun and thanks for adding to the conversation!
Help Us Improve DSR Podcast Interviews for You
DSR Podcast is a weekly podcast where Angel Donovan seeks out and interviews the best experts he can find from bestselling authors, to the most experienced people with extreme dating lifestyles. The interviews were created by Angel Donovan to help you improve yourself as men - by mastering dating, sex and relationships skills and get the dating life you aspire to.
Help us improve the quality of interviews by sending us feedback about what questions you'd like answered or who you'd like to see interviewed.
Contact: [email protected]
"Listen In As We Share The Top Takeaways From The Best Dating Products Ever Created... Shave Years Off Your Learning Curve As You Discover What Really Creates Success With Women"
Here's just a few things we reveal in this info-packed interview:
The surefire products that are proven to work - based on 15+ years coaching men to dating success.
Why we dubbed this one product 'idiot-proof' and how it can transform a woman's reaction to you almost immediately.
Feel anxious about approaching women? Discover how to bypass that and set up a stream of dates with gorgeous women in as little as 20 minutes a week.
Dating Skills Review has been featured or quoted in: