Research Desk
Podcast
Ep. #56 What Affairs Tell You About You and Your Relationships with Jayson Gaddis
Ep. #56 What Affairs Tell You About You and Your Relationships with Jayson Gaddis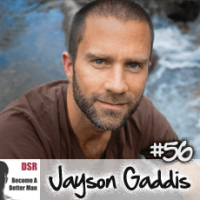 Press Play and Wait up to 10 Seconds for the Interview to Start Playing
Update Required
To play the media you will need to either update your browser to a recent version or update your
Flash plugin
.
Why is AshleyMadison.com, an affairs dating site, so popular? Approximately, 160 million people visit the site every year, and it currently holds about 13 million accounts. The website is for people who are in committed monogamous relationships to discretely cheat, or have an affair. So, it is a question of authenticity and honesty. We're not talking about polygamy, open relationships, or casual dating where your partner or the other person typically knows that it is not a monogamous situation.
This is particularly relevant to men because most studies show that men tend to have more affairs than women. Besides this point, if you are interested in any type of monogamous relationship, then this is something that you should be aware of because it is so prevalent today. At some time in your life, it is probably going to affect you whether it is the girl having the affair or whether it's you that gets tempted and involved in an affair.
Today's guest is Jayson Gaddis. He is a certified psychotherapist, counselor, and relationship specialist working with men. He has also founded and led a number of men's groups over the years for self-development, growth, and other purposes.
I came across him through some really interesting writing of his on the root cause of affairs and their impact on us. I found the interview very thought provoking and I hope you do to.
Don't Miss New Dating Skills Podcast Episodes
Specifically, in this episode you'll learn about:
Jayson's background: family life and relationships
What is an affair? (04:35)
Emotional affairs versus sexual affairs (09:46)
Rationalizing and justifying an affair (12:50)
Polyamory (13:58)
Patterns of partners getting together that have similar issues surrounding affairs (15:57)
Tackling the issue of a possible affair in a healthy way (17:07)
Changing from a doormat in a relationship to recognizing what you are doing wrong in order to make it better (20:08)
How to pick up on the possibilities of an affair? Unconscious selection (22:55)
Moving from feeling to growth by addressing your own issues and focusing on what you really want (26:19)
Is there any clear, determining factor that separates having affairs and cheating with open relationships? (29:10)
Men as relationship commitment-phobics (31:00)
Mutual growth perspective in a relationship (34:56)
The development of relationship tools (37:01)
Knowing what you want in the short-term as well as the long-term in a relationship (40:20)
Relationships and sexual maturity (41:12)
Top 3 recommendations for guys new to all of this and want to get their dating and relationship life in gear and have a great lifestyle (43:50)
Items Mentioned in this Episode include:
Comment Rules: You know that James Bond factor? The "cool" factor. That's how we're gonna be - cool. Critical is great, but if you're rude, we'll delete your stuff. Please do not put your URL in the comment text or use your business name as your name, as it looks like spam. Have fun and thanks for adding to the conversation!
Help Us Improve DSR Podcast Interviews for You
DSR Podcast is a weekly podcast where Angel Donovan seeks out and interviews the best experts he can find from bestselling authors, to the most experienced people with extreme dating lifestyles. The interviews were created by Angel Donovan to help you improve yourself as men - by mastering dating, sex and relationships skills and get the dating life you aspire to.
Help us improve the quality of interviews by sending us feedback about what questions you'd like answered or who you'd like to see interviewed.
Contact: [email protected]
"Listen In As We Share The Top Takeaways From The Best Dating Products Ever Created... Shave Years Off Your Learning Curve As You Discover What Really Creates Success With Women"
Here's just a few things we reveal in this info-packed interview:
The surefire products that are proven to work - based on 15+ years coaching men to dating success.
Why we dubbed this one product 'idiot-proof' and how it can transform a woman's reaction to you almost immediately.
Feel anxious about approaching women? Discover how to bypass that and set up a stream of dates with gorgeous women in as little as 20 minutes a week.
Dating Skills Review has been featured or quoted in: