#102 Complete Honesty in Relationships with Brad Blanton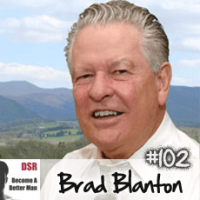 Press Play and Wait up to 10 Seconds for the Interview to Start Playing
Update Required
To play the media you will need to either update your browser to a recent version or update your
Flash plugin
.
Today's topic is honesty and relationships. We're going to be looking at the reality of our relationships. How honest are we really being in them? How honest are we being with the women we date, or we marry? It has to be said that, normally, there's a hell of a lot of white lies in relationships.
In this episode we're going to look at the typical situations where we lie - whether it's a girl we just met, a girlfriend, a wife, someone we're married to - and we're going to go over some useful approaches to be more honest in these situations. More importantly, we're going to look at the benefits of being honest in our relationships, because I imagine not all of you think it's beneficial to be honest all of the time.
Today's guest has got some very strong viewpoints on this and he's very well known for "radical honesty". So we're going to dig deep into why you would want to be more honest in your relationships, and with the people you meet.
Brad Blanton, PhD, is a psychologist, a therapist, and a seminar leader. He's the author of Radical Honesty: How to Transform Your Life by Telling the Truth, which was a nation-wide best seller in 1996. It's been translated into seven languages and is one of the top selling books on psychology on amazon.com today.
Radical honesty eliminates lying to others and it eliminates self deception; so lying to yourself from your life. That's the whole purpose of it. And this is something that you'll see Brad clearly demonstrates in this interview. So I think that's something really valuable in this interview because he really demonstrates what he preaches. We talk about some of his personal life, his own relationships, and other areas, his ideas, and so on. You'll see that he's very direct, open, and honest about that.
So you can learn both from the advice in this interview, but also the example of that advice in the way he's approaching the whole interview.
Brad has been married five times and has carried out nude workshops. He teaches nude and people who are going to these seminars are also nude for one of the days there, and he's done a lot of other interesting things, as we'll see in the interview.
Don't Miss New Dating Skills Podcast Episodes
Specifically, in this episode you'll learn about:
Getting to know Brad's dating, sex, relationship, and lifestyle background (04:22)
Different concepts of lying Brad has observed (12:43)
The most common objectives people create against this approach (15:53)
How long Brad has been practicing: radical honesty workshops, clinical psychologist (18:50)
The moment Brad decided to apply radical honesty to his life (19:12)
Non-violent versus violent communication: the difference between violence and communication (20:09)
What usually happens during the process of the radical honest approach? (21:16)
A deeper relationship love due to open, honest communication (23:20)
Self-development and building confidence from this process (27:25)
The reactions experienced when starting the radical honesty approach (30:44)
There are no rules to honest communication (34:46)
People who are unable to deal with such direct communication (37:13)
The concept of "sticking with them" within conflicting communication (38:22)
Naturally talking about your honest experiences with others and embracing a life of honesty (40:40)
The downsides of not using the radical honesty approach (42:48)
Approaches to focusing on the pain in order to create change within yourself and take action (44:58)
Taking a calmer approach to life: methods, approaches, and noticing you and the world around you (46:50)
The honesty of owning up to your deceit in a relationship (49:00)
The best ways to connect with Brad to learn more about him and his work (52:59)
Recommendations for advice in this area and improving relationships (54:40)
Top recommendations for guys starting out from scratch to improve their relationships (56:02)
Give some love to
Brad on Twitter
to thank him for the advice in this interview.
Click Here
to let him know you enjoyed the show!
Items Mentioned in this Episode include:
Books, Courses and Training from Brad Blanton
Comment Rules: You know that James Bond factor? The "cool" factor. That's how we're gonna be - cool. Critical is great, but if you're rude, we'll delete your stuff. Please do not put your URL in the comment text or use your business name as your name, as it looks like spam. Have fun and thanks for adding to the conversation!
Help Us Improve DSR Podcast Interviews for You
DSR Podcast is a weekly podcast where Angel Donovan seeks out and interviews the best experts he can find from bestselling authors, to the most experienced people with extreme dating lifestyles. The interviews were created by Angel Donovan to help you improve yourself as men - by mastering dating, sex and relationships skills and get the dating life you aspire to.
Help us improve the quality of interviews by sending us feedback about what questions you'd like answered or who you'd like to see interviewed.
Contact: [email protected]
"Listen In As We Share The Top Takeaways From The Best Dating Products Ever Created... Shave Years Off Your Learning Curve As You Discover What Really Creates Success With Women"
Here's just a few things we reveal in this info-packed interview:
The surefire products that are proven to work - based on 15+ years coaching men to dating success.
Why we dubbed this one product 'idiot-proof' and how it can transform a woman's reaction to you almost immediately.
Feel anxious about approaching women? Discover how to bypass that and set up a stream of dates with gorgeous women in as little as 20 minutes a week.
Dating Skills Review has been featured or quoted in: