#123 What Sexually Arouses Women with Cindy M. Meston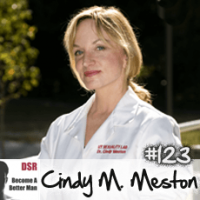 Press Play and Wait up to 10 Seconds for the Interview to Start Playing
Update Required
To play the media you will need to either update your browser to a recent version or update your
Flash plugin
.
Today we're taking another look at women's sexuality, and their behaviors, from a scientific research-driven perspective. In today's episode we look at myths and new truths discovered about when and how women become aroused, and the interplay between their physiology and their psychology, and how this affects their true behavior, their sexual behaviors.
We're going to be looking at topics such as the physiological differences between women. All women are not the same. Their hormones are different. Their neurotransmitters are different, and this all affects their sexual behaviors. They have different sexual behaviors.
The drugs, the exercise, and the other aspects of lifestyle that can increase or decrease a woman's propensity to become aroused and how they affect the extent of that arousal. So, high arousal equals orgasms, basically, to give you a bit of background to that and why that's important; and the reality of how common sexual abuses for women in childhood and teenage years - and I was kind of shocked about this - and how that affects their sexuality in adulthood; and what men who sleep with or have relationships with these women should consider and probably not consider, and many, many more topics.
This episode is really a broad look at the scientific research about what sexually arouses women.
Today's guest is Cindy Meston, PhD. She's a professor at the University of Texas and Director of the Sexual Psychophysiology Laboratory there. She has published over 100 peer-reviewed articles and book chapters on women's sexuality. She's given over 200 professional presentations on human sexuality.
She is the coauthor with David M. Buss, a very recent previous guest, of a book I recommend also "Why Women Have Sex: Understanding Sexual Motivations from Adventure to Revenge", and everything in between. So they co-wrote that book together. She's also the author of "Women's Sexual Function and Dysfunction: Study, Diagnosis and Treatment".
Finally, she's a recipient of two international research awards, the Social Science Research Council, Ford Foundation, the NY Sexuality Research Fellowship, and the Athena Institute for Women's Wellness Inc. research award. So, she's very well qualified to talk about this subject.
Don't Miss New Dating Skills Podcast Episodes
Specifically, in this episode you'll learn about:
How Cindy developed an interest in the various topics covering human sexuality (05:10)
The affects of testosterone on women's sexual physiology and behavior (07:27)
Behavioral changes based on different levels of hormones in women (e.g. testosterone, oxytocin) (14:00)
The differences in sexual arousal response between men and women (15:30)
How nicotine affects sexual arousal and contributes to erectile dysfunction (18:35)
Understanding erectile dysfunction (21:34)
Regarding women, how the physiological sexual arousal aspects relate to psychology (e.g. how they think, how they behave, etc.) (23:37)
Cindy's overview of women's sexual behavior (25:12)
Questions that could get answered within the next 5-10 years about women's sexuality (27:16)
The ability of Ginkgo biloba to increase blood flow throughout the body, and the possibility of increasing blood flow to the genitals (30:31)
The positive affect of exercise on your sex life and the impact on sexual arousal (33:36)
The background and commonality of sexual abuse, and its relation to women's sexual behavior in adulthood (37:04)
Healthy and beneficial approaches towards sex and/or relationships men can take with women who have suffered sexual abuse (43:14)
How to connect with Cindy to learn about more about her and her work (51:33)
Recommendations for quality advice, research, and knowledge in dating, sex, and relationships (52:17)
Recommendations for guys to improve their dating life as fast as possible (53:21)
Items Mentioned in this Episode include:
Books, Courses and Training from Cindy Meston
Comment Rules: You know that James Bond factor? The "cool" factor. That's how we're gonna be - cool. Critical is great, but if you're rude, we'll delete your stuff. Please do not put your URL in the comment text or use your business name as your name, as it looks like spam. Have fun and thanks for adding to the conversation!
Help Us Improve DSR Podcast Interviews for You
DSR Podcast is a weekly podcast where Angel Donovan seeks out and interviews the best experts he can find from bestselling authors, to the most experienced people with extreme dating lifestyles. The interviews were created by Angel Donovan to help you improve yourself as men - by mastering dating, sex and relationships skills and get the dating life you aspire to.
Help us improve the quality of interviews by sending us feedback about what questions you'd like answered or who you'd like to see interviewed.
Contact: [email protected]
"Listen In As We Share The Top Takeaways From The Best Dating Products Ever Created... Shave Years Off Your Learning Curve As You Discover What Really Creates Success With Women"
Here's just a few things we reveal in this info-packed interview:
The surefire products that are proven to work - based on 15+ years coaching men to dating success.
Why we dubbed this one product 'idiot-proof' and how it can transform a woman's reaction to you almost immediately.
Feel anxious about approaching women? Discover how to bypass that and set up a stream of dates with gorgeous women in as little as 20 minutes a week.
Dating Skills Review has been featured or quoted in: