Ep. #70 Masculinity in a Modern World with Jack Donovan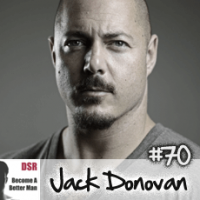 Press Play and Wait up to 10 Seconds for the Interview to Start Playing
Update Required
To play the media you will need to either update your browser to a recent version or update your
Flash plugin
.
What is masculinity today? What is being a man and how does this impact your life, your dating, sex, and relationships?
We hear that women like masculine men, but this is rarely described in any practical or actionable detail. And really most of what we hear is what the media likes to think or portray about masculinity. Mostly the look, and mostly, if we think about it - driven by the blockbuster movies and modern heroes portrayed in them - we by default take the ideas from movie screenwriters and from stories, rather than finding any true practical philosophy or rules of what defines masculinity; and what real impact having or not having it has on our lives, and on our results with women.
I think the topic of masculinity is confused today. And it relates to what we call inner game and confidence here at Dating Skills Review. It's an essential part of our self-esteem and who we become. It defines how we relate and interact with women.
Today's guest is Jack Donovan. He is the author of the book "The Way of Men" published in 2012 which contains very different views from the mainstream. Jack is a very direct and authentic guy, with strong and original opinions. While I may not agree with everything in his mindsets and ideas, he does have a lot of very valuable insights into how to be a man today, how that relates to our past, and how we can use this to make better decisions in our life; and to improve our relationships with both men and women.
His book "The Way of Men" is a great read, and recommended - check out my review of it for my complete thoughts - and while I'd put it down as more of an advanced read on the subject, it's definitely something you should read at some point.
Now for a quick and big announcement:
If you've been listening to the show for a while, you know my team and I have been working on something new for a long time. It started with an idea 5 years ago, and we got down to actually start building it around a year ago. We call it The Academy, or Dating Skills Academy. Well, it's finally done. We're taking in 50 people on the program on October 4th - around 1 week after this episode goes live. In a few words, it's my best attempt to bring two things I saw as lacking to you:
Personal 1-on-1 mentoring and support that isn't so expensive that it's beyond everyone's reach.
The complete stack of knowledge I've accumulated on how to get good at this, really fast. How people learn is what I've seen makes all the difference in getting the dating, sex, and relationships lifestyle you want. So I basically built a system that forces you to learn fast, and get results fast.
That's all I'm going to say about it. If you're interested, you need to sign up with your email to the Dating Skills Academy newsletter. I don't like sending people information they don't want, so that's the only way to find out more and get access to the program when it launches. You can sign up by clicking here.
Don't Miss New Dating Skills Podcast Episodes
Specifically, in this episode you'll learn about:
Jack's views of the state of masculinity today (05:28)
The need for masculinity and the negative impacts of not being masculine (06:35)
Some of the biggest things confusing our masculinity today (10:07)
Men have to develop their individual purpose as well as dealing within groups of men to define their masculinity (14:46)
Modern masculinity as being able to see the value in different approaches and skillsets as apposed to diminishing other groups because they are different (22:10)
Useful things / values to have as a basis for developing tribes and relational groups (27:25)
Challenging yourself for masculinity growth (29:57)
Evolutionary psychology and how it fits with Jack's views of masculinity (33:18)
The creative arts as useful aspects of masculinity (35:16)
Modern day examples of masculinity in the creative artists (37:31)
What is currently having a negative impact on masculinity? (39:53)
Defining masculinity through strength, courage, mastery, and honor (43:35)
Is there a biological aspect (e.g. testosterone) in modern day society that is undermining masculinity? (47:54)
Jack's strongest character attribute (49:54)
Overview of different movements such as the feminism and the manisphere (51:15)
Top three recommendations to help men become more masculine or bring more masculinity into their life (53:43)
Male bounding within the pickup artist community (56:42)
Give some love to
Jack on Twitter
to thank him for the advice in this interview.
Click Here
to let him know you enjoyed the show!
Items Mentioned in this Episode include:
Books, Courses and Training from Jack Donovan
Comment Rules: You know that James Bond factor? The "cool" factor. That's how we're gonna be - cool. Critical is great, but if you're rude, we'll delete your stuff. Please do not put your URL in the comment text or use your business name as your name, as it looks like spam. Have fun and thanks for adding to the conversation!
Help Us Improve DSR Podcast Interviews for You
DSR Podcast is a weekly podcast where Angel Donovan seeks out and interviews the best experts he can find from bestselling authors, to the most experienced people with extreme dating lifestyles. The interviews were created by Angel Donovan to help you improve yourself as men - by mastering dating, sex and relationships skills and get the dating life you aspire to.
Help us improve the quality of interviews by sending us feedback about what questions you'd like answered or who you'd like to see interviewed.
Contact: [email protected]
"Listen In As We Share The Top Takeaways From The Best Dating Products Ever Created... Shave Years Off Your Learning Curve As You Discover What Really Creates Success With Women"
Here's just a few things we reveal in this info-packed interview:
The surefire products that are proven to work - based on 15+ years coaching men to dating success.
Why we dubbed this one product 'idiot-proof' and how it can transform a woman's reaction to you almost immediately.
Feel anxious about approaching women? Discover how to bypass that and set up a stream of dates with gorgeous women in as little as 20 minutes a week.
Dating Skills Review has been featured or quoted in: