Research Desk
Podcast
Ep. #45 Bangkok Dating: Where to Meet Women, What to Avoid and Other Inside Tips
Ep. #45 Bangkok Dating: Where to Meet Women, What to Avoid and Other Inside Tips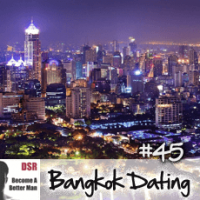 Press Play and Wait up to 10 Seconds for the Interview to Start Playing
Update Required
To play the media you will need to either update your browser to a recent version or update your
Flash plugin
.
Time for something different. In this week's episode we're getting really practical. We're talking,
on the ground
, practical.
On today's show you'll meet a highly experienced Wolf Pack from Bangkok, Thailand to give you advice and tips on everything about meeting, dating and relationships with Thai and foreign women in Bangkok.
If you've ever travelled to a city for a break or moved cities - or are thinking about moving, you'll know how useful some on the ground tips could be to getting your dating lifestyle up and running from the moment you land.
This is a monster episode at nearly 3 hours long. Even if you're not going to Bangkok anytime soon, I'd still recommend you listen to this episode from mid-way onwards because of the many different facets of screening girls and relationship dynamics we discuss.
The Bangkok Wolfpack has 16 years of experience of on the ground Bangkok dating experience. It includes, Jackson Hunter (one of our most experienced editors), Charlie (over 10 years experience in Bangkok alone...), and of course myself, Angel Donovan, with my own 5 something-years in Thailand and 10 years in Asia.
Have been planning this episode for a while - hope you enjoy it and it inspires you to visit Bangkok. It's an exceptional city, a lot of fun and home of some great quality women!
Don't Miss New Dating Skills Podcast Episodes
Specifically, in this episode you'll learn about:
A snapshot of Jackson Hunter's and Charlie's dating lives in Bangkok, Thailand.
The best clubs and bars to meet women and what you can expect from each of the different 'nightlife scenes' (Sukhumvit Soi 11, Ratchada, RCA, Thonglor/ Ekkamai and Khao San.
After hours bars and clubs, their connection with the Bangkok underworld and the later at night - higher the working girl ratio.
Meeting foreign women in Bangkok and Thailand.
Relationships with Thai women - the good, the bad and what to expect.
Thai and buddhist culture: some things to avoid with girls and Thais in general.
How to recognize and screen for hookers (working girls) in bars, clubs and elsewhere.
Camouflaged ex-bar girls, how to recognize them, how they fund their lifestyle and a typical girlfriend story that many men fall for.
The ladyboy (transvestite), gay (Toms, Ladies etc.) culture in Bangkok and Thailand.
How to recognize a ladyboy in a bar or elsewhere and the places you typically meet them.
Yearly events not to miss including Loi Krathong (alternative valentines day) and Loi Krathong.
Safety: The specific dangers of STDs, the police, drugs and scams in Thailand you may encounter.
Other Thailand islands and cities: Full moon party on Ko Pha Ngan, scandinavian girls on Koh Phi Phi, Phuket and Pattaya.
Get Any of Your Questions Answered on Bangkok and Thailand
Through till Monday 11th November the guests from today's podcast will be answering any of your questions in the
comments
.
Take advantage of their 16 years of experience to find out all you can about dating and relationships in Bangkok and Thailand.
Items Mentioned in this Episode include:
Podcast gift: A 1 page PDF I put together with some data on quality of life and online dating in Thailand (click to download the PDF). If you see any other interesting data to add to this, let me know.
The clubs and bars mentioned:
Places for meeting women during the day: Paragon shopping mall, Emporium shopping mall, Central World shopping mall, Terminal 21 shopping mall and MBK (lower end).
Largest online dating sites in Thailand: I did some analysis in 2012 on the sites with the most women members in Thailand (get the data/ analysis in this PDF). The dating sites we mentioned in the podcast were Thai Love Links (now ThaiCupid) (#1 in number of women, over 78% market share of women using Thai dating sites), Thai Friendly (newer site and largest free dating site, Charlie used a lot a couple of years ago) and Adult Friend Finder/ Asia Friend Finder and Plenty of Fish (Jackson mentioned he's been using these).
Gogo bars scene: Patpong (tourists mostly, watch out for tourist scams like the ping pong shows), Soi Cowboy (Sukhumvit Soi 21) and Soi Nana (Sukhumvit Soi 4).
Other places in Thailand: Full moon party on Ko Pha Ngan, partying and scandinavian girls on Koh Phi Phi, Phuket and Pattaya.
People mentioned: Beckster.
Comment Rules: You know that James Bond factor? The "cool" factor. That's how we're gonna be - cool. Critical is great, but if you're rude, we'll delete your stuff. Please do not put your URL in the comment text or use your business name as your name, as it looks like spam. Have fun and thanks for adding to the conversation!
Help Us Improve DSR Podcast Interviews for You
DSR Podcast is a weekly podcast where Angel Donovan seeks out and interviews the best experts he can find from bestselling authors, to the most experienced people with extreme dating lifestyles. The interviews were created by Angel Donovan to help you improve yourself as men - by mastering dating, sex and relationships skills and get the dating life you aspire to.
Help us improve the quality of interviews by sending us feedback about what questions you'd like answered or who you'd like to see interviewed.
Contact: [email protected]
"Listen In As We Share The Top Takeaways From The Best Dating Products Ever Created... Shave Years Off Your Learning Curve As You Discover What Really Creates Success With Women"
Here's just a few things we reveal in this info-packed interview:
The surefire products that are proven to work - based on 15+ years coaching men to dating success.
Why we dubbed this one product 'idiot-proof' and how it can transform a woman's reaction to you almost immediately.
Feel anxious about approaching women? Discover how to bypass that and set up a stream of dates with gorgeous women in as little as 20 minutes a week.
Dating Skills Review has been featured or quoted in: