Ep. #60 Why Nice Guys Are Actually Nasty Guys with Dr. Robert Glover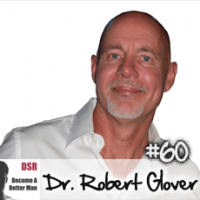 Press Play and Wait up to 10 Seconds for the Interview to Start Playing
Update Required
To play the media you will need to either update your browser to a recent version or update your
Flash plugin
.
I'm sure by now you have heard that girls don't like nice guys. You probably have heard it's a lot to do with attraction. It's become a real kind of cliché. Movies, magazines, and TV - they push all sorts of distorted and bastardized ideas around it. It's what I'd call a big information mess.
So all of this attention on this idea has not really helped many men or women understand it. It's poorly explained, if at all when it is discussed. And depending on who is talking about it, they push a different idea of what it actually means.
As a consequence, most people don't have a very clear idea of what it means, and its usefulness as a concept gets lost. Worse, it becomes detrimental with you trying to avoid being nice at all, and that can really start screwing with the good and positive parts of your personality; and your confidence, self-esteem, and inner game can really suffer to.
So today is clean up and clarify what a nice guy really is, and importantly, investigate why the nice guy, in fact, is not really nice at all. He's pretty nasty underneath. Once you understand this, any confusion about whether you are being too nice to women will be cleared up. More importantly, you will be able to look at yourself and see if you have any of those nasty nice guy qualities that need some attention and work.
The guest today is Dr. Robert Glover. He's the man that originally popularized the idea of the nice guy back in the year 2001. The New York Times has called Robert a psychology guru. He is the author of the best selling book No More Mr. Nice Guy, which was published back in 2003. He is a certified marriage and family therapist of 30 years experience and has been working on helping men specifically with the nice guy dilemma for over a decade. He also has a lot of his own personal life experience to share, having been married twice.
Don't Miss New Dating Skills Podcast Episodes
Specifically, in this episode you'll learn about:
Robert's background (04:05)
Becoming a better 'picker' and 'ender' in dating (05:52)
Robert's past dating experiences and becoming aware of his own dating approach (09:30)
What has become more important in life in terms of dating and relationships (13:37)
Being a nice guy: how it is shaped by your past (18:46)
Explanation of the nice guy syndrome (20:25)
Unconscious behavior of being a nice guy (24:44)
Is there a question you can ask yourself regarding nice guy behavior patterns (26:04)
Nice guy character traits are actually negative, even nasty (27:55)
Compartmentalizing your desires and interests to validate your actions (29:10)
Breaking away from the nice guy syndrome by finding safe people you can reveal yourself to (30:50)
When nice guys are manipulative and dishonest (34:10)
Understanding passive aggressive behavior (35:27)
The Victim Puke: Elliot Rodger, repressed anger, and mental illness (40:05)
Are pickup artists fueling the negative side of nice guy syndrome? (48:50)
Actionable steps to take to start stepping out of the nice guy syndrome (54:12)
The process of consciousness: becoming an accurate and non-judgmental observer of yourself (58:42)
Robert's best experience with a woman (1:02:53)
Recommendation for high quality advice for life, dating, sex, and relationships (1:06:03)
Top three recommendations to help men get better results with women as fast as possible (1:07:26)
Current and upcoming projects (1:08:15)
Items Mentioned in this Episode include:
Books, Courses and Training from Robert A. Glover
Comment Rules: You know that James Bond factor? The "cool" factor. That's how we're gonna be - cool. Critical is great, but if you're rude, we'll delete your stuff. Please do not put your URL in the comment text or use your business name as your name, as it looks like spam. Have fun and thanks for adding to the conversation!
Help Us Improve DSR Podcast Interviews for You
DSR Podcast is a weekly podcast where Angel Donovan seeks out and interviews the best experts he can find from bestselling authors, to the most experienced people with extreme dating lifestyles. The interviews were created by Angel Donovan to help you improve yourself as men - by mastering dating, sex and relationships skills and get the dating life you aspire to.
Help us improve the quality of interviews by sending us feedback about what questions you'd like answered or who you'd like to see interviewed.
Contact: [email protected]
"Listen In As We Share The Top Takeaways From The Best Dating Products Ever Created... Shave Years Off Your Learning Curve As You Discover What Really Creates Success With Women"
Here's just a few things we reveal in this info-packed interview:
The surefire products that are proven to work - based on 15+ years coaching men to dating success.
Why we dubbed this one product 'idiot-proof' and how it can transform a woman's reaction to you almost immediately.
Feel anxious about approaching women? Discover how to bypass that and set up a stream of dates with gorgeous women in as little as 20 minutes a week.
Dating Skills Review has been featured or quoted in: