Hypnotica (Eric Von Sydow)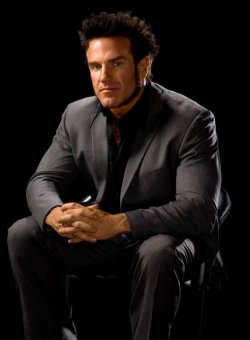 Eric Von Sydow (well-known as Hypnotica) is a pioneering dating and relationship coach, mind and social scientist, author, and hypnotist.
He teaches men, and advises high profile coaches, how to develop confidence with women. He also earned a reputation as the 'Inner Game Guru', having originally mentored people in the PUA community on confidence and inner game in partnership with his friend Steve Piccus.
An authority on the psychology of male-female interaction, Eric was featured in "The Game" by Neil Strauss as one of the coaches (alias Rasputin) who helped him to improve his Inner Game.
Eric's strategies and techniques are considered innovative, multi-faceted, and challenging; while dedicating himself to the expansion of the human experience.
Wiki Contents
Personal Data
Commercial Alias Name:
Hypnotica (also Rasputin)
Real Name: Eric Von Sydow
Nationality: American
Date of Birth: January 26, 1972 (Age 51)
Height: 6"0
Profession(s):
Hypnotist
Spirituality Teacher
NLP Coach
Affiliated Dating Companies: Hypnotica Inc.
Web Presences
Twitter

profile: @Hypnotica144
Facebook profile: Hypnotica144
Trademark Advice
Inner Game and confidence
NLP and hypnotism
Multiple relationships and open relationships
Strip clubs and strippers
Hypnotica Quotes
"Men, prequalify your women for what you want and stick to your guns."
"Love is the final frontier, the be-all and end all. You can go on finding new sexual experiences but there is nothing more fulfilling than finding that deep human connection of love."
"You're losing the game if your confidence is not bulletproof."
Biography
Personal Life
In his early years, Eric grew up in Mexico and the U.S. due to his father's work.
From his early 20s, Eric's life treaded on the extreme side. He was immediately attracted to drugs, including weed and various psychedelics. This remained an important influence in his life, as often a 'trip' with a new drug marked a new realization in his life and the start of a new journey or a big change.
In need of money, and through a friend, Eric ended up taking a job as a stripper in a gay strip club. Although his stage introduction into stripping was short-lived, Eric familiarized himself with the business and shortly afterwards became the bodyguard for a group of strippers who worked at events.
He escorted the strippers to various events where they were scheduled to perform, including bachelor parties and large-scale events. During this time while traveling to events, he learned a lot about women as the strippers confided in him and talked endlessly about guys and their boyfriends.
During this time (his 20s), he had a number of sexual adventures in general, but no long-term relationships.
Eric eventually began taking a keen interest in NLP (Neurolinguistic programming) and studied everything he could get his hands on. This also became a big influence in his life, as he was driven with a mission to discover more about himself and expand his awareness. During this period, he met Steve Piccus in a book store while attempting to buy the same book on NLP. They quickly became friends as a result of their mutual, keen interest in NLP and open-minded view towards sexuality and life.
Eric's next career move led him to becoming a bouncer at bars, clubs, and eventually a strip club. He started dating and having sex with many women, as well as dedicating himself to learning the in and outs of the bars, clubs, and women.
His reconnection with the stripper world lured Eric deeper into stripping, again, but this time as a male stripper for bachelorette parties. He began seriously expanding his comfort zone as he describes the frenzy women would put themselves in during these parties, and where he'd often end up with one of them.
Eric's life brought him to the next stage of self discovery when he decided to become homeless, letting go of his possessions, experimenting with Mescaline, and staying for a duration at a yoga and meditation retreat. It was a time of deep reflection and less sexual adventures.
Eric reached a point where he wanted to return to life, feeling he had accomplished his internal goals. He ended up returning to bouncing at a strip club. However, this time, he would come to eventually manage and run the club himself. This increasingly expanded his sexuality as he became accustomed to closely working with and managing strippers on a daily basis.
Eric has kept a foot in the strip club industry over the years, continuing to manage and promote clubs.
In 2007, Eric's dating advice career began to grow due to further involvement in the seduction community; developing a reputation, and conducting seminars to help men build their confidence with women.
Dating Advice Career
Hypnotica was one of the earliest members of the seduction community, and indeed was one of the first people
Neil Strauss
came across on his own journey.
In "The Game" Neil Strauss describes how Rasputin (the alias Neil gave Eric in the book) helped him fix his inner game and enabled him to become confident.
Between 2000 and 2005, Hypnotica and Steve Piccus made friends with several of the seduction community's first coaches including Ross Jeffries, David DeAngelo, and Mystery.
This led them to being invited to seminars at David DeAngelo's events and at Project Hollywood where Mystery and Neil Strauss held Mystery Method seminars. These events introduced them and their inner game focus to the community and expanded their reputation. Although, at this time, neither Hypnotica nor Steve Piccus focused on this area of their lives and remained mostly on the sidelines working on their own NLP, hypnosis, tantric sex, and other life projects.
In 2007, they became more involved in the seduction community through various partnerships with other coaches. Hypnotica worked with Mehow in infield bar game videos. He also partnered with internet marketer Steve Hitchens to run the company "Strategic Dating Coach". Some of Hypnotica's first video and audio products are still sold through Strategic Dating Coach.
From 2011, Hypnotica began to create his own products and develop his own personal coaching services and courses focused on mastering and improving inner game and confidence. He became known as the "Inner Game Guru" within the seduction community.
Currently, via his website, Hypnotica welcomes men to his Vault of Confidence to teach them how to:
Walk up to a woman
Get her phone number
Eliminate the "I can't" in your head
Compel a woman who sees you as a friend to make moves on you
Insider video of how develop rock solid confidence
He also offers personalized coaching, collaborating with you in designing an action plan to elevate your confidence and social life to the next level.
Hypnotica (Eric Von Sydow)'s Credentials & Experience
Eric married Sarah in 2012. They have an open relationship.
Notable Media Appearances
Eric has appeared in the media, including: The New York Times, USA Today, The Wall Street Journal, Cosmopolitan, Reuters, The San Diego Reader, Playboy Radio, The Sun, as well as MSNBC, CBS, and the Daily News.
Books, Courses and Coaching & Hypnotica (Eric Von Sydow) Reviews
Help Us to Improve this Profile
The information in this coach profile and wiki is verified by Dating Skills Review's Editors to be as objective, complete and close to the truth as possible. It was created by Angel Donovan.
Help us improve this profile of Hypnotica (Eric Von Sydow) by sending us any information you believe to be missing, wrong or lacking detail or good quality images we don't have. Please state sources where possible to make our job easier to verify the correctness of the information.
Contact: [email protected]
"Listen In As We Share The Top Takeaways From The Best Dating Products Ever Created... Shave Years Off Your Learning Curve As You Discover What Really Creates Success With Women"
Here's just a few things we reveal in this info-packed interview:
The surefire products that are proven to work - based on 15+ years coaching men to dating success.
Why we dubbed this one product 'idiot-proof' and how it can transform a woman's reaction to you almost immediately.
Feel anxious about approaching women? Discover how to bypass that and set up a stream of dates with gorgeous women in as little as 20 minutes a week.
Dating Skills Review has been featured or quoted in: