#121 When Men Misinterpret Why Women Have Sex with David M. Buss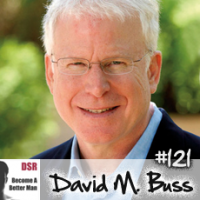 Press Play and Wait up to 10 Seconds for the Interview to Start Playing
Update Required
To play the media you will need to either update your browser to a recent version or update your
Flash plugin
.
We are going to be looking at some of the biggest misunderstandings men have about women when it comes to two areas:
1) Why women have sex / when and why they desire sex?
2) When women are interested in sex or not / when they're interested in you or not.
We're looking at this subject from a scientific research perspective today with one of the most recognized scientist working in this area. This is an interview I've been wanting to do for quite a while now, so I'm really happy to have this guest on today's show.
Today's guest is Professor David M. Buss. He's one of the founders of the field of Evolutionary Psychology. He has authored or co-authored over 250 studies in the area. David has taught at Berkeley, Harvard University, the University of Michigan, and the University of Texas. His primary research focus is on strategies of human mating, including studies on mate selection, tactics of male attraction, infidelity, tactics of mate retention (e.g. keeping the girl), tactics of mate poaching (e.g. stealing the girl), and the mating emotions of jealousy, lust, and love.
He's also the author of several well-known books looking at the mating dynamics. All of these books are a really thorough look at the subject, so a good place to start also. I've read all of them, in some cases many years ago. These books are: Why Women Have Sex: Understanding Sexual Motivations from Adventure to Revenge (and Everything in Between), another one is The Evolution of Desire: Strategies of Human Mating, and another one is The Dangerous Passion: Why Jealousy is Necessary in Love and Sex.
There are some great "ah ha" moments from this interview and takeaways that will probably make you rethink some of your past experiences with women, and see them in a new light, a clearer light. One of my takeaways was that men may need to pay a lot more attention to remaining objective about things when they're around beautiful women.
Don't Miss New Dating Skills Podcast Episodes
Specifically, in this episode you'll learn about:
How David became interested in this topic and area (04:25)
David's current view of the whole area of mating, sexual strategies, etc. Is the view from a combination of the evolutionary / psychology aspect or is there a different view considering all of David's work? (07:15)
An explanation of EPC - Extra Pair Copulation (12:00)
David's current relationship and social lifestyle, and his personal perspective (12:55)
Common misunderstandings about Evolutionary Psychology and how it applies to sex and mating strategies in the media, publications, etc. (14:05)
A trend in low testosterone and the modification of testosterone levels in men to improve their libido and psychology (18:25)
The most uncomfortable research conclusions David has come across (20:00)
Long term mating relationships versus short term mating relationships (23:38)
The most common or biggest misperceptions of sexual interest (e.g. when women are showing interest, or not, in men): sexual overperception bias (25:08)
Underlying sexual motivations of women (30:10)
Is diversity and the sexual motivations of women driven by psychological differences, biological differences, situational differences, or social economics? (36:54)
The variability of a woman's sexual motivations from day to day (41:14)
Sexual exploitability cues regarding short term and long term mating (45:38)
How men misinterpret signals from women that lead to misunderstanding (51:09)
How to connect with David to learn about more about him and his work (55:14)
Recommendations for quality advice and knowledge in dating, sex, and relationships (56:30)
Recommendations for guys wanting to improve this aspect of their lives - quality satisfaction (57:56)
Items Mentioned in this Episode include:
Books, Courses and Training from David M. Buss
Comment Rules: You know that James Bond factor? The "cool" factor. That's how we're gonna be - cool. Critical is great, but if you're rude, we'll delete your stuff. Please do not put your URL in the comment text or use your business name as your name, as it looks like spam. Have fun and thanks for adding to the conversation!
Help Us Improve DSR Podcast Interviews for You
DSR Podcast is a weekly podcast where Angel Donovan seeks out and interviews the best experts he can find from bestselling authors, to the most experienced people with extreme dating lifestyles. The interviews were created by Angel Donovan to help you improve yourself as men - by mastering dating, sex and relationships skills and get the dating life you aspire to.
Help us improve the quality of interviews by sending us feedback about what questions you'd like answered or who you'd like to see interviewed.
Contact: [email protected]
"Listen In As We Share The Top Takeaways From The Best Dating Products Ever Created... Shave Years Off Your Learning Curve As You Discover What Really Creates Success With Women"
Here's just a few things we reveal in this info-packed interview:
The surefire products that are proven to work - based on 15+ years coaching men to dating success.
Why we dubbed this one product 'idiot-proof' and how it can transform a woman's reaction to you almost immediately.
Feel anxious about approaching women? Discover how to bypass that and set up a stream of dates with gorgeous women in as little as 20 minutes a week.
Dating Skills Review has been featured or quoted in: