#88 Top Strategies to Navigate the Sexual Marketplace with Susan Walsh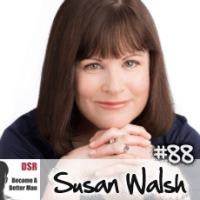 Press Play and Wait up to 10 Seconds for the Interview to Start Playing
Update Required
To play the media you will need to either update your browser to a recent version or update your
Flash plugin
.
We're taking a different perspective on the whole dating, sex, and relationships marketplace. 'Marketplace' is the right word. We're talking about sexual marketplace supply and demand, and looking from a research perspective - economics and evolutionary psychology, and these types of research - on how to approach dating, sex, and relationships in a strategic manner to get the most out of it; based on our resources, based on our qualities, and based on our strengths and weaknesses; and what the supply and demand looks like there.
It's a smarter way of approaching the whole thing. We're going to be talking about hooking up, which is the difference between starting a relationship and then having sex (which is kind of the old way), and it's pretty much de facto standard today where people are hooking up first - so you hook up, you have sex, or you start sexual relationships before you get into a relationship. In a general manner, that's pretty much the de facto standard of what people do today.
We're focusing a bit more on hooking up, and also on college and university. So, if you're right now at college or university and you want to know how that works and how to approach it the best way, this is going to be a great episode for that. Also, if you didn't do so well in college or university, you may learn why and it may be pretty interesting for you from that perspective.
Today's guest is Susan Walsh. She's an ex strategy consultant and a Wharton MBA. If you don't know, Wharton is one of the best business schools in the world. Susan left that life in 2008 when she started a blog on dating, sex, and relationships, which has, over time, built up a very active community.
What I like about this is that she's very focused on the strategy perspective, which is different, and also has a lot of people who are very active on her blog. So she's really kind of in touch with demand (what people actually want, what their top concerns are on the problems they have). She's got perspective on that, which she's going to bringing to this episode, which is really useful.
You can learn more about: what are the top concerns of women and other guys your age, for example. To give you an idea of what her blog is about, one of the first post she ever wrote was titled: Sex is Strategic. So Should You Be.
Don't Miss New Dating Skills Podcast Episodes
Specifically, in this episode you'll learn about:
Susan's background and how she started her blog (03:17)
Top concerns from men and women related to hooking up, including its definition (09:45)
Why men in college worry about being a virgin and the pressure to sleep with women, including societal pressures and changes that affect their sexual behavior (19:15)
Top concerns for women in college when it comes to having sex, and what they are being told by men to get them to hook up (22:50)
The dominant concept: the principle of least interest (whoever cares less has the most power) (28:00)
The pressure to consume alcohol in order to be comfortable in sexually social environments (31:38)
Important strategic decisions men currently make about their sex life and the impact, especially for men in college (32:54)
The Red Pill (referring to the movie: The Matrix) and understanding the "true nature" of women (35:50)
Strategic decisions women are making about sex, and maybe getting wrong (40:00)
Win-win situations in college for men and women to meet and approach each other: focusing on the similarities (44:29)
The best way to contact Susan and learn more about her work (50:24)
History of the principle of least interest (whoever cares less has the most power) (51:52)
Recommendations for high quality advice in the area of dating, sex, and relationships (54:10)
Items Mentioned in this Episode include:
Comment Rules: You know that James Bond factor? The "cool" factor. That's how we're gonna be - cool. Critical is great, but if you're rude, we'll delete your stuff. Please do not put your URL in the comment text or use your business name as your name, as it looks like spam. Have fun and thanks for adding to the conversation!
Help Us Improve DSR Podcast Interviews for You
DSR Podcast is a weekly podcast where Angel Donovan seeks out and interviews the best experts he can find from bestselling authors, to the most experienced people with extreme dating lifestyles. The interviews were created by Angel Donovan to help you improve yourself as men - by mastering dating, sex and relationships skills and get the dating life you aspire to.
Help us improve the quality of interviews by sending us feedback about what questions you'd like answered or who you'd like to see interviewed.
Contact: [email protected]
"Listen In As We Share The Top Takeaways From The Best Dating Products Ever Created... Shave Years Off Your Learning Curve As You Discover What Really Creates Success With Women"
Here's just a few things we reveal in this info-packed interview:
The surefire products that are proven to work - based on 15+ years coaching men to dating success.
Why we dubbed this one product 'idiot-proof' and how it can transform a woman's reaction to you almost immediately.
Feel anxious about approaching women? Discover how to bypass that and set up a stream of dates with gorgeous women in as little as 20 minutes a week.
Dating Skills Review has been featured or quoted in: