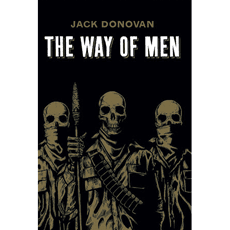 DSR Editor Rating
Go to Product Site
Editor Review
1 of 1 people found the following review helpful
"Original Ideas on Masculinity in our Modern Society. Suited for the Advanced."
Ease of Implementation
5.0
Packaging/ Customer Service
5.0
The Good
Clear and unbiased viewpoints on masculinity, practical framework to integrate more masculine behaviors into your life.
The Bad
Quite heavy reading verging on academic in places, some extreme views and ideas may distract you from the practical mindsets it contains - or be detrimental, lacks practical implementation details
The Bottom Line
Original and useful mindsets and lifestyle frameworks for the advanced - highly recommended. For the experienced daters, who have some background study, and can discern and take the most useful concepts from this book - it will be a great addition to your reference library. And will help clarify and define a better lifestyle.
If you're not advanced - pass on this till later. The way this book challenges your ideals is potentially confusing without background work, or even detrimental to your development. It's lack of practical implementation details is liable just to confuse you further.
Instead, for beginners or intermediates, check out the top rated inner game and confidence courses.
FULL DETAILED REVIEW
It's 2014 and there are still very few works, courses or books out there that help with male inner game and confidence. That help provide you with effective mindsets for being a strong and confident man in today's modern world.
This in part reflects the current struggle to define what a man should be in today's society - what masculinity should be. We see the conflicts portrayed in various communities on the web, as they debate and try to propose one way forward or not. For the most part, this has led to extreme communities that ultimately tend to push ideas and support actions that end up being negative and detrimental to those trying to use them.
There is a lack of advice on practical and effective mindsets that can empower us as men. Jack Donovan, in his controversial book, has some very original and practical ideas mixed in with some views and a marketing imagery (e.g. skulls, and skeletons on the cover of his books) that has positioned him as a bit extreme.
His book is a very worthwhile read - it must be read with a critical mindset - and having interviewed Jack Donovan myself (listen to the interview here), I know that Jack would strongly encourage you himself to read his works critically, to understand how they can fit with your world.
Challenging - Some Views Will Make You Feel Uncomfortable
Without a doubt you will be challenged on many of your views of what it means to be masculine - which in itself will challenge your ideas of who you are and your identity.
To give you an idea on how this compares to the mainstream, Donovan compares his views with it as "a welcome change from mainstream "men's magazines" which are more interested in creating sociopathic metrosexual super-consumers than writing positively about manhood."
But this is not all of the book - other ideas you will likely have seen in the mainstream media, although Donovan articulates them more clearly. This is in fact, another very strong point of the book - Jack Donovan doesn't hold back, or attempt in any way to be politically correct. He gives you his viewpoints on masculinity as sharply defined as he can. That is invaluable in a world where most of the information we received is watered down, and biased in order to be more socially acceptable - instead of more effective.
Some of the areas you can expect to have your ideas challenge on include your relationships with other men, the social groups you participate in, your identity within your social groups, your goals and objectives - all of them, what it means to be good or bad, what it means to be strong, and introducing you to dangerous or undesirable behaviors you may never have thought of - but are part of your everyday habits.
A Masculine Lifestyle and Mindsets to Empower Inner Game
What's interesting about the inner game space is that the best advice we've found comes from extremely different communities and perspectives. For me this represents the current struggle that society is in the midst of to redefine the role of the man and masculinity as the nature of our lives has changed so much - and male / female relations.
Jack, himself, clearly defines this struggle well in his book with:
"In a complex , cosmopolitan, individualistic, disunited civilization with many thin, a la carte identities, The Way of Men is unclear. The ways touted by rich and powerful men are tossed with the ways of gurus and ideologues and jumbled with the macho trinkets of merchants in such a mess that it's easy to see why some say masculinity can mean anything, everything, or nothing at all. Add to that the "improvements" suggested by women and the way of men becomes an unreadable map to a junkyard of ideals."
The helpful perspectives we've found to date include those of evolutionary psychology, historic, self-help and psychology, neuroscience and spiritual. Eric Von Sydow's The Collection of Confidence, is a summary of strong mindsets from a self-help and psychology perspective, David Deida's The Way of the Superior Man comes from the spiritual community, David Tian's The Desire System comes derived from a neuroscience perspective and some of the historical investigatory work of Robert Greene in The Art of Seduction.
Jack Donovan's The Way of Men, comes from yet another perspective - which isn't specifically definable, but there are certainly aspects of evolutionary psychology, traditional history and philosophy tied in to it.
The book brings some unique insights into what a man's lifestyle should be like today, what makes it masculine, and why it's important. Whereas many of the other books and courses focus on the male to female relationship, and how mindsets can improve that dynamic, Jack comes from a man centered viewpoint. He looks at male to male relationships, he looks at groups of men, communities and he looks at the values of men within these structures.
This may not sound very useful to someone looking to improve his results with women - but that would be shortsighted thinking. Perceived status plays an important role in how attractive we are perceived to be - and an essential ingredient of this, is our status within male groups, within communities and our tribes (whether it be hip hop, cross fit, surf, career tribes such as investment banking or any of the other followings we group to in modern day life).
So while the effects are indirect, over the long term, Jack describes essential ingredients to an inner game and approach to life, that will spill out to create profound changes in the men socially connected around you, the women as an indirect effect, and how women perceive you - and how you relate to them.
A Clear Framework for Masculinity
The major practical takeaway from this book is Donovan's framework for masculinity in the modern age (Strength, Courage, Mastery and Honor).
He dedicates chapters to each of these, and much of the discussion is around what they mean, redefining these concepts from his perspective - which you'll find is different from mainstream or other perspectives. So their 'titles' can be misleading - in that it's likely you define strength differently currently.
There are limitations on how practical it gets - Jack spends most of his time introducing to how he defines these attributes, and how they play out or have an impact your life. I would've liked to see a lot more practical examples of what can be done to engender these attributes once he has convinced us of their value and usefulness.
From a Dating Skills Review focus, which is helping you get better results in your dating, sex and relationships with women, the subject of women is given very little attention. Few examples of how the framework parts relate to women - and little to no practical details to implement.
Despite the lack of practical implementation advice - for the advanced it shouldn't be difficult to look beyond the book and implement it in your own fashion. This is one of the reasons why, as you'll see in The Bottom Line, I recommend this as a book for the experienced and advanced. Those who are already getting success in their dating lives, and want to develop their lifestyle.
The Bottom Line
The best thing I can say about any course I review at this point (nearly 15 years in men's dating advice, and 5 years as chief editor at DSR), is that it teaches me something new - opens my mind to new possibilities, and improves how I look at the reality of dating, sex and relationships - get's me closer to reality - so I can take better actions.
Jack Donovan's book definitely does this - some of his ideas are already changing how I look at certain areas of my lifestyle. So this is a great book. But, the question is, is it for everyone - and the answer is clearly "No".
I recommend any beginners or even potential intermediate studiers of dating advice leave this book till later. Completely unravelling your ideas about society, masculinity, and how to approach your goals and lifestyle is not my idea of giving you practical 'quick to results' advice.
In your early experiences, until you're successful with women it pays to focus on practical and high impact advice that gets results. Once that is done, for advanced students, The Way of Men, is a highly recommended read to start redefining your life and doing the deeper work. Part of the reason I recommend you only read this as an advanced student is that not all the ideas in this book are palatable, or useful. Some of them I definitely read over, and discarded as ineffective (based on my experience to date).
As an advanced/ experienced student of dating lifestyle, you'll be able to do that too - but not in your early stages - where you risk taking on detrimental mindsets and lifestyle ideas, that will hold you back - and potentially lead to a less satisfactory - rather than more satisfactory - dating, sex and relationship lifestyle.
For beginners check out The Collection of Confidence as the best place to get started with inner game.
Help other users find the most helpful reviews
Was this review helpful to you?
Product Information
In "The Way Of Men", Jack Donovan addresses the question, "What is masculinity?" His book attempts to sort out the conflicting religious, cultural, and moral issues. This book serves as a straightforward theory of masculinity that men can recognize and understand.
It brings together the unspoken anger in men who find themselves in conflict with a politically correct and over-regulated modern world.
---
Skillsets:
Inner Game & Confidence
Experience Level(s):
Advanced
Release Date:
April 10, 2012
Price:
$6.17 - $8.64
(depending on product format or options purchased)
---
Feedback
If you have a question or problem, ask us:
Table of Contents/ List of Topics Covered:
- Where the basis of masculinity comes from
- The commonalities between men and chimpanzees
- The four tactical virtues defining masculinity
- The difference between a good man and being good at being a man
- Female-oriented societies and male-oriented societies - the difference
- The conflict between civilization and manliness
- The current conflict between manliness, feminism, and globalism

---
What You Get:
Book options include:


- Kindle $6.17
- Paperback $8.64
---
Guarantee / Terms:
See policy of product website
User Reviews of The Way Of Men
View Other Home Study Courses (Books, DVDs, CDs, MP3/ Video)