The Game: Penetrating the Secret Society of Pickup Artists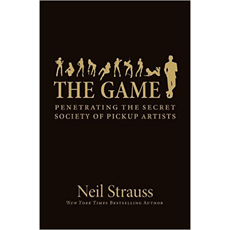 DSR Editor Rating
Go to Product Site
Editor Review
5 of 6 people found the following review helpful
"The Book that Introduced the World to the Hidden Society of Pick Up Artists"
Ease of Implementation
2.0
Packaging/ Customer Service
10.0
The Good
A great starting place for newbies, inspiring and highly motivational for learning purposes, dispelling limiting beliefs about women. It will 'open your eyes' to what is out there.
The Bad
Whilst some techniques are referred to in the book, you cannot learn and apply anything from this book. We give it effectiveness stars simply because it will get you motivated to start learning - not because you actually get any dating advice from it.
The Bottom Line
If you don't know what the seduction / pick up artist community is, what dating advice is and why it transforms lives then you should buy this book. It is an excellent starting place for newbies, and indeed the starting place for the vast majority of men. It will introduce you to some of its originators, its culture and open your eyes to what is possible to achieve with women.
You will not learn actual techniques from this book, but it will MOTIVATE you to get started like it has done for thousands of men around the world.
FULL DETAILED REVIEW
This is the book that introduced the world to pick up artistry and some of the most famous pick up artists. It became a bestseller shortly after its release, and its author, Neil Strauss, appeared on many of the U.S.'s most popular TV talk shows at the time of its release.
Note: This review and the rating have been done from the perspective of learning to get more success with women. They do not reflect the 'entertainment' value of the book itself - the book is a very entertaining read.
A Documentary - Not Fiction
Some people I have come across, particularly women have thought this was a fictional story. Having witnessed most of what takes place in this book, I can only say - sorry - it isn't. Some people would like to believe that the world is how they see it today and not have that image ruffled. The good news, is that, most guys will find it opens their eyes to the possibilities - this is the positive way to take it. I have met a few which fear the world of male-female relations that it describes and so reject it. That doesn't, of course, change the reality of it.
Heralding a Huge Growth in Popularity of Pick Up Artistry and its Training
Shortly after the book's release, the number of students enrolling in dating coaching bootcamps grew exponentially, and the number of pick up artists that began commercializing their knowledge exploded. The book's popularity helped Mystery, who takes front stage in the documentary-story, to sign his reality TV show with VH-1 -
The Pick Up Artist Season 1
, after which there has also been a follow up
The Pick Up Artist Season 2
.
A Starting Point for Newbies to Dating Advice
Everyone I have spoken to who has read this book has found it inspiring, and a large majority of the world's dating advice students only took an interest after reading this book. In particular, I remember what one of my buddies said when he read it,
"You always knew it was there... but noone talked about it, you always knew there was a reason the worst guys seemed to get the girls.. and there it is, you finally get it. The curtain is drawn on the big secret."
That is the value of this book - it will 'open your eyes' to the possibilities. It will not teach you anything, except that what you already subconsciously knew about the world and men and women relations, is actually true.

What the Book is Not
Do not expect to learn any pick up techniques from this book. It is a story. Or more to the point a documentary of events of the society of pick up artists, wrapped up into a story. Whilst some techniques are highlighted as the story unravels in this book, there is no real explanation of these and it has been known for readers of the book to apply techniques erroneously as they try to take the very limited information on skillsets in the book and apply it.
The Bottom Line
If you don't know what the seduction / pick up artist community is, then you should buy this book. It will introduce you to some of its originators, its culture and open your eyes to what it is possible to achieve with women. It also provides some insight into where and how a lot of today's dating advice has come into being, and how reliable it is.
Whilst it is not essential reading, it is a strong recommendation. 99% of students of dating advice have read this book, and it helps you to situate yourself amongst all the instructors and terminology you will come across.
Help other users find the most helpful reviews
Was this review helpful to you?
Product Information
The true story of how Neil Strauss (a well known author of Rock Biographies, and writer for Rolling Stone/ New York Times) became part of the secret pick up community and went on to become one of its leading members.
The book follows Neil Strauss, Mystery (Erik von Markovik) and other Pick Up Artists on their journey to success with women, and the beginnings of the first Pick Up Artists teaching their skills to other men.
---
Skillsets:
Inner Game & Confidence
Experience Level(s):
Beginner
Release Date:
April 14, 2005
Price:
$6.30 - $24.44
(depending on product format or options purchased)
---
Feedback
If you have a question or problem, ask us:
Table of Contents/ List of Topics Covered:
Step 1: Select a Target
Step 2: Approach and Open
Step 3: Demonstrate Value
Step 4: Disarm the Obstacles
Step 5: Isolate the Target
Step 6: Create an Emotional Connection
Step 7: Extract to a Seduction Location
Step 8: Pump Buying Temperature
Step 9: Make a Physical Connection
Step 10: Blast Last-Minute Resistance
Step 11: Manage Expectations
---
What You Get:

Book options include:
- Paperback $6.30
- Kindle $8.00
- Imitation leather copy $24.44
---
Guarantee / Terms:
See policy of product website
User Reviews of The Game: Penetrating the Secret Society of Pickup Artists
8.3 out of 10 stars
Share your thoughts with other users:

Most Helpful User Reviews
View all user reviews
View Other Home Study Courses (Books, DVDs, CDs, MP3/ Video)
"Listen In As We Share The Top Takeaways From The Best Dating Products Ever Created... Shave Years Off Your Learning Curve As You Discover What Really Creates Success With Women"
Here's just a few things we reveal in this info-packed interview:
The surefire products that are proven to work - based on 15+ years coaching men to dating success.
Why we dubbed this one product 'idiot-proof' and how it can transform a woman's reaction to you almost immediately.
Feel anxious about approaching women? Discover how to bypass that and set up a stream of dates with gorgeous women in as little as 20 minutes a week.
Dating Skills Review has been featured or quoted in: