Ep. #64 Hacking Tinder to Get More Dates with Chris Harders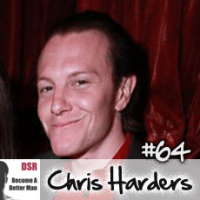 Press Play and Wait up to 10 Seconds for the Interview to Start Playing
Update Required
To play the media you will need to either update your browser to a recent version or update your
Flash plugin
.
Today we're hacking Tinder. Back in episode 50 with Scott Valdez, we dug into online dating and we took a quick look at Tinder, which is a new app. That was a great episode, if you didn't already check it out. So check that out. Unless you have been hiding under a very, very big rock, you know what Tinder is.
It has become hugely popular in just 2 years and, not just in the U.S., but now also in many other countries. Other country that I've been to in the last few months, in fact, say that it's pretty much on fire. As of April 2014, Tinder is rumored to have more than 10 million active data users. That's active users, so that's pretty important as people actually using it. That's really big. Why is this? Why is Tinder so popular right now?
Well, basically, Tinder has done a reasonable job of making the dating experience better for women. Online dating apps have suffered from too few active women so far. They've been pretty much been guy dominated. And Tinder has managed to fix this, and thus made it a lot more popular.
How Tinder works is simply that you have to log in with Facebook and you and the girl both have to click 'Like' on each other before you can talk. So this means for women a) She doesn't have 1,000 messages in her inbox from guys she's not interested in. This is a really big issue for the more attractive girls on online dating.
A couple of months ago, I somehow managed to get talking to a girl that had gotten 100s of messages on OKCupid within just a few days. She was completely overwhelmed and was just gonna basically turn the thing off and forget it because there was no way she was going to get through that, or figure out who was a good guy amongst those. So, I was really damn lucky she even read my message at all. That's kind of what you're playing with there. B) Security: online dating can be a little scary for women. Who is this guy? Are there any safety issues with this guy? Is he completely anonymous?
So, since everyone logs into Tinder with Facebook though, this helps a little bit with this issue. They can get a bit more idea of who you are and that you're not completely anonymous or random. You're probably a real person since you have a Facebook account. So this is meant that women are more active on Tinder versus other platforms. So, for guys this means more opportunities to meet women.
The platform has also been positioned more for casual relationships and casual hookups, than other platforms for women. The Huffington Post, for example, said in one article (this article was written by a woman), "Don't use Tinder to fall in love. It is strictly for hookups." There is some truth to this and may make the Tinder a bit more interesting for you if you aren't looking for a serious relationship. But it isn't necessarily a rule. So I talk more about this with our guest in the interview today.
I also say that, from my experience, Tinder is a really fun app and is definitely worth giving a try at least once. It's a different dating experience and tends to make for more fun and adventurous dates in general.
Today, on the podcast, we have Chris Harders as our guest. He's used Tinder extensively, as part of his job as a promoter for clubs in Las Vegas, and later for his own use. I reached out to get him on the show when we reviewed his book, Conquer Tinder, which our editor Jackson Hunter gave a rating of 8.3. That's an excellent rating.
Now, I try to read everything our editors' rate highly to keep on top everything. And when I looked through this book, there was a lot of cool detail in there, which I knew would be really helpful to guys who aren't making the most of Tinder.
So that's why I got Chris on the show. I hope you enjoy it. It's, like I say, it's full of practical details. He's obviously got a lot, a lot of experience, far more than any of us are ever likely to get ourselves. So, it's really good to hear his tips and what he's learned from that experience.
Don't Miss New Dating Skills Podcast Episodes
Specifically, in this episode you'll learn about:
Chris' background and what he did before starting to give dating advice (04:58)
How Chris ended up being a virgin until the age of 23 (06:00)
Chris talks about living in a project house for date coaching and mentoring, and the highlights (10:40)
Transitioning from consulting to promoter, to getting involved with the Tinder app (17:05)
How the demographics of Tinder have broadened (21:00)
Is Tinder more of a casual dating app or for something more serious? (21:56)
Looking at the context of the girls, the situations, and why and how they are using Tinder (23:40)
How Tinder is different from other standard online dating platforms (27:45)
What kind of response rates come from a first message (30:23)
Getting started on Tinder: Keep it fun and tell a story (32:15)
There is no playing it cool on Tinder (36:15)
What the main objective of your first message should be (39:00)
The number of Tinder messages involved in getting a girl's number and establishing a date (39:20)
Moving towards having a phone conversation before meeting up with a girl (41:00)
Playing the game in order to get to point of having a date (44:00)
Other reasons for getting a girl's phone number on Tinder (45:45)
The stigma girls feel of being on Tinder (47:00)
The types of Tinder dates Chris has experienced (48:10)
Girls are more adventurous on Tinder (51:55)
Chris' favorite Tinder grammatical rules (54:55)
Recommendations for advice and insights in dating, sex, and relationships (58:00)
Top three recommendations to help men get better results with women as fast as possible (58:28)
Items Mentioned in this Episode include:
Chris noted the following dating and coaching experts when discussing mentoring and living in a dating and coaching project house: Angel and Chris mentioned the following online dating sites when talking about understanding girls from a contextual perspective:
Books, Courses and Training from Chris Harders
Comment Rules: You know that James Bond factor? The "cool" factor. That's how we're gonna be - cool. Critical is great, but if you're rude, we'll delete your stuff. Please do not put your URL in the comment text or use your business name as your name, as it looks like spam. Have fun and thanks for adding to the conversation!
Help Us Improve DSR Podcast Interviews for You
DSR Podcast is a weekly podcast where Angel Donovan seeks out and interviews the best experts he can find from bestselling authors, to the most experienced people with extreme dating lifestyles. The interviews were created by Angel Donovan to help you improve yourself as men - by mastering dating, sex and relationships skills and get the dating life you aspire to.
Help us improve the quality of interviews by sending us feedback about what questions you'd like answered or who you'd like to see interviewed.
Contact: [email protected]
"Listen In As We Share The Top Takeaways From The Best Dating Products Ever Created... Shave Years Off Your Learning Curve As You Discover What Really Creates Success With Women"
Here's just a few things we reveal in this info-packed interview:
The surefire products that are proven to work - based on 15+ years coaching men to dating success.
Why we dubbed this one product 'idiot-proof' and how it can transform a woman's reaction to you almost immediately.
Feel anxious about approaching women? Discover how to bypass that and set up a stream of dates with gorgeous women in as little as 20 minutes a week.
Dating Skills Review has been featured or quoted in: