Mystery (Erik von Markovik)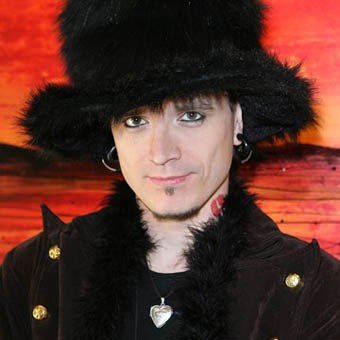 Erik Von Markovik, also known as Mystery, is the originator of the majority of pick up artist knowledge.
Mystery has been and remains perhaps the most influential thinkers of the community. Today he provides services through Venusian Arts and has risen to celebrity status through his reality TV show "The Pick Up Artist" on VH-1 (two seasons) and the semi biographical account of his activities in Neil Strauss' The Game.
Due to his having invented many of the key principles of what is today known as pick up artistry, he is well respected by the seduction/ pick up artist community.
Mystery's concepts and dating techniques have been inspired upon in some way for the creation of most of the training materials and products in the dating world today.
Wiki Contents
Personal Data
Commercial Alias Name:
Mystery / Erik von Markovik
Real Name: Erik James Horvat-Markovic
Nationality: Canadian
Date of Birth: September 24, 1971 (Age 51)
Height: 6"5 (1.95cm)
Profession(s):
Pick Up Artist (PUA)
Dating Coach
Affiliated Dating Companies: Venusian Arts
Web Presences
Twitter

profile: @ErikVonMarkovik
Concepts and Techniques
Many of the concepts and techniques used in dating advice and the pick up artist community today were created by Mystery. Mystery encapsulates and refers to these as Mystery Method and the Venusian Arts. These methods have been summarized in various books:
The Venusian Arts Handbook
(2003),
The Mystery Method
(2006),
Revelation
(2010).
Some of these are listed below:
Peacocking - this is a term Mystery created which entails having at least one interesting thing about your appearance. This can be integrated in your clothes and accessories; something noticeable and uncommon, making it easy to capture a girl's attention and make her initiate a conversation with you.
Cat Theory - Mystery defines this term as the method of engaging with women subtly, just to hold their attention.
Group Theory - An approach to meet women when they are out in groups including techniques to deal with the target (girl you are interested in) and her friends and men in the group.
Neg - a slightly degrading (but not too offensive) compliment, with the sole purpose of snubbing a target.
False Disqualification - the result that "Neg" attempts to obtain, snubbing the target and subconsciously making her show you that she is worthy.
Qualify - the process by which a target exerts effort on proving that she is deserving of your attention. This also saves you the trouble of having to get past protective friends since she voices her interest on her own.
Biography
Personal Life
Mystery (Erik von Markovik) was born Erik James Horvat-Markovic in Toronto, Canada. He grew up and lived there until his late 20s when he moved to L.A. to develop his career as a magician, and later a Pick Up Artist. He has one brother.
In his early life Mystery was fascinated by Magic, and notes that David Copperfield was an idol. He learned to perform magic tricks, worked at kids party's and eventually had his own agent and worked as a magician entertainer full time.
Mystery was not always good at getting with women. He openly admits that he had difficulty in picking women up early in his life and often spent his time playing Dungeons and Dragons while honing his skills as a magician. He had sex for the first time when he was 21 years old.
By the year 2000, Mystery, by his own account, was getting paid $1,500 per night to work as a magician and mentalist at corporate events. He even made an appearance on CTV's late-night Open Mike talk show with Mike Bullard. His act was named "Natural Magic".
However, to make it as a magician, he knew he would have to become known in the U.S. So he moved to Los Angeles, where he spent over a year trying to land himself a television spot that would showcase his talent as a magician. However, his money ran out before he found it and he had to return to Toronto.
He was now 29, and back in Toronto was unable to get the gigs he has usually got and as a consequence was broke. He moved in with his brother.
Now 2001, Mystery was already putting his skills with magic to another use in a new role, as a pick up artist. The unlucky turn of events with his career in magic effectively forced him to turn to his talent as a pick up artist to make money.
Mystery has a daughter born in mid 2008. Little is publicly known about the mother of the child, although she was seen in 2009 and 2010 in public with Mystery.
On April 1st 2011 an email was sent out from Venusian Arts announcing that Mystery (Erik von Markovik) had met an unfortunate accident and died. The email created a lot of speculation but turned out to be an April Fool's joke.
Pickup Artist Career
Mystery spent many years developing his knowledge about pick up artistry by frequenting bars, clubs and strip joints in the Toronto area. He says of this period of his life, that he would sometimes go out 7 nights a week to practice and would often be 'itching' to go out. It became his passion.
Mystery was heavily influenced by his role as a magician and entertainer in the way he approached pick up artistry. He used 'routines' similar to the way entertainers such as magicians and comedians used them.
Appearance in Seduction Forums (ASF)
Mystery first appeared on the pick up artist scene on April 15th 1997 when he posted on a seduction community Internet forum replying to someone else's post.
Very quickly, by 1998 he had become one of the most prominent members of the forum, having revealed many parts of his approach and mindsets towards meeting women. His unique and different approach to the current dating gurus of the time (namely Ross Jeffries) often led him into spates with them. But it also helped him to attract a fan base amongst his forum peers.
In 2001 he posted to the forum that he would run the first field bootcamp for pick up artistry. This was live instruction while the students (men) approached women in bars and clubs. He set the price at $500 per student and five men took him up on that offer, one of them being Style (Neil Strauss). They would quickly become close friends and wingmen.
Mystery's Lounge and The Birth of Mystery Method
In the same year Mystery stopped posting on the public seduction forums, saying that there was too much noise for it to be useful. He created his own private forum named "Mystery's Lounge". He only invited people that had proven themselves in field, and that had been met face to face by himself or other Lounge members. The forum became a coveted place that students would seek to gain access to.
Over the next few years Mystery would do many more bootcamps, with Style assisting, travelling to Europe and Australia in the process. Some of his students of the time include dating gurus today (e.g. Style, TD (Owen Cook), Papa (Nick Kho), Mehow).
In 2003 he worked with Lovedrop (chris odom) to write the first book describing his "Mystery Method" for picking up women. It was named "The Venusian Arts Handbook". At the same time he would move in to "Project Hollywood" with Style, Papa and Herbal. Project Hollywood was a mansion (the original rat pack mansion) behind sunset boulevard in Hollywood, and was deemed the perfect place to set up a pick up artist lifestyle. It would become the headquarters from which they would run many seminars and pick up artist bootcamps. It was becoming a real business.
In 2004 he partnered with Nick Savoy (Savoy) to found Mystery Method Corporation. Nick Savoy, a Wharton MBA, helped Mystery to build a more scalable business around his coaching and teachings. They would train and recruit many 'pick up coaches' and the company steadily spread its feelers around the world to London, Europe and Australia.
In 2005 Project Hollywood disbanded with Mystery and Style moving out first. Mystery would later set up similar glamorous lifestyle pads with a Project Las Vegas (2006), and still later a Project Miami (2007).
The "Venusian Arts" Corporation and Vh-1's The Pick Up Artist
In 2006 Mystery and Nick Savoy separated due to differences in opinion on how they should teach pick up artistry. Nick Savoy remained with Mystery Method Corporation (which later was rebranded to Love Systems) and Mystery went on to create a new company
Venusian Arts
(with Jamese Matador and Chris Odom) in 2007. The rest of the pick up coaches remained with Nick Savoy and Mystery Method which was to become Love Systems Inc.
At this time, Mystery was already negotiating and working on his own reality TV series "The Pick Up Artist" with VH-1. In it, Mystery and his wingmen coached eight socially inept men for eight weeks to become pick up artists and compete for the "Master Pick-Up Artist" title.
The show debuted on VH-1 on August 6, 2007 with a relatively disappointing audience of 673,000 viewers. The show's audience improved over the season making it interesting enough for VH-1 to sign Mystery up for Season 2. Season 2 debuted on VH-1 October 12, 2008.
Through The Pick Up Artist Mystery became a household name and widely recognized as a celebrity.
A third season of The Pick Up Artist is not to be aired. In an interview in 2010 Mystery said he chose to work on a spin off of the series instead of doing a third season of The Pick Up Artist. Other rumors suggest that season 2 wasn't sufficiently popular for VH-1 to continue with a third season.
Current Activities and Founding of The 3 Second Rule in the UK
Mystery continued to be a partner in the Venusian Arts enterprise with Lovedrop (Chris Odom) and James Matador (Stan Tayi), but became less active over time as did Chris Odom and Matador. Mystery spent a number of years mostly off scene after the birth of his daughter, and steadily became more active during 2012.
Venusian Arts runs coaching bootcamps for men and sells a number of homestudy dating advice courses, and is largely run by its coaching team.
Mystery, joined up with Beckster and Discovery (one of his former proteges at Venusian arts) in November 2013 to form a new company, 3 Second Rule, in the UK. Erik is currently most active in this new company, and back to training on bootcamps and seminars.
Mystery (Erik von Markovik)'s Credentials & Experience
Mystery has slept with over 100 women, potentially several hundreds of women and has had an unknown number of girlfriends.
Live Video Footage
There has been a lot of live video footage recorded of Mystery approaching, meeting and attracting women in bars and clubs. Some of this was originally made available in the "
Magnum Opus - Mind of Mystery
" DVD series (no longer available).
Approval and Respect from Other Dating Gurus
Many dating gurus and pick up artist instructors were originally trained by Mystery. These include amongst them: Style (Neil Strauss), TD/Tyler Durden (Owen Cook), Sinn, Papa (Nick Kho), MeHow, Lovedrop (Chris Odom), James Matador (Stan Tayi) and others of the original Mystery Method Corporation coaches now become senior Love Systems coaches (e.g. Sheriff).
Girls and Girlfriends Mystery (Erik von Markovik) has Been Involved With
Mystery has been involved with many very attractive girls and girlfriends. This stretches from models to minor celebrities to strippers to everyday girls. Some of Mystery's girls are criticized for not being 'that attractive'. Mystery does not apologize for this, he likes what he likes. He has a taste for 'gothic' girls at times (these are usually the types he is criticized for).
Today Erik has retired from the game and settled down in Toronto, Canada with the mother of his daughter "Dakota Breeze". See the photos below of Erik walking with his girlfriend and daughter in Melrose Place in July 2010.
While Erik has now settled down into 'family life' he still flies around the world training men on bootcamps for Venusian Arts.
Former girlfriends that became public knowledge include:
- Anita Spudich: 29 year old nail technician dated Mystery for five months in 2003.
- Katya Sitnikova: His girlfriend featured in 'The Game'. Katya was a 22 year old girl from Russia working in L.A. as a makeup artist in the entertainment industry. Mystery met her in a club when she was doing make up for runway models. See Mystery's personal video of Katya in News & Media coverage at end of page.
- Jackie (a psychology student who also dated Style at a later date).
- Mexican girl: Immediately after Katya Mystery was shortly involved with an attractive Mexican girl.
Notable Media Appearances
A lot of Mystery's news and media exposure to date has centered around his promotion of the reality TV show "The Pickup Artist" on VH-1.
October 12, 2008: VH-1 - The Pick-Up Artist Season Two (Second season of Mystery's Reality TV Show which again included 8 episodes)
October 2008: Star Magazine
30 June 2008: People Magazine
February 2008: CNN
August 06, 2007: VH-1 - The Pick-Up Artist Season One (Mystery's Reality TV Show which included 8 episodes)
August 2007: Mystery defending his art in an interview with Chelsea Handler on early episode of her E! late-night series "Chelsea Lately".
Books, Courses and Coaching & Mystery (Erik von Markovik) Reviews
Help Us to Improve this Profile
The information in this coach profile and wiki is verified by Dating Skills Review's Editors to be as objective, complete and close to the truth as possible. It was created by Angel Donovan.
Help us improve this profile of Mystery (Erik von Markovik) by sending us any information you believe to be missing, wrong or lacking detail or good quality images we don't have. Please state sources where possible to make our job easier to verify the correctness of the information.
Contact: [email protected]
"Listen In As We Share The Top Takeaways From The Best Dating Products Ever Created... Shave Years Off Your Learning Curve As You Discover What Really Creates Success With Women"
Here's just a few things we reveal in this info-packed interview:
The surefire products that are proven to work - based on 15+ years coaching men to dating success.
Why we dubbed this one product 'idiot-proof' and how it can transform a woman's reaction to you almost immediately.
Feel anxious about approaching women? Discover how to bypass that and set up a stream of dates with gorgeous women in as little as 20 minutes a week.
Dating Skills Review has been featured or quoted in: