#113 Q&A: Who Has the Best Dating Advice & How to Date in High School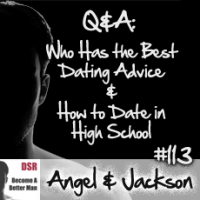 Press Play and Wait up to 10 Seconds for the Interview to Start Playing
Update Required
To play the media you will need to either update your browser to a recent version or update your
Flash plugin
.
[Angel Donovan]: Hey guys, here's another episode of DSR Podcast - Dating, Sex, Relationships. This is going to be a quick Q&A episode. So, you sent us some questions in and we're going to answer them. Today with me, I have Mr...
[Jackson Hunter]: Jackson Hunter. Hey Guys.
[Angel Donovan]: So, as you know, Jackson's one of our top editors, been with us for a long time and we do Q&As from time to time together. It gives you a bit of a variety in the responses and a bit better breadth of information. So, great to have Jackson with me today.
[Jackson Hunter]: Great to be here.
[Angel Donovan]: Okay, so let's dive straight into these questions. We've got a couple of them.
Don't Miss New Dating Skills Podcast Episodes
Specifically, in this episode you'll learn about:
Addressing dating information overload, keeping it simple, finding value in it, and taking action (01:20)
Insecurities about your height and dating girls that are taller than you (10:10)
Facing conversation anxiety when talking to a girl and learning how to "click" (18:25)
Improving your identity and style (20:48)
Your parents dating advice and the generation gap (22:39)
Extend your social conversation and popularity beyond just trying to talk to the girl you are interested in (26:00)
Items Mentioned in this Episode include:
The following three products were mentioned in Austin Decker's first question regarding his start in learning seduction and dating, and being overwhelmed by the wealth of information in dating, sex, and relationships:
Attraction Implant: Dating Skills Review Academy offers this program designed to implant into men the behaviors that women find sexually irresistible so they are attracted to you.
Dating Skills Review Editors' Choice: Angel recommends DSR Editors' Choice to help you focus on the products and programs geared towards your specific issue or area of interest.
Conversation Escalation by Bobby Rio.: As part of the second Q&A question regarding being nervous when talking to a girl, this program is recommended to help you learn how to make better conversation.
Comment Rules: You know that James Bond factor? The "cool" factor. That's how we're gonna be - cool. Critical is great, but if you're rude, we'll delete your stuff. Please do not put your URL in the comment text or use your business name as your name, as it looks like spam. Have fun and thanks for adding to the conversation!
Help Us Improve DSR Podcast Interviews for You
DSR Podcast is a weekly podcast where Angel Donovan seeks out and interviews the best experts he can find from bestselling authors, to the most experienced people with extreme dating lifestyles. The interviews were created by Angel Donovan to help you improve yourself as men - by mastering dating, sex and relationships skills and get the dating life you aspire to.
Help us improve the quality of interviews by sending us feedback about what questions you'd like answered or who you'd like to see interviewed.
Contact: [email protected]
"Listen In As We Share The Top Takeaways From The Best Dating Products Ever Created... Shave Years Off Your Learning Curve As You Discover What Really Creates Success With Women"
Here's just a few things we reveal in this info-packed interview:
The surefire products that are proven to work - based on 15+ years coaching men to dating success.
Why we dubbed this one product 'idiot-proof' and how it can transform a woman's reaction to you almost immediately.
Feel anxious about approaching women? Discover how to bypass that and set up a stream of dates with gorgeous women in as little as 20 minutes a week.
Dating Skills Review has been featured or quoted in: