Research Desk
Podcast
#109 The Non-Violent Communication Toolkit and The New Culture Sexual Freedom Movement with Kelly Bryson
#109 The Non-Violent Communication Toolkit and The New Culture Sexual Freedom Movement with Kelly Bryson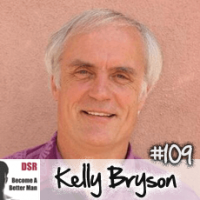 Press Play and Wait up to 10 Seconds for the Interview to Start Playing
Update Required
To play the media you will need to either update your browser to a recent version or update your
Flash plugin
.
Today's topic was a lot of fun to dig into. It's all about communication in conflict scenarios in relationships. So, arguments with girlfriends, wives, or just situations where you feel there is a negative underlying dynamic that you need to resolve to have a better relationship with someone, or it could be just someone that you met.
The question is: When someone's angry with you or they feel a little bit off with you, how do you turn that around? A great tool that I came across and started using around a year ago is called "Nonviolent Communication". This was designed by a guy called Marshall Rosenberg, who unfortunately just passed away in February of this year. He used this to diffuse conflicts peacefully. That was really the roll of this tool, to diffuse situations and allow you to connect with the person and create rapid intimacy.
This is really what has happened in my experience when I've had some kind of conflict, or something like that, and I've taken the time to think about this and use this tool. It's worked very well for me in terms of creating that kind of intimate connection and getting rid of the underlying issue. We dig more into the details of that in this show.
Today's guest is Kelly Bryson. Kelly Bryson is a licensed psychotherapist and authorized trainer for the international Center for Nonviolent Communication (NVC). He's been doing this for a very, very long time, 35 years or so. He's also got a book out called "Don't Be Nice, Be Real: Balancing Passion for Self with Compassion for Others", which was published in 2010.
He has studied all sorts of methods to communication and he believes NVC as it's called - Nonviolent Communication - is by far the best, simplest, and most effective. Something else that we jump into in this episode, in addition to the nonviolent communication tool, is called: New Culture. It's something that Kelly Bryson has been involved in for a while and it's basically a different dating lifestyle that we haven't yet encountered. So we're going to learn a bit more about that. I guess you would call this an evolution of polyamory (if you wanted to call it something), but we'll get into exactly what it is.
A quick apology, because the audio quality is slightly lower than usual on the guest side. Unfortunately, because of where he was based, that was unavoidable. We had our audio guy to clear it up a bit, so bare with us. It is a really good interview with some interesting insights, especially for those of you who are exploring new ways of dating and new ways of having relationships, and you're interested in the whole intimacy and connection aspect of things.
Don't Miss New Dating Skills Podcast Episodes
Specifically, in this episode you'll learn about:
Kelly's views of the relationship area that may differ from other relationship writers (04:25)
Kelly's relationships and how they function (10:24)
Whether Kelly feels he is in a particular relationship category (13:50)
New Culture (free love): love free of fear, possessiveness, control, manipulation (14:30)
The establishment of social and cultural values / principles in communities and whether this is viewed negatively (15:45)
The number of people involved in New Culture and their dating practices (18:40)
Examples of violent communication that most people do not consider violent (22:10)
Explaining nonviolent communication (NVC) to someone who is unknown to it so they understand it: the empathy approach (24:50)
Examples of empathy and how to get into it (27:06)
Does NVC always work? (28:10)
NVC's impact on relationships (29:30)
Whether NVC is effective in short term encounters and casual hookups (31:15)
What Kelly communicates beyond nonviolent communication in his book "Don't Be Nice, Be Real" (31:57)
Polarization of the masculine and feminine is mostly due to patriarchal society (32:50)
Do most women and men in the New Culture take on a nurturing behavior towards each other? (36:06)
The idea of men maintaining their masculinity in a New Culture environment (38:05)
The type of person that fits into New Culture (39:50)
How to get involved in New Culture (40:20)
Kelly's involvement in New Culture and its environment (41:40)
Nonviolent communication as the best communication tool (45:20)
Is there a tendency to drift from previous communities as people become more involved in the New Culture community? (45:51)
The first steps to learning nonviolent communication (48:31)
Being self-aware of your moods, emotions, judgments, and energy through NVC (51:09)
OFNR - Observation, Feeling, Need, Request (54:12)
Advice Kelly offers to men and women in relationships that is often ignored (56:17)
Cultural permission to follow your romantic or sexual preferences (57:55)
Guilt versus empathy: Is it about you or about them? (1:00:37)
The biggest objections Kelly has experienced to his advice (1:01:36)
How to connect with Kelly to learn more about him and his work (1:02:47)
Recommendations for high quality advice in dating, sex, and relationships (1:04:03)
Top three recommendations for men starting out in relationships, dating, and sex (1:04:55)
Items Mentioned in this Episode include:
Books, Courses and Training from Kelly Bryson
Comment Rules: You know that James Bond factor? The "cool" factor. That's how we're gonna be - cool. Critical is great, but if you're rude, we'll delete your stuff. Please do not put your URL in the comment text or use your business name as your name, as it looks like spam. Have fun and thanks for adding to the conversation!
Help Us Improve DSR Podcast Interviews for You
DSR Podcast is a weekly podcast where Angel Donovan seeks out and interviews the best experts he can find from bestselling authors, to the most experienced people with extreme dating lifestyles. The interviews were created by Angel Donovan to help you improve yourself as men - by mastering dating, sex and relationships skills and get the dating life you aspire to.
Help us improve the quality of interviews by sending us feedback about what questions you'd like answered or who you'd like to see interviewed.
Contact: [email protected]
"Listen In As We Share The Top Takeaways From The Best Dating Products Ever Created... Shave Years Off Your Learning Curve As You Discover What Really Creates Success With Women"
Here's just a few things we reveal in this info-packed interview:
The surefire products that are proven to work - based on 15+ years coaching men to dating success.
Why we dubbed this one product 'idiot-proof' and how it can transform a woman's reaction to you almost immediately.
Feel anxious about approaching women? Discover how to bypass that and set up a stream of dates with gorgeous women in as little as 20 minutes a week.
Dating Skills Review has been featured or quoted in: