Research Desk
Podcast
#91 Practical Rules to Navigate the Path of Love and Commitment with Duana Welch
#91 Practical Rules to Navigate the Path of Love and Commitment with Duana Welch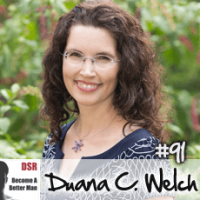 Press Play and Wait up to 10 Seconds for the Interview to Start Playing
Update Required
To play the media you will need to either update your browser to a recent version or update your
Flash plugin
.
This week we're looking at love and commitment. We're going to do it from as practical a perspective as possible. We're looking at it from a science perspective and some practical applications of that science. We're answering questions such as:
What is love and commitment?
Do you really want it?
Is it something that is going to fit for you?
How do you actually go about strategically and sensibly looking for love and commitment?
How do you approach it?
How do you keep it once you've found it?
Those are big questions. I think there are a lot of questions there that don't typically get answered, even if you look in relationship books and the types of books that cover these subjects. They don't normally look at it from a really practical action-taking perspective. Today, we have on the show Duana Welch. We brought her on the show because she's written a book that is focused on being really practical about this. It's based around a social and evolutionary science perspective. The book is called: Love Factually: 10 Proven Steps from I Wish to I Do. Duana has a PhD, teaching psychology at Austin, Texas universities. She's also a Psychology Today columnist.
Coming back to her book, David M. Buss, the renowned psychologist, said this of Duana's book: "Love Factually is a great book anchored in solid science. It brims with practical advice in the form of concrete actions everyone can take to improve their love lives. If you plan to read one book to improve your mating life, this is the one to read."
That's a pretty big quote from a very well known evolutionary psychologist. So it's really a test to the practicality of this book, which as I say isn't typical. We'll be getting into these practical details in a moment.
Don't Miss New Dating Skills Podcast Episodes
Specifically, in this episode you'll learn about:
What love and commitment could mean to people? (03:46)
Duana's background and relationship lifestyle (07:25)
Why Duana is passionate about her topic, why it's important today, and why she wrote her book (08:47)
What gets in our way of looking for love and commitment? (09:56)
Marriage as a more stable lifestyle and the behavioral differences between cohabiting and marriage (16:08)
Dependency: an explanation of the co-dependency model/frame (18:10)
Attachment styles, how those styles can get in the way in terms of dependency, and determining your attachment style (21:50)
Practical tips for dealing with and/or changing your particular attachment style (40:13)
What makes a relationship satisfactory and healthy (50:58)
Selecting a partner based on what you need as opposed to what society tells you, and revealing the past to determine if someone is right for you (52:14)
Finding someone that matches your attachment style; someone who desires the same things or standards in a relationship (1:01:53)
Discussing the book: All the Rules: Time-tested Secrets for Capturing the Heart of Mr. Right (Ellen Fein), and whether Duana sees aspects of it that are beneficial (1:10:00)
Discussing the book: Evolution of Desire (David M. Buss), and how men and women have different mating psychologies (1:11:20)
When a woman applies specific rules that affect the dating process and the possibility of a relationship (1:16:10)
Searching for someone based on sexual behavior versus those looking for a committed relationship (1:23:40)
Where to find people interested in committed relationships (1:26:05)
Dr. Nancy Kalish research and how people compare what they want in a person to a past love, and realizing the possibility of connecting with that person from their past (1:35:57)
Best way to connect with Duana and learn more about her work (1:47:05)
Top three recommendations for men who want a committed relationship (1:49:18)
Items Mentioned in this Episode include:
Books, Courses and Training from Duana Welch
Comment Rules: You know that James Bond factor? The "cool" factor. That's how we're gonna be - cool. Critical is great, but if you're rude, we'll delete your stuff. Please do not put your URL in the comment text or use your business name as your name, as it looks like spam. Have fun and thanks for adding to the conversation!
Help Us Improve DSR Podcast Interviews for You
DSR Podcast is a weekly podcast where Angel Donovan seeks out and interviews the best experts he can find from bestselling authors, to the most experienced people with extreme dating lifestyles. The interviews were created by Angel Donovan to help you improve yourself as men - by mastering dating, sex and relationships skills and get the dating life you aspire to.
Help us improve the quality of interviews by sending us feedback about what questions you'd like answered or who you'd like to see interviewed.
Contact: [email protected]
"Listen In As We Share The Top Takeaways From The Best Dating Products Ever Created... Shave Years Off Your Learning Curve As You Discover What Really Creates Success With Women"
Here's just a few things we reveal in this info-packed interview:
The surefire products that are proven to work - based on 15+ years coaching men to dating success.
Why we dubbed this one product 'idiot-proof' and how it can transform a woman's reaction to you almost immediately.
Feel anxious about approaching women? Discover how to bypass that and set up a stream of dates with gorgeous women in as little as 20 minutes a week.
Dating Skills Review has been featured or quoted in: