#84 The Dating Challenges of High Net-Worth Individuals with Amy Andersen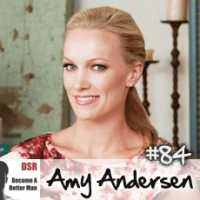 Press Play and Wait up to 10 Seconds for the Interview to Start Playing
Update Required
To play the media you will need to either update your browser to a recent version or update your
Flash plugin
.
If you have a question(s) about today's episode and looking for an answer, call our U.S. voicemail (323) 747-5006. If outside the U.S. or via the Internet, go to:
datingskillsreview.com/voicemail
and leave your question there.
Today we have a double topic. Guys always think that money is a big deal to women; being rich will solve all of your girl problems; it will get you the quality girl you are looking for. But not being rich is basically an excuse of many guys, and it could potentially be yours.
What we're looking at today is the world of high net-worth individuals. What is a high net-worth individual? It's someone who has over $1 million on the side that he can invest in financial assets, or whatever. So, beyond their living expenses - everything like that - they have a $1 million budget on the side. So, we can pretty much say that's rich.
We're also going to be looking at matchmaking, which is another tool for meeting women. We've looked at things like cold approach, we meet girls in bars and clubs, or during the day in coffee shops, absolutely anywhere. We've also looked at warm approaches, which is like social circles (building a social circle and meeting women that way). We've also looked at online dating. We have not looked at matchmaking, which is of course where a service matches you with a person they feel is ideal for you. It's not like online dating, which is kind of like the self-serve matchmaking. It's someone actually working to help you and match you with the ideal person in a database, even searching for people at times. So, we're going to learn about this and maybe you'll figure that's a relevant you can use and will fit with you. Let's see.
Today we have Amy Andersen as a guest. She's the head of Linx Dating. It's a company she founded 12 years ago, which matchmakes eligible and high net-worth individuals in Silicon Valley. Obviously, there's a lot of money in Silicon Valley and that's why she's focused on this area. So she's got 12 years of experience helping rich men meet the women of their dreams or the women they're really looking for serious relationships. She has very specific experience, which is why I asked her to come on the show to talk about these two topics.
In matchmaking, she's arguably has one of the top-end matchmaking services that she runs. She also has a lot of experience helping guys specifically who are rich and with their challenges. So let's see if their challenges are like yours. There really isn't much difference between the challenges of a rich guy and your 'average Joe' with an average income.
Don't Miss New Dating Skills Podcast Episodes
Specifically, in this episode you'll learn about:
Amy's background, her beginnings in Silicon Valley, and discovering her date matchmaking niche (03:53)
Changes that have taken place in the dating environment over time (06:20)
How matchmaking works and the difference between matchmaking and using online dating apps (07:50)
The demographics of Amy's matchmaking clients (11:22)
The social resource challenges of high net-worth men in dating (13:12)
Preliminary stages of the matchmaking process (15:58)
How Amy matches her male clients with women: understanding a man's physical type (20:55)
The work involved in building a picture of what a client is looking for and wants (22:18)
The geography of clients that come to Amy and Linx Dating (24:08)
Using Linx Dating metrics to bring potential matches together: the intuition matching of science meets art (25:05)
Developing a client's skills and offering preparatory advise before the first Linx date (26:30)
How does knowing the profile of a potential match change the dynamics of a first date? (31:40)
Being prepared with topics you passionately want to talk about outside the scope of career (32:51)
Some of the biggest challenges men encounter in the matchmaking process (35:50)
Linx Dating services, arrangements, and pricing (36:45)
What it takes to achieve results: number of dates, mindset, timing, etc. (38:49)
At what age do men develop a pressured time-window to finding their match? (41:05)
Amy's anti-BBD (Bigger Better Deal) philosophy (44:17)
Do men with more dating experience and a higher quality and variety of partners tend to want to settle down less over time? (46:55)
The downsides to matchmaking versus other approaches (49:20)
As they go through the matchmaking environment, do men have to worry about meeting women who are "gold diggers"? (52:00)
The best ways to connect with Amy and Linx Dating (54:28)
Who besides yourself would you recommend for quality advice in dating, sex, and relationships? (Contact Amy for more information depending on your situation) (54:48)
The number of matchmaking services in the U.S. (55:30)
Top three recommendations to help men improve in this area of their life as fast as possible (55:54)
Items Mentioned in this Episode include:
Comment Rules: You know that James Bond factor? The "cool" factor. That's how we're gonna be - cool. Critical is great, but if you're rude, we'll delete your stuff. Please do not put your URL in the comment text or use your business name as your name, as it looks like spam. Have fun and thanks for adding to the conversation!
Help Us Improve DSR Podcast Interviews for You
DSR Podcast is a weekly podcast where Angel Donovan seeks out and interviews the best experts he can find from bestselling authors, to the most experienced people with extreme dating lifestyles. The interviews were created by Angel Donovan to help you improve yourself as men - by mastering dating, sex and relationships skills and get the dating life you aspire to.
Help us improve the quality of interviews by sending us feedback about what questions you'd like answered or who you'd like to see interviewed.
Contact: [email protected]
"Listen In As We Share The Top Takeaways From The Best Dating Products Ever Created... Shave Years Off Your Learning Curve As You Discover What Really Creates Success With Women"
Here's just a few things we reveal in this info-packed interview:
The surefire products that are proven to work - based on 15+ years coaching men to dating success.
Why we dubbed this one product 'idiot-proof' and how it can transform a woman's reaction to you almost immediately.
Feel anxious about approaching women? Discover how to bypass that and set up a stream of dates with gorgeous women in as little as 20 minutes a week.
Dating Skills Review has been featured or quoted in: