Attached: The New Science of Adult Attachment and How It Can Help You Find and Keep Love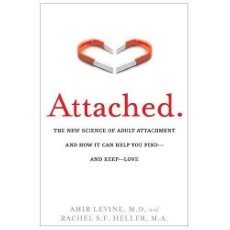 DSR Editor Rating
No Editor Review Available Yet.
Go to Product Site
Product Information
"Attached." aims to provide a scientific explanation for why people navigate relationships on different levels - some effortlessly, while others struggle. It provides an understanding of how adult attachment can help to find and sustain love.
---
Skillsets:
Female Psychology
Relationship Skills
Experience Level(s):
Beginner
Release Date:
December 30, 2010
Price:
$10.18 - $13.75
(depending on product format or options purchased)
---
Feedback
If you have a question or problem, ask us:
Table of Contents/ List of Topics Covered:
Introduction
- Chapter 1: Decoding Relationship Behavior
- Chapter 2: Dependency is not a Bad Word

Part 1: Your Relationship Toolkit - Deciphering Attachment Styles
- Chapter 3: Step one: What is My Attachment Style?
- Chapter 4: Step two: Cracking the Code - What is my Partner's Style?

Part 2: The Three Attachment Styles in Everyday Life
- Chapter 5: Living with a Sixth Sense for Danger: The Anxious Attachment Style
- Chapter 6: Keeping Love at Arm's Length: The Avoidant Attachment Style
- Chapter 7: Getting Comfortably Close: The Secure Attachment Style

Part 3: When Attachment Styles Clash
- Chapter 8: The Anxious-Avoidant Trap
- Chapter 9: Escaping The Anxious-Avoidant Trap
- Chapter 10: When Abnormal Becomes the Norm: An Attachment Guide to Breaking Up

Part 4: The Secure Way - Sharpening Your Relationship Skills
- Chapter 11: Effective Communication: Getting the Message Across
- Chapter 12: Working Things Out: Five Secure Principles for Dealing with Conflict
---
What You Get:
Book options include:
- Paperback $10.18
- Kindle $12.85
- Hardcover $13.75

---
Guarantee / Terms:
See policy of product website
User Reviews of Attached: The New Science of Adult Attachment and How It Can Help You Find and Keep Love
Most Helpful User Reviews
1 of 1 people found the following review helpful
"Truth covered in crap."
Ease of Implementation
1.0
Packaging/ Customer Service
1.0
Reviewed by
John
October 20, 2012
Look.......This book covers 3 types of people. Anxious, Secure, Avoidant. They did a lot of research surrounding this topic. But they spent so much of their time talking about unproven random assumptions about how they hope men/women behave versus how men/women behave in real life.


Pros:
They showed that people who are avoidant in social situations are not more likely to be avoidant in sexual relationships. They proved that being social doesn't mean you will attach in a secure way. Just as many avoidants are highly social as anti social people are.


Cons:
So many. They talk like they know how to meet people, like they know how to open women, how to date, how to express who you are. Generally if you want the women you are attracted to to be accepting of who you are, then you need to become good at expressing you. They avoid all talk of tact. There is a difference between being direct and being blunt and scarring everyone away.

Here is the problem with academics in general. They do a great study, prove their theory. Then spend the rest of their time saying random assumptions they have never and will never prove. For someone who goes out and games regularly, I can say without a doubt that these people have not proven nor actually had any experience with roughly 90% of this book. It was in large part a waste.

But I did give them high marks in Innovativeness, because I did learn something no other book has talked about. They should rewrite it, and stop making up so much bullshit.
0 of 0 people found the following review helpful
"Not for everyone"
Ease of Implementation
8.0
Packaging/ Customer Service
2.0
Reviewed by
Sexy K
March 15, 2012
This book isn't for everyone.

The authors' founding principle is that everyone's intimacy needs are valid, which may be true and/or helpful, but then they turn around and crap on the needs of avoidantly attached people. The book is written for anxiously attached people (who are the market for relationship books). As an avoidantly attached person, I didn't get a whole lot of insight into myself out of this.

I gave the book a mixed review because some of the information is interesting, such as the deactivating strategies.

What I really want is a guide for moving towards secure attachment.

Anybody?
0 of 1 people found the following review helpful
"Excellent!"
Ease of Implementation
10.0
Packaging/ Customer Service
10.0
Reviewed by
Joy
March 07, 2012
I've been doing personal growth work for about 13 years, and this book hit the bulls eye for me. It described me to a T and gave me tools to stop repeating the pattern. It's a game-changer. I highly recommend it for anyone in serial relationships.
View Other Home Study Courses (Books, DVDs, CDs, MP3/ Video)