Research Desk
Podcast
Ep. #59 How Attitude and Standards Lead to Satisfaction with Women with Christie Hartman
Ep. #59 How Attitude and Standards Lead to Satisfaction with Women with Christie Hartman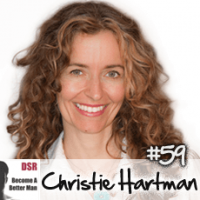 Press Play and Wait up to 10 Seconds for the Interview to Start Playing
Update Required
To play the media you will need to either update your browser to a recent version or update your
Flash plugin
.
Today we're looking at being satisfied with your dating lifestyle, and relationships with women in general. Sometimes we find ourselves chasing things in life that don't make us any happier. Other times, we take an approach to reaching a goal that has the opposite effect of what we want.
Today is really about fundamentals: basic principles and ideas that you need to get right if you want not only to get results, but more importantly, to be satisfied once you get the results that you wanted.
I've brought onto the show today a guest who has a very straightforward approach to the subject. It's both simple and practical, which is always good.
Our guest is Christie Hartman, PhD, psychologist, and behavioral scientist. She has studied behaviors and scenarios of online dating, and dating from both genetic and more psychological perspectives. A professor at the University of Colorado Health Sciences Center for 7 years, in 2012 she left this position to focus on her role as a dating expert, among other things.
She is the author of 5 books on dating and relationships for both men and women. So she brings a balanced perspective from having looked at both sides.
Don't Miss New Dating Skills Podcast Episodes
Specifically, in this episode you'll learn about:
Christie's dating life and relationships (02:32)
The most common male behaviors leading to dissatisfaction with dating and women (04:05)
Men have more problems with online dating (07:15)
The meaning of: A bad attitude will scare good women away and attract the very women you hope to avoid (08:48)
Ways a negative attitude will sabotage your efforts with dating and relationships (10:29)
Most of the time a bad attitude isn't all that realistic (11:38)
Understanding complainer behavior versus problem solvers (14:44)
Things to do to start changing from complainer mode to problem solver mode (19:02)
Poor standards is behind a lot of men's dissatisfaction with dating (25:12)
What kind of things would you put into compatibility? (26:28)
How guys mess up with compatibility (28:05)
The impact of poor standards on your dating life (29:08)
Defining your own standards (31:14)
Gaining dating experience (32:38)
One of the biggest trends: online dating and how it has changed the dating environment (33:26)
Casual dating and dating overload (35:33)
Selecting another person based on status (38:04)
Circumventing the selection process by being interesting (39:44)
Recommendations for actionable advise on dating, sex, and relationships (40:30)
Top three recommendations to help men get better results with women as fast as possible (45:33)
Items Mentioned in this Episode include:
Books Mentioned
Changing Your Game (Christie Hartman): The content of Christie Hartman's book was the subject of the interview and is about developing the right mindset to succeed with women.
Men Are From Mars, Women Are From Venus (John Gray): Christie recommended John Gray and this particular book as a good source for quality advice she's learned from. It is about accepting the differences between men and women.
The Elliot Rodger Killings and His Thought Process
My Twisted World: The memoir written by Elliot Rodger
Elliot Rodger's last video explaining his "Retribution"
Elliot Rodger's Lonely Vlog: Life Is So Unfair
Other Dating Coaches and Experts Mentioned
Bobby Rio and his Conversation Escalation: Make Small Talk Sexy Course: Angel recommended this as one of the best courses to have more fun, engaging, sexual conversations.
Jason Capital: Angel recommended Jason Capital for practical and easy to learn attracting women advice.
Mystery (Erik von Markovik): One of the originators of pickup artistry with products on the art of seduction, game, and pickup.
Books, Courses and Training from Dr. Christie Hartman
Comment Rules: You know that James Bond factor? The "cool" factor. That's how we're gonna be - cool. Critical is great, but if you're rude, we'll delete your stuff. Please do not put your URL in the comment text or use your business name as your name, as it looks like spam. Have fun and thanks for adding to the conversation!
Help Us Improve DSR Podcast Interviews for You
DSR Podcast is a weekly podcast where Angel Donovan seeks out and interviews the best experts he can find from bestselling authors, to the most experienced people with extreme dating lifestyles. The interviews were created by Angel Donovan to help you improve yourself as men - by mastering dating, sex and relationships skills and get the dating life you aspire to.
Help us improve the quality of interviews by sending us feedback about what questions you'd like answered or who you'd like to see interviewed.
Contact: [email protected]
"Listen In As We Share The Top Takeaways From The Best Dating Products Ever Created... Shave Years Off Your Learning Curve As You Discover What Really Creates Success With Women"
Here's just a few things we reveal in this info-packed interview:
The surefire products that are proven to work - based on 15+ years coaching men to dating success.
Why we dubbed this one product 'idiot-proof' and how it can transform a woman's reaction to you almost immediately.
Feel anxious about approaching women? Discover how to bypass that and set up a stream of dates with gorgeous women in as little as 20 minutes a week.
Dating Skills Review has been featured or quoted in: