#117 Demographics and How they Effect your Dating Life with Jon Birger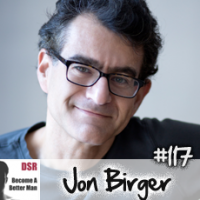 Press Play and Wait up to 10 Seconds for the Interview to Start Playing
Update Required
To play the media you will need to either update your browser to a recent version or update your
Flash plugin
.
Today's topic was super-fascinating to me. It's about how society is changing. It's really changing fast, as it goes. The ratios of men to women in certain situations, in certain scenarios, in your social life, in your career life, basically where you interact with people, that's changing a lot. It's changing your dating life. It really does have a big impact on it.
There are real decisions that you're taking everyday – where you study, where you work, where you live, and which communities you hangout in – which heavily influence or even decide whether you are monogamous, or you're polyamorous, you just like hookups, or what you like.
I always find it fascinating how our environments change us, how they craft us. So I for one am very careful with my environment, how it is set up. I'm very careful with these real decisions I'm just talking about where you study, where you work, what you do; who you associate with, who your friends are, and so on. You should be too, because these decisions will influence how easy or how difficult you find your dating life, and how it fits with your goals; whether you want a long-term monogamous relationship or you want to play around and be casual for a fair amount of time. So it's important to understand the implications of decisions you're making across your whole life because these are also impacting your dating and relationships.
For many of you, the reason you are listening to this is because dating and relationships are an important part of your lives. Its something that's important to you to get right, and have it work with you.
Today's guest is the author of Date-onomics: How Dating Became a Lopsided Numbers Game. Our guest is Jon Birger and he's looking at the dating market, really looking at it, from an economics and supply and demand eye to it. Jon Birger is well positioned to do this since he's an award-winning journalist, contributor to Fortune Magazine. His work has also appeared in Barron's, Money Magazine, New York Magazine, Time Magazine, and The Washington Post; and often appearing on television and radio such as ABC's Good Morning America, BBC World Service, CNBC, CNN, Fox News, MSNBC, and National Public Radio.
Jon, in this interview, he gives us a really interesting and different perspective on the whole game of dating, relationships, and sex. This is definitely something you want to integrate into your thinking. I think it can help you (I think) a bit more long term and strategically about how you're going to get satisfaction in your life from dating, sex, and relationships; how it's going to work for you. You'll probably be able to identify areas in your life or decisions you've made which were actually working against you. That doesn't mean you need to change them, but being conscious of these things is going to help you.
So enjoy this episode. It's really a great, new perspective that you should take on board.
Don't Miss New Dating Skills Podcast Episodes
Specifically, in this episode you'll learn about:
Jon's background into the demographics of the dating market (04:25)
The basic thesis / hypothesis of Jon's book (05:57)
The ratio of men to women in big cities depending on the attractiveness of the job market (08:35)
More women than men are graduating from college: an expanding trend (10:04)
Changes in the current college environment regarding dating and relationships (11:43)
Hookup culture and related trends in the college environment (18:55)
Objections to Jon's ideas: the pop culture and technology arguments (22:45)
The likelihood of monogamy among non-college educated men versus working class men (29:54)
"Dating up" depending on levels of education (32:37)
Competition and modified behavior among females on college campuses (34:44)
The downside of the dating culture in the college environment (40:55)
Do sites promoting affairs play a role in these trends? (41:57)
Gender ratio imbalances, particularly among college graduates: Asian-American women (43:23)
Has marriage length / duration and cheating among the college educated affected the quality of marriages and relationships? (48:20)
Sexual assault ratios on college campuses (51:08)
How to connect with Jon to learn more about him and his work (54:08)
Recommendations for high quality advice in dating (54:34)
Top three recommendations to help men get results as fast as possible in dating, sex, and relationships (55:20)
Items Mentioned in this Episode include:
Books, Courses and Training from Jon Birger
Comment Rules: You know that James Bond factor? The "cool" factor. That's how we're gonna be - cool. Critical is great, but if you're rude, we'll delete your stuff. Please do not put your URL in the comment text or use your business name as your name, as it looks like spam. Have fun and thanks for adding to the conversation!
Help Us Improve DSR Podcast Interviews for You
DSR Podcast is a weekly podcast where Angel Donovan seeks out and interviews the best experts he can find from bestselling authors, to the most experienced people with extreme dating lifestyles. The interviews were created by Angel Donovan to help you improve yourself as men - by mastering dating, sex and relationships skills and get the dating life you aspire to.
Help us improve the quality of interviews by sending us feedback about what questions you'd like answered or who you'd like to see interviewed.
Contact: [email protected]
"Listen In As We Share The Top Takeaways From The Best Dating Products Ever Created... Shave Years Off Your Learning Curve As You Discover What Really Creates Success With Women"
Here's just a few things we reveal in this info-packed interview:
The surefire products that are proven to work - based on 15+ years coaching men to dating success.
Why we dubbed this one product 'idiot-proof' and how it can transform a woman's reaction to you almost immediately.
Feel anxious about approaching women? Discover how to bypass that and set up a stream of dates with gorgeous women in as little as 20 minutes a week.
Dating Skills Review has been featured or quoted in: