#99 How and Why to Start Swinging (Male Perspective) with Cooper Beckett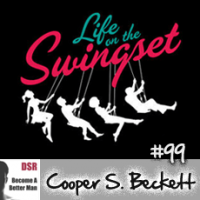 Press Play and Wait up to 10 Seconds for the Interview to Start Playing
Update Required
To play the media you will need to either update your browser to a recent version or update your
Flash plugin
.
Today we're jumping into ethical non-monogamy again. We've done this before in episodes with polyamory, polygamy, and of course swinging. Today, we're coming back to swinging. We're revisiting this. We looked at it from a female point of view, that was in
episode 93
with Swinging MILF.
This time we're going to jump in with a male point of view. This, of course, swinging differs to polyamory in that it's a lot more focused on short-term hookups. Some of them can last months, but generally it's a relatively short time period; and more focused on sexual experience than longer term relationships and the dynamics of the relationship itself.
Having covered the basics in a previous episode, we jump into this subject in more depth. So we get to know swinging with someone who's been practicing it for over five years, longer than the Swinging MILF. We're talking about the sexual experiences, the journey of self-growth, the practical tips on how to go about this and stay out of trouble - basically - and the swinger lifestyle in general. Is it for you? Is it not for you? Who's it for?
Today's guest is Cooper Beckett. He started a website and podcast called Life on the Swingset in 2010, and it regularly tops the sexuality iTunes ranking. So, if you are interested in the Swingset and you enjoy this interview, and you want to check that out, his podcast (Life on the Swingset - The Non-Monogamy Podcast) and website are all about swinging, polyamory, and open relationships from the trenches, from people practicing it. It's not just people talking. It's people actually doing it, living it, so that's obviously experiential; something we value a lot here also - good stuff.
Interestingly, Cooper, as many of you potentially are in this situation, he went from being really afraid of sex for much of his life. He's got a lot more comfortable with it today obviously than the average guy, even perhaps 99% of guys, as you'll see in the interview. So that's an interesting journey, or you would like to get to where he is, then obviously this is going to be a good episode for you to learn how he got from being afraid all the way to feeling very satisfied and comfortable with his sex life.
Cooper teaches classes and speaks at conferences often on all these related topics, so he is used to all of that. He has a #1 ranked amazon bestseller in human sexuality also. That's called: My Life on the Swingset: Adventures in Swinging & Polyamory. It's kind of like his journey. One of the reviewers for that said, interestingly, "It's the dirty cousin to Ethical Slut". So if you haven't seen Ethical Slut, it's a very well known book. And of course, I interviewed one of the authors of Ethical Slut, Janet Hardy, back in episode 65. If you are interested in polyamory, you'll want to check that out as well. So, again, someone says this is the dirty cousin to Ethical Slut and that's going to give you a bit of a preamble to what this interview is going to be like in comparison.
Couple of other things to set the context: Swinging MILF was relatively new to the scene, if you remember. Maybe you want to check out that interview first to get a bit of context and cover a little of the basics before we dive into this one actually, whereas Cooper has been in this lifestyle and talking about it for five years. He's done over 200 episodes on his podcast, and so we're going to go a lot deeper to more advanced topics today. So I hope you enjoy that.
Don't Miss New Dating Skills Podcast Episodes
Specifically, in this episode you'll learn about:
Cooper's background and how he became involved in swinging (05:15)
Cooper's highlighted swinging experiences (09:41)
The importance of physical confidence (17:00)
The negative experiences in swinging: compatibility versus incompatibility (23:25)
Swinging as a "foreign" lifestyle without positive navigation (28:45)
The concept of impermanence in relationships and seeing the value of a relationship regardless of its longevity (30:30)
The biggest differences in Cooper's life since getting into swinging (35:02)
Is there a transfer of confidence to other areas of life as a result of swinging? (38:57)
The positive pressure put on oneself to better communicate in the swinging community: the ability to quickly access and the openness to jump in (41:30)
How Cooper discovered his bisexuality, dealing with it emotionally, and bisexuality in the swinging community (43:00)
The Kinsey Scale in recognizing there are varying degrees of bisexuality without identifying with being gay, as a result of having a strong sense of self and who you are (50:26)
Interesting things Cooper has tried while in the swinging community (53:00)
Practical tips for people wanting to get into the swinging lifestyle and make the most out of the experience (55:40)
The possibility to learn from good, ethically produced porn that is often less traditional (58:50)
STI / STD safety (sexually transmitted infections / diseases): handling it in the swingset, and in general (1:07:30)
The peer pressure of introducing protection in oral and penetration sex (1:15:10)
Recommends for finding practical, quality sex education advice (1:17:05)
The best ways to connect with Cooper to learn more about him and his work (1:18:53)
Top three recommendations for guys starting out in their sexual exploration (1:20:08)
Items Mentioned in this Episode include:
Books, Courses and Training from Cooper S. Beckett
Comment Rules: You know that James Bond factor? The "cool" factor. That's how we're gonna be - cool. Critical is great, but if you're rude, we'll delete your stuff. Please do not put your URL in the comment text or use your business name as your name, as it looks like spam. Have fun and thanks for adding to the conversation!
Help Us Improve DSR Podcast Interviews for You
DSR Podcast is a weekly podcast where Angel Donovan seeks out and interviews the best experts he can find from bestselling authors, to the most experienced people with extreme dating lifestyles. The interviews were created by Angel Donovan to help you improve yourself as men - by mastering dating, sex and relationships skills and get the dating life you aspire to.
Help us improve the quality of interviews by sending us feedback about what questions you'd like answered or who you'd like to see interviewed.
Contact: [email protected]
"Listen In As We Share The Top Takeaways From The Best Dating Products Ever Created... Shave Years Off Your Learning Curve As You Discover What Really Creates Success With Women"
Here's just a few things we reveal in this info-packed interview:
The surefire products that are proven to work - based on 15+ years coaching men to dating success.
Why we dubbed this one product 'idiot-proof' and how it can transform a woman's reaction to you almost immediately.
Feel anxious about approaching women? Discover how to bypass that and set up a stream of dates with gorgeous women in as little as 20 minutes a week.
Dating Skills Review has been featured or quoted in: