Research Desk
Podcast
#93 How and Why to Start Swinging (and Insights into Cam Modelling) with Swinging MILF
#93 How and Why to Start Swinging (and Insights into Cam Modelling) with Swinging MILF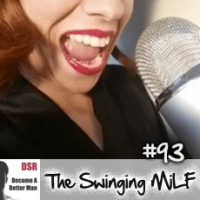 Press Play and Wait up to 10 Seconds for the Interview to Start Playing
Update Required
To play the media you will need to either update your browser to a recent version or update your
Flash plugin
.
Today we are looking at the topic of Swinging. Now, when I was going to dive into this I realized that everyone would not know what swinging is, and may not know why they should listen to an episode about it. The first thing: swinging is kind of like casual polyamory, and that's something that I just came up with. It's like single dating - when you're dating as a single guy - except there's more focus on sex.
Some of the places swingers go to are sex clubs, for instance, or they're called swinging clubs to meet other people who are interested in more casual sex, more straightforward, and doing it in a more straightforward way. This also goes for couples. There are a lot of couples in this little community. So, it's actually mostly couples.
If I look at Wikipedia, it says - and I'm not sure if I agree with all of this - swinging, also known as wife swapping or partner swapping, is a non-monogamous behavior - that I agree with - in which both singles and partners in a committed relationship engage in sexual activities with others as a recreational or social activity. Wife swapping and partner swapping, I think that's too much emphasis on the swapping part. It's actually kind of like mutual - as you'll see today's interview - it's more like just mutual sex experiences.
So there are couples going out with couples dating, and then going for sexual activities together afterwards. It's not necessarily this swapping all the time, but we'll get more into that in today's interview.
Interestingly, it's probably a lot more prominent than you think, and it's more relevant to more people than you think. So, 2000 estimates by the Kinsey Institute (they've done a lot of research over the years and followed the path of Alfred Kinsey, who did one of the first sex studies) look at these kind of statistics and they say swingers accounted for 2 - 4% of married couples in 2005; which is in excess of 4 million people in North America. In 2011, there are other studies that believe there are as many as 15 million Americans swinging on a regular basis. It does seem to be getting more popular.
Today we are going to talk about all of this, and we're also going to talk about gateway sexual experiences, why and how to start swinging, how to introduce it to your partner (which is going to be a tricky subject, you know, if you're interested in swinging and want to introduce it to your girlfriend or wife), and what the social dynamics are like between men and women; who does this work out best for, is most successful at swinging, and how is status attributed. Now, how does all of that work within the swinging community, which is a community by itself?
Today's guest is Swinging MILF, and she's right in the midst of exploring the swinger lifestyle herself. She's doing a podcast on it and she talks all about her experiences there. So that's why I found her. What's great is that she goes into a lot of details, and because she's exploring herself (asking a lot of questions over time; she's been doing this a couple of years or so now), she's asking herself a lot of questions has she goes through this and she's seen changes in her life. So, it's interesting from that point and perspective, because if some of you are interested in getting involved in it, well, it's going to be the first two years or so that are most interesting to you.
She's also a webcam girl, so we're going to have a little chat about that also. If you don't know what that is or how that works, and what the dynamics are, that's a little bit interesting too. The other thing I'd like to say about Swinging MILF is that her life wasn't always like this. I think a lot of the time our stereotype of polyamory and swingers, and so on, are that they always had a very open sexual lifestyle from their teenage years. It's just not true. Some people can be very conservative even and completely move to a different kind of lifestyle because they choose to, because they choose to open up and become open, rather than having started that way. So we'll get into that also. It's all good stuff.
Don't Miss New Dating Skills Podcast Episodes
Specifically, in this episode you'll learn about:
Swinging MILF's background, current relationship lifestyle, and cam modelling (07:26)
Gateway sexual experiences and milestones Swinging MILF has had in her lifestyle journey (09:50)
How things have changed for Swinging MILF since she started swinging (18:55)
Releasing sexual barriers through the openness of the swinging community (20:55)
Meeting other swingers and the initial conservations (23:20)
Swinging MILF's best swinging experiences (24:20)
Her expansion into swinging since getting into the lifestyle two years ago (27:50)
Experiences that have helped Swinging MILF reach a higher comfort level - a sense of pride and self-confidence (28:50)
Swinging MILF's perspective on some of ex porn star Dave Pounder's ideas about swinging, from his DSR podcast (episode 79, see show notes below) (33:40)
In terms of dynamics, successful swingers versus unsuccessful swingers, and the meeting process (38:00)
Women as the assertive swinging decision makers (46:25)
The hesitation to get into swinging, attend events, and meet people in clubs due to shyness or lack of self-confidence (47:00)
Other fears that may inhibit a couple's interest or involvement in swinging (50:28)
Rules a couple can set to maintain trust and enjoy their experiences - communication is key(51:54)
Attachment drama between swinging couples, sometimes resulting in relationship drama (55:10)
Swinging MILF's explanation of and introduction into cam modelling (56:09)
Positive and negative behaviors/patterns associated with cam modelling (1:00:19)
Best way to connect with Swinging MILF and learn more about her and swinging (1:05:57)
Recommendations for good advice and insight into dating, sex, and relationships (1:06:57)
Top three recommendations for guys starting from scratch to improve their dating, sex, and relationship life in general (1:08:12)
Items Mentioned in this Episode include:
Comment Rules: You know that James Bond factor? The "cool" factor. That's how we're gonna be - cool. Critical is great, but if you're rude, we'll delete your stuff. Please do not put your URL in the comment text or use your business name as your name, as it looks like spam. Have fun and thanks for adding to the conversation!
Help Us Improve DSR Podcast Interviews for You
DSR Podcast is a weekly podcast where Angel Donovan seeks out and interviews the best experts he can find from bestselling authors, to the most experienced people with extreme dating lifestyles. The interviews were created by Angel Donovan to help you improve yourself as men - by mastering dating, sex and relationships skills and get the dating life you aspire to.
Help us improve the quality of interviews by sending us feedback about what questions you'd like answered or who you'd like to see interviewed.
Contact: [email protected]
"Listen In As We Share The Top Takeaways From The Best Dating Products Ever Created... Shave Years Off Your Learning Curve As You Discover What Really Creates Success With Women"
Here's just a few things we reveal in this info-packed interview:
The surefire products that are proven to work - based on 15+ years coaching men to dating success.
Why we dubbed this one product 'idiot-proof' and how it can transform a woman's reaction to you almost immediately.
Feel anxious about approaching women? Discover how to bypass that and set up a stream of dates with gorgeous women in as little as 20 minutes a week.
Dating Skills Review has been featured or quoted in: