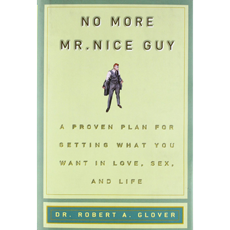 DSR Editor Rating
No Editor Review Available Yet.
Go to Product Site
Product Information
"No More Mr. Nice Guy" by Robert A. Glover is a book about removing the 'Nice Guy Syndrome' from a man trying too hard to please others. It aims to help men in expressing their emotions, acknowledging their masculinity, and forming relationships.
It offers the information to ensure the needs of men are met.
---
Skillsets:
Inner Game & Confidence
Experience Level(s):
Beginner
Release Date:
February 04, 2004
Price:
$7.83 - $32.00
(depending on product format or options purchased)
---
Feedback
If you have a question or problem, ask us:
Table of Contents/ List of Topics Covered:
- The Nice Guy Syndrome
- The Making of a Nice Guy
- Learn to Please Yourself
- Make Your Needs a Priority
- Reclaim Your Personal Power
- Reclaim Your Masculinity
- Get The Love You Want: Success Strategies for Intimate Relationships
- Get The Sex You Want: Success Strategies for Satisfying Sex
- Get The Life You Want: Discover Your Passion and Potential in Life, Work and Career
---
What You Get:

Book options include:
- Kindle $7.83
- Hardcover $12.95
- Paperback $32.00
---
Guarantee / Terms:
See policy of product website
User Reviews of No More Mr. Nice Guy!
Most Helpful User Reviews
6 of 6 people found the following review helpful
"Life changing"
Ease of Implementation
9.0
Packaging/ Customer Service
10.0
Reviewed by
Bonga Height
July 04, 2014
If anyone has ever told you that you are "a nice guy", you have a problem not only with women but also with life in general. Dr. Glover knows from his own life as a recovered "nice guy" how detrimental such an approach to life can be, and he offers real-life solutions in this book to make you more attractive to women, and, more importantly, how to improve your life as a whole.

In the book, he breaks down the psychology and behaviors of men who interact with both genders in what are essentially approval seeking ways, and also why they don't work. Further, throughout the book he has provided a combination of actions and exercises that help guys become more of the men they want and actually need to be.

Such exercises include hanging out with more men (critical), being more direct with others, being honest, and more.

One thing to note is that if you do indeed fit the category of this type of man (and there is probably a good chance that you do if you are on this website), then learning the material within Dr. Glover's book will almost certainly be a prerequisite to becoming better with women, no matter how much other pickup material that you study.

To give a specific example of how reading this book has helped me to improve my interactions with women is how the author points out that a lot of nominally nice men actually have a lot of anger towards women, which is certainly not attractive. By actively working on my anger issues, I have noticed that women are visibly more attracted to me much more often than they used to.

The only reason that I did not rate this book higher is that it seemingly mostly emphasizes becoming a better man with comparatively little in the way of specific techniques when it comes to interactions with women. Even in the example shown above in the previous paragraph, this is an example of a mindset rather than a specific technique.

Instead, such specific instructions on how to interact with women seem to be mainly reserved for the online classes and podcasts at his website, www.drglover.com. Hopefully in the future the author will write a book featuring these techniques so that this material can be obtained at a more affordable price.

Regardless, the most essential parts of being the man that women want are covered here in terms of both mindset and general approach to life, making the material contained here an excellent foundation upon which to build upon.

In short, this book does an exemplary job of not only describing the core issue, but what one can realistically do about it as well. I recommend this book as often as I can to men I know who fit this profile.
Help other users find the most helpful reviews
Was this review helpful to you?
View Other Home Study Courses (Books, DVDs, CDs, MP3/ Video)