Richard La Ruina (Gambler)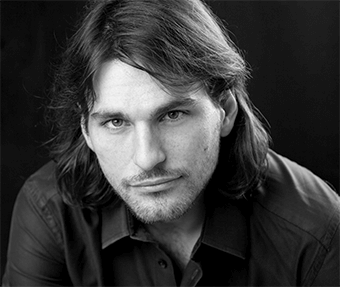 Gambler (Richard La Ruina) made a name for himself quickly in the UK market as a dating coach and pick up artist thanks to his marketing and PR skills. He has two books that have been published and helped build his reputation.
He is the founder of PUA Training - a company that came late to the UK seduction market compared to other companies but quickly became the most popular and well known. Today, it is the largest European dating coaching company and a company that has been quickly expanding globally into cities in South America, Asia and North America.
Wiki Contents
Personal Data
Commercial Alias Name:
Gambler (or Richard La Ruina)
Real Name: Richard Poingdestre Sloan
Nationality: British
Date of Birth: July 07, 1980 (Age 43)
Height: 6"0
Profession(s):
Pick Up Artist (PUA)
Dating Coach
Dating Author
Affiliated Dating Companies: PUA Training
Web Presences
Twitter

profile: @RichardGambler
Facebook profile: richard.gamblerlaruina
Reddit profile: rlruina
Trademark Concepts
Gambler's advice is characterized by:
A "Natural Approach" to meeting and attracting women based on a very direct approach.
Improving your self and your lifestyle to make it easier to attract women.
He also introduced the concepts of micro calibration and stealth attraction (under the radar techniques) when he released his stealth attraction system.
Richard La Ruina Quotes
"It doesn't have to be perfect, it just has to be good enough."
"I used to be uncomfortable with my looks when I was young. Improving my fashion gave me confidence. So by working on guys fashion we make them look better and they look into the mirror and they go 'oh, it's really good'."
"When I imagine a super hero PUA, there is no way he is indirect!"
"Get over your inhibitions and approach as many sets as you can. A guy that does 100 in a day will close more and learn more than someone that does not."
"If you are not an attractive man in general, fix that. Work on fashion, body language, voice, extrovert qualities, social skills, building an interesting life, etc. If you focus solely on pickup, it can actually make you worse!"
"I find canned material objectionable. I want the girl to be attracted to me, what I have to say, and what I truly think of her. I don't want to catch a girl by acting a role."
"I think that canned material is a crutch until you develop the skills to freestyle and 'be yourself'."
Biography
Personal Life
Gambler was born and raised in Cambridge where he describes his childhood as being difficult as he faced problems at school and socially due to being introverted and often being teased and called ugly. This caused him to have low self-esteem when growing up.
At 18 years of age Gambler took his life savings of £2000 and started investing in the stock market. He did very well over the next six years acquiring the nickname 'The God of Gamblers' after a Hong Kong movie character, which eventually became 'Gambler'.
It appears that the money made on the stock markets was later put towards building and promoting the dating company he created "PUA Training".
Gambler also maintains that he was unsuccessful with women, and hadn't even kissed a girl by the age of 21.
Pickup Artist Career
Gambler began learning about dating advice shortly after he read "
The Game
" when it was published in 2005.
Richard studied and has been influenced by many of the different schools of pick-up. These include Ross Jeffries' Speed Seduction, Mystery Method and Real Social Dynamics. Although in later years he has moved away from scripts and routines and tried to advocate a more natural spontaneous approach.
Normally he approaches very directly and escalates physically quickly while creating an intense emotional connection. Although he prefers natural styles he is knowledgable about NLP and hypnosis. He also advocates life-style improvement in order to more easily attract women.
In 2006 Gambler met Kezia Noble, who would become his lead female dating instructor in the company he would create in 2007, PUA Training. Another person he met and who would become one of the key instructors at the new company was Robert Beck (Beckster).
One of PUA Training's first breakthroughs was when it, and Richard La Ruina, were featured in the Channel 4 documentary "First Cut: The Rules of Seduction" which aired on December 7th 2007 and was viewed by 2.5 million people.
In 2007 Ruina published the book 'The Natural Art of Seduction', which became popular in the UK, and help to promote him and PUA Training.
In 2009 he started an NLP training company named NLP Creations Ltd.
In August 2009, Richard appeared with Kezia on Dragon's Den (The UK version of Donald Trump's The Apprentice) with the business plan for PUA Training. They failed to get investment, however the Dragon's Den members were impressed by the financials of the business (2008 revenues of £540,000).
Since 2011 Gambler has been travelling the world including places like Brazil, Russia, Argentina and South East Asia mostly for the delight of picking up women in places where he finds them to be the most attractive.
Richard La Ruina (Gambler)'s Credentials & Experience
Some pictures of Gambler with women - these are mostly women he has met in clubs. He has no known long term girlfriend.
Notable Media Appearances
La Ruina has been featured extensively in the press, primarily in the UK and also in his current resident country Belarus.
Books, Courses and Coaching & Richard La Ruina (Gambler) Reviews
Help Us to Improve this Profile
The information in this coach profile and wiki is verified by Dating Skills Review's Editors to be as objective, complete and close to the truth as possible. It was created by Angel Donovan.
Help us improve this profile of Richard La Ruina (Gambler) by sending us any information you believe to be missing, wrong or lacking detail or good quality images we don't have. Please state sources where possible to make our job easier to verify the correctness of the information.
Contact: [email protected]
"Listen In As We Share The Top Takeaways From The Best Dating Products Ever Created... Shave Years Off Your Learning Curve As You Discover What Really Creates Success With Women"
Here's just a few things we reveal in this info-packed interview:
The surefire products that are proven to work - based on 15+ years coaching men to dating success.
Why we dubbed this one product 'idiot-proof' and how it can transform a woman's reaction to you almost immediately.
Feel anxious about approaching women? Discover how to bypass that and set up a stream of dates with gorgeous women in as little as 20 minutes a week.
Dating Skills Review has been featured or quoted in: