The Pick-Up Artist Season One (Reality TV Show)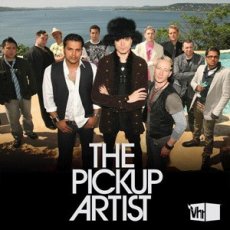 DSR Editor Rating
Product No Longer Available.
See other products and coaching from
Editor Review
1 of 1 people found the following review helpful
"Can be Useful to Beginners for Motivational Purposes"
Ease of Implementation
4.0
Packaging/ Customer Service
10.0
The Good
Allows beginners to get to know one of the seduction communities most well known gurus, and also useful for motivation in early stages of learning. Beginners may learn from some of basic errors Mystery points out contestants making.
The Bad
This is an entertainment product, not an educational product. It is included here because of its popularity and because there is some educational content. For anyone who is more than an early beginner there is very little educational value. It should be considered as a motivational product only.
The Bottom Line
This product is only recommended to be bought for entertainment purposes.
FULL DETAILED REVIEW
The content taught to contestants is very basic, and can be misleading because of the way it has been jazzed up for the benefit of the Reality Show. There are some basic pick up rules to be learned from the in depth analysis of contestant challenge footage that Mystery provides at the end of each episode. In these he often points out the basic errors to be avoided.
The footage may help application and implementation of some pick-up for beginners because the errors that are made by contestants are pointed out when Mystery evaluates their performance. Because of the detailed analysis of footage, and the fact that explanations are kept simple this can help some beginners to get over basic sticking points.
There is nothing innovative to learn from these videos, they provide only information on very basic pick up principles.
Very well produced series to VH1 quality standards. The customer service and download of episodes it provided by Amazon with good responsiveness and accessibility.
At $1.99 this is cheap. Is valuable if you are a beginner and need more motivation or inspiration.
Product Information
This is Mystery's Reality TV show from VH1. In the show he trains and leads 8 male contestants through a set of pick-up challenges week by week (episode by episode).
---
Skillsets:
Meeting Women
Attracting Women
Experience Level(s):
Beginner
Learning Format:
DVD (Video)
Release Date:
August 06, 2007
Product No Longer Available.
---
Feedback
If you have a question or problem, ask us:
---
What You Get:
Individual download of one selected episode of the Reality TV show series.
---
Guarantee / Terms:
N/A
User Reviews of The Pick-Up Artist Season One (Reality TV Show)
Most Helpful User Reviews
1 of 1 people found the following review helpful
"For entertainment"
Ease of Implementation
4.0
Packaging/ Customer Service
1.0
Reviewed by
Yuri Evolution
April 10, 2013
It's very emotional (especially Episode of Day game)

Mystery teaches his method and he is so attached to it that he ignores why some of his students fail.

I am a beginner but I'm not stupid, his students are terrified, had poor body language and he said "he doesn't use False Time Constraints".

Another thing: no one can peacock like Mystery in the globe.

It's not for learning, it's for fun.
1 of 1 people found the following review helpful
"Very Entertaining. Obviously Mystery made his decision before the first show."
Ease of Implementation
2.0
Packaging/ Customer Service
4.0
Reviewed by
Brainbuster
December 30, 2014
In the last episode (I think),
where Kosmo (I think) starts to hit it off with that asian HB6,
Mystery, watching, says, "Wow, that is a perfect 10."
WHAT? She looked like a 6 who really cared about her looks,
a 6 who wears a lot of make-up until she looks like a 7.
I see girls almost every day, without makeup, that are way hotter than
Mystery's "perfect 10."

This isn't the first time I've seen Mystery bottom-feeding.
In his Magnum Opus: Mind of Mystery DVD, he gets rejected by one
cut girl ("I have a boyfriend."), then in his recap he refers to that
as a 100% success (no wonder he claims a PUA guru should score 5 out of 5 approaches...because he counts every rejection as a 100% success!);
Next, he gets blown out by a girl 1 foot shorter than he is;
Next, a 47 year old retired police officer APPROACHES HIM,
and 12 minutes later Mystery is making out hard with her.

I honestly am not that impressed with Mystery,
given all his edges and natural blessings he has
(height, 6'5", rich, not fat, not bald, not ugly).
His performance always seems pretty average to me.

Also, I can't stand it when he delivers his stories.
They sound so contrived and stuffed with obvious bragging (DHV's).
For example, he'll just out of the blue say, "And as I said she was an exotic dancer..." Has nothing to do with the story, but he just mentions that she was a stripper.
First, that is NOT a DHV.
I've used that a few times and every single girl said that that is gross, and that strippers will fuck anyone.
Second, there are other professions I can think of which
suggest she's beautiful, that don't have that stain on them.
For instance, ballet dancer, 23 year old yoga instructor, newscaster.
Stripper ex-gf impresses guys, and only guys. Not girls.

Since all the instruction he gave in this "product"
is now exposed, by fault of Mystery,
I'm not going to rate the effectiveness 10 out of 10.

I rate Ease of Implementation 2 out of 10. This is because
the only material that's more difficult to learn is Ross Jeffriess
convoluted stuff (and it doesn't help that his teaching is "non-linear").

A girl won't notice many of the tactics,
even if a girl has seen the show, such as a false time constraint
or the body language advice.

Still, Mystery's pursuit of fame clearly overrules his
love of pickup or teaching pickup. Like magic, pickup
won't work as well if you broadcast your best lines on prime-time TV.



View Other Home Study Courses (Books, DVDs, CDs, MP3/ Video)