Ep. #41 Do Looks Really Matter? What the Research Says with Dr. Gordon Patzer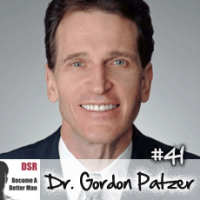 Press Play and Wait up to 10 Seconds for the Interview to Start Playing
Update Required
To play the media you will need to either update your browser to a recent version or update your
Flash plugin
.
This week we have a fantastic interview with the most credible information I could find on the debate of "Do looks really matter?".
You've heard both sides from the dating community, some gurus say not at all, others say somewhat, and the press and media tell you looks are everything. Which to believe?
In these confusing cases you have no choice but to go straight to the scientific research to get the real deal.
In this interview I talk to Dr. Gordon Patzer, who has spent over 30 years researching the subject, the author of research and of 6 books on the subject. We dig deep into how your attractiveness significantly impacts your dating life and what you can do to control it.
Don't Miss New Dating Skills Podcast Episodes
Specifically, in this episode you'll learn about:
What is the area of research of lookism and physical attractiveness.
The surprisingly young age at which we begin to get judged and affected by our physical appearance (literally at day 1).
The prevalence of judgement on looks stretching across every area of society from politics, law, and careers to dating and relationships.
Personality and confidence count: How they relate to the impression you make with people.
How the lives of men and women are impacted differently by their physical attractiveness.
Growing trend: Women judging men more on physical attractiveness and men working on this part of them increasingly to improve it.
How a woman's monthly fertility cycle changes what type of men she is attracted to and how important 'looks' are in her decision.
Important point: The longer you know someone and the more they know about you, the higher your physical attractiveness will appear to them.
The central importance of facial features to your looks. Breaking it down into lips, nose, dimensions of face, eyes, specific wrinkles, eyes, hair and complexion.
The role of testosterone for men in forming your facial features - and how boosting it can start changing and improving your facial features within days.
Some of the upgrades that improve our physical attractiveness: dentistry, plastic surgery, fitness (and pot bellies) and health.
The impact of age on your attractiveness: Specific areas that change and reduce your attractiveness as you age.
How what women do (cosmetics, dress, plastic surgery) translates into big consequences in terms of how likely men are to choose her as a mate.
Plastic surgery paradox: Artificial modification of your appearance through plastic surgery does enhance your attractiveness - but only if people don't know you've done it.
The growing trend of genital rejuvenation in plastic surgery for women and men - Gordon Patzer's views on it.
The specific areas you can influence to improve your attractiveness: height, education and status, personality, physical fitness, grooming and fashion.
Experience and satisfaction: As we become more experienced the importance of our 'looks' bias declines and we get more conscious choice on which women we select and are attracted to.
This week the coaching giveaway is surprisingly on the topic of "looks"! I'll be taking the best comment on this topic to award the free coaching session.
Answer this question with your comment: What have you done already to improve your image? or what will you get your ass in gear to do this week to improve your image and looks?
To qualify leave a comment below.
I'll select the best comment on Friday 13th September and email the winner to schedule in your phone coaching session. Good luck!
This Episode's Insightful Quote
Today's quote is about the hard hitting truth that it is very hard to date women far above your physical attractiveness level.
The takeaway is that this it is essential today for men to work on their images if they want to date the type of women they aspire to.
As you learn in the interview we can also vastly improve our physical image by working on it: getting fit, improving style, and other "appearance hacks".
Do me a favor. I'm sure you've seen that some 'gurus' spread the idea that looks don't matter. That hurts people, because it stops them from working on their image - which would make a very positive impact on their lives. So please spread the word about this interview - by tweeting the quote below.
Items Mentioned in this Episode include:
GordonPatzer.com: The home site of Dr. Gordon Patzer with details on his past and current research and interest in the Physical Attractiveness Phenomenon.
Looks: Why They Matter More Than You Can Imagine: Gordon's latest book on the subject of physical attractiveness and its impact on our lives.
Spanx: The successful clothing line that helps you look fitter than you are by tucking in stomachs and other undesirable areas.
Comment Rules: You know that James Bond factor? The "cool" factor. That's how we're gonna be - cool. Critical is great, but if you're rude, we'll delete your stuff. Please do not put your URL in the comment text or use your business name as your name, as it looks like spam. Have fun and thanks for adding to the conversation!
Help Us Improve DSR Podcast Interviews for You
DSR Podcast is a weekly podcast where Angel Donovan seeks out and interviews the best experts he can find from bestselling authors, to the most experienced people with extreme dating lifestyles. The interviews were created by Angel Donovan to help you improve yourself as men - by mastering dating, sex and relationships skills and get the dating life you aspire to.
Help us improve the quality of interviews by sending us feedback about what questions you'd like answered or who you'd like to see interviewed.
Contact: [email protected]
"Listen In As We Share The Top Takeaways From The Best Dating Products Ever Created... Shave Years Off Your Learning Curve As You Discover What Really Creates Success With Women"
Here's just a few things we reveal in this info-packed interview:
The surefire products that are proven to work - based on 15+ years coaching men to dating success.
Why we dubbed this one product 'idiot-proof' and how it can transform a woman's reaction to you almost immediately.
Feel anxious about approaching women? Discover how to bypass that and set up a stream of dates with gorgeous women in as little as 20 minutes a week.
Dating Skills Review has been featured or quoted in: