#115 How to Kiss Women with Tripp Advice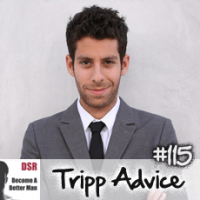 Press Play and Wait up to 10 Seconds for the Interview to Start Playing
Update Required
To play the media you will need to either update your browser to a recent version or update your
Flash plugin
.
This topic is amazing – amazing – because it's escaped us for 114 episodes. We have not spoken about it in detail. However, it is one of those things men typically panic about – I mean, we're not all panicking – but it has, it's really a big anxiety spot. I know from my experience it's just something that comes up, and up, and up again, and many guys will chicken out or they just won't do it right because they're anxious around this moment. What is it? It is kissing.
So today we're going to talk about how to kiss; how not to get rejected when kissing; how not to kiss, and different ways to kiss. That's pretty much everything we can think about kissing. I simply can't believe we didn't cover this before. So this is a really key important episode. I hope that it's going to reduce your anxiety, for those of you who have some around this. It's a pretty cool pastime activity. Kissing is fun.
Today's guest is Tripp from Tripp Advice. That's his YouTube channel with over 200,000 subscribers and over 250 videos on dating, sex, and relationships. He's relatively a newcomer to the whole area. However, he's come with a storm. He's already pretty well known. He's actually one of the guys who's managed to break out in the last few years. Whereas I see people come and go all the time, he's one of the guys who has managed to come out late in the game compared to everyone else. There's a lot of people been giving out advice for a long time, so it's not necessarily easy to just come in and make a name for yourself, but Tripp has managed to do that. So, really props to him for his hard work and really putting his stuff out there because it works, obviously, 200,000 subscribers.
So Tripp invited me on his show to chat and during the chat I realized he had some great tips and advice, and we hadn't had him on here. I made sure to get him straight back over here to talk to you guys.
Don't Miss New Dating Skills Podcast Episodes
Specifically, in this episode you'll learn about:
Tripp's background and lifestyle (05:28)
Why Tripp became a dating coach (09:50)
When to kiss a girl and making the first move (15:28)
Tips on how to go for the kiss and recognizing her signs (21:21)
The anxiety of kiss rejection and what a girl will do (27:08)
How to handle rejection after going for the kiss too early (30:45)
Is it possible to encourage girls to kiss you? (32:25)
Different kinds of kisses, techniques, or approaches (34:30)
Variety in your teasing and kissing dynamics (39:45)
How to be dominant and passionate in kissing (40:55)
Getting physical when kissing (e.g. groping, touching her butt, etc.) and paying attention to her body language (44:17)
Important advice offered to men that is also the most ignored (47:36)
How to connect with Tripp to learn more about him and his work (50:52)
Recommendations for high quality advice in dating, sex, and relationships (52:02)
Top three recommendations to help men get results as fast as possible in dating, sex, and relationships (52:57)
Items Mentioned in this Episode include:
Books, Courses and Training from Tripp
Comment Rules: You know that James Bond factor? The "cool" factor. That's how we're gonna be - cool. Critical is great, but if you're rude, we'll delete your stuff. Please do not put your URL in the comment text or use your business name as your name, as it looks like spam. Have fun and thanks for adding to the conversation!
Help Us Improve DSR Podcast Interviews for You
DSR Podcast is a weekly podcast where Angel Donovan seeks out and interviews the best experts he can find from bestselling authors, to the most experienced people with extreme dating lifestyles. The interviews were created by Angel Donovan to help you improve yourself as men - by mastering dating, sex and relationships skills and get the dating life you aspire to.
Help us improve the quality of interviews by sending us feedback about what questions you'd like answered or who you'd like to see interviewed.
Contact: [email protected]
"Listen In As We Share The Top Takeaways From The Best Dating Products Ever Created... Shave Years Off Your Learning Curve As You Discover What Really Creates Success With Women"
Here's just a few things we reveal in this info-packed interview:
The surefire products that are proven to work - based on 15+ years coaching men to dating success.
Why we dubbed this one product 'idiot-proof' and how it can transform a woman's reaction to you almost immediately.
Feel anxious about approaching women? Discover how to bypass that and set up a stream of dates with gorgeous women in as little as 20 minutes a week.
Dating Skills Review has been featured or quoted in: