Research Desk
Podcast
#103 Human Sexual Evolution: Leaving Orgasms Behind to Explore Orgasmic Experience with Diana Richardson
#103 Human Sexual Evolution: Leaving Orgasms Behind to Explore Orgasmic Experience with Diana Richardson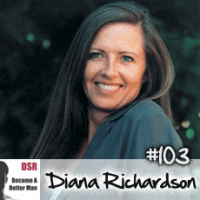 Press Play and Wait up to 10 Seconds for the Interview to Start Playing
Update Required
To play the media you will need to either update your browser to a recent version or update your
Flash plugin
.
We're taking a deep, practical dive into developing what I call the intimacy and experiential dimensions of your sexuality and your experience of sex. This is primarily relevant for people who are interested in relationships, or they're already in relationships. However, as usual, I think this is all great stuff for everyone to learn in preparation. There are some great takeaways on how you may be looking at and approaching sex in a way that really limits your experience of it, and the experience of your partners with it also.
We'll be touching on Tantra as that is the origin of todays guest's work. But also moving way beyond that, as she has moved beyond traditional Tantra herself to explore the orgasmic experience. We're fundamentally getting pass simply having an orgasm to a more profound and involved experience.
If you don't know much about Tantra, it's probably a good idea to check out some of our previous episodes on Tantra. So you can check out episode 73, which was Demystifying Tantric Sex and Tantra (with Mark Michaels & Patricia Johnson), and then come back here to get the more advanced session.
Today's guest is Diana Richardson. She's spent most of her life studying Tantra, what she sees as the union of sex and meditation. She started teaching to couples in 1993 - so that's 22 years ago, over two decades of experience - and her first book was published in 1999. Now if you check out amazon.com, you'll see that she's a prolific writer on Tantra, Tantric sex, and human sexuality. She has seven books and all of them pretty much have five star ratings across the board. So her work is really appreciated.
She leads seminars around the world, and she does this with a direct, practical approach to teaching sex and meditation so people, in particular couples, can evolve their sexuality, their love, their intimacy, and their experience of orgasms.
As you know, we love practical stuff on this show. It's a great pleasure to have Diana with us.
Don't Miss New Dating Skills Podcast Episodes
Specifically, in this episode you'll learn about:
Quote from one of Diana's books: "Fifty years of sex is equal to fifteen minutes of orgasm." Is that true? (06:12)
Are men and women too focused and goal-oriented on the brief orgasmic experience? (07:10)
The current drive towards goal-oriented sex (09:38)
Transitioning from being goal- or technique-oriented in sex to other approaches (12:28)
Breaking down the 'high' or addiction to orgasm in order to experience sex on a deeper level (20:10)
Orgasm preferences and patterns that may negatively affect your sexual experiences (23:20)
Young people have a better ability of letting go of societal orgasmic conditioning (25:46)
Bypassing the orgasm in Tantra to contain energy and being into sex to the point of having an orgasmic experience, which is very different to an orgasm (27:57)
The relevance of kegel exercises for men (29:35)
Understanding the orgasmic experience (31:35)
Practical steps towards practicing Tantra, and the male positive pole (37:17)
Becoming more conscious of our bodies - "Presence and awareness are more important than positions" (42:35)
The foundation of Diana's Tantra (45:15)
Diana's Tantra retreats and what's involved (47:38)
Explaining the 'slow sex' and 'love keys' concepts (48:36)
Approaching a woman about the idea of opening up to sexual exploration as apposed to conventional sex (52:35)
Evolving over time once people start their Tantra journey (54:20)
The sexual dimension behind fights and conflicts: sexual misunderstanding (55:10)
A woman's sexual energy is raised through her breast, not her clitoris (55:45)
Men have a tendency to return to Tantra rather than women due to the value they find in making love in another way (59:37)
A woman may feel a man is not interested, or loves her, when he does not orgasm (1:01:20)
The difference between a horny vagina and one that welcomes you (1:02:40)
The best ways to connect with Diana to learn more about her and her work (1:06:16)
Recommendations for advice in this area (1:06:35)
Top recommendations for guys wanting to explore Tantra (1:07:37)
Items Mentioned in this Episode include:
Books, Courses and Training from Diana Richardson
Comment Rules: You know that James Bond factor? The "cool" factor. That's how we're gonna be - cool. Critical is great, but if you're rude, we'll delete your stuff. Please do not put your URL in the comment text or use your business name as your name, as it looks like spam. Have fun and thanks for adding to the conversation!
Help Us Improve DSR Podcast Interviews for You
DSR Podcast is a weekly podcast where Angel Donovan seeks out and interviews the best experts he can find from bestselling authors, to the most experienced people with extreme dating lifestyles. The interviews were created by Angel Donovan to help you improve yourself as men - by mastering dating, sex and relationships skills and get the dating life you aspire to.
Help us improve the quality of interviews by sending us feedback about what questions you'd like answered or who you'd like to see interviewed.
Contact: [email protected]
"Listen In As We Share The Top Takeaways From The Best Dating Products Ever Created... Shave Years Off Your Learning Curve As You Discover What Really Creates Success With Women"
Here's just a few things we reveal in this info-packed interview:
The surefire products that are proven to work - based on 15+ years coaching men to dating success.
Why we dubbed this one product 'idiot-proof' and how it can transform a woman's reaction to you almost immediately.
Feel anxious about approaching women? Discover how to bypass that and set up a stream of dates with gorgeous women in as little as 20 minutes a week.
Dating Skills Review has been featured or quoted in: