Research Desk
Podcast
Ep. #73 Demystifying Tantric Sex and Tantra with Mark Michaels & Patricia Johnson
Ep. #73 Demystifying Tantric Sex and Tantra with Mark Michaels & Patricia Johnson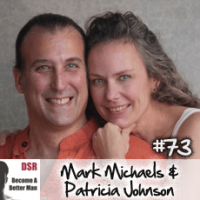 Press Play and Wait up to 10 Seconds for the Interview to Start Playing
Update Required
To play the media you will need to either update your browser to a recent version or update your
Flash plugin
.
I've been meaning to cover today's topic for a very long time. More to the point to demystify it because Tantric sex is definitely something that most of us have heard of. But for 99% of us, we really don't know what it means or what it's about. We're going to change that today.
Some of the other names you would have heard are Tantra and Neo-Tantra. We're definitely working our way into the realm of advanced sexual skills today. More specifically, sexual skills that are most relevant within relationships.
To cover this topic, we have two guests: Mark Michaels and Patricia Johnson, a couple who have been teaching Tantra since 1999 for 15 years. They have run seminars all over the U.S. and all around the world on the topic, and written many books, including two award-winning books on the topic: The Essence of Tantric Sexuality and Tantra for Erotic Empowerment.
As you will see in today's interview, Mark and Patricia are not only very knowledgeable in the field, but also both very open and generous with recounting their own personal experiences, which is always important to make this information real for us and to make it come alive.
It certainly inspired me to dig deeper into this subject myself in the future as we really just started to scratch the surface of Tantric sex and Tantra. So consider this an introduction into Tantra to see if it is a good fit for you and to wet your appetite to learn a bit more about it. It's certainly a topic we will be exploring a lot deeper in future episodes.
Don't Miss New Dating Skills Podcast Episodes
Specifically, in this episode you'll learn about:
The similarity between the last names of Mark and Patricia (Michaels and Johnson) and the Showtime TV series Masters of Sex, which is based on sexologists Masters and Johnson (02:35)
Background of how Mark and Patricia got involved with Tantra and their learning process (03:30)
An overview of traditional Tantra and types of Tantra (11:38)
What type of Tantra is more traditional today considering the varying degrees of Tantra understanding? (15:06)
The practicalities of Tantra, understanding what it's all about, and its criticism (16:50)
Tantra as a spiritual and self-development journey (20:15)
How Tantra is seen as fitting together with kundalini energy, chakras, yoga, and other areas (22:05)
Tantra sex: where to start (25:54)
The practice and importance of eye-gazing with your partner as a first step in Tantra (27:50)
Tantra breathing techniques and directing energy within the body, and apply those techniques in sex (36:40)
Tantra today in western sexology or culture: the emphasis on orgasm versus the experience of sex (39:42)
Growing the sexual experience between you and your partner (41:55)
The sexual response cycle (Masters and Johnson) versus the Tantra sex view (45:48)
Self stimulation from a Tantra perspective in knowing your own body and working with your energy (48:10)
Maintaining energy in Tantra sex (50:40)
The best sexual experience or aspect of a relationship Patricia and Michael have experienced due to Tantra (52:44)
Recommendations for high quality advice in the area of Tantra, dating, sex, and relationships (55:42)
Top recommendations to help men begin Tantra or improve it in their life, as well as with dating, sex, and relationships (56:36)
Items Mentioned in this Episode include:
Patricia's and Mark's recommendation in the area of Tantra, dating, sex, and relationships
Books, Courses and Training from

Mark A. Michaels
Patricia Johnson
Comment Rules: You know that James Bond factor? The "cool" factor. That's how we're gonna be - cool. Critical is great, but if you're rude, we'll delete your stuff. Please do not put your URL in the comment text or use your business name as your name, as it looks like spam. Have fun and thanks for adding to the conversation!
Help Us Improve DSR Podcast Interviews for You
DSR Podcast is a weekly podcast where Angel Donovan seeks out and interviews the best experts he can find from bestselling authors, to the most experienced people with extreme dating lifestyles. The interviews were created by Angel Donovan to help you improve yourself as men - by mastering dating, sex and relationships skills and get the dating life you aspire to.
Help us improve the quality of interviews by sending us feedback about what questions you'd like answered or who you'd like to see interviewed.
Contact: [email protected]
"Listen In As We Share The Top Takeaways From The Best Dating Products Ever Created... Shave Years Off Your Learning Curve As You Discover What Really Creates Success With Women"
Here's just a few things we reveal in this info-packed interview:
The surefire products that are proven to work - based on 15+ years coaching men to dating success.
Why we dubbed this one product 'idiot-proof' and how it can transform a woman's reaction to you almost immediately.
Feel anxious about approaching women? Discover how to bypass that and set up a stream of dates with gorgeous women in as little as 20 minutes a week.
Dating Skills Review has been featured or quoted in: