Research Desk
Podcast
#101 Successful Polyamory Strategies (that Can Make Monogamy Better Too) with Elisabeth Sheff
#101 Successful Polyamory Strategies (that Can Make Monogamy Better Too) with Elisabeth Sheff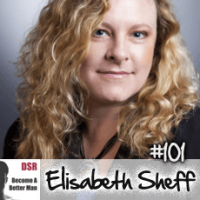 Press Play and Wait up to 10 Seconds for the Interview to Start Playing
Update Required
To play the media you will need to either update your browser to a recent version or update your
Flash plugin
.
We're going to look at the most successful polyamory strategies. We've got the foremost expert in polyamory in the U.S. today to talk about what's actually working. That means what leads to the greatest satisfaction in relationships, the healthiest relationships for us, our partners, and our children and families.
How do we improve our relationships with women in general? Taking these learnings from successful polyamory complex situations and applying to monogamy also. This is one of those episodes, for people also like me, who aren't sure whether polyamory or monogamy is best for you. I've gone through phases of both of these for over the years and I've pretty much equally enjoyed both at one time or another. Perhaps it just fits with my lifestyle in different stages of my life, so it may always change. So I personally found this a really interesting episode to better understand where polyamory works according to the academic research and its insightful episodes.
So, for any of you that are looking at polyamory as a potential approach / a lifestyle to your life, this is a really insightful episode and it can probably help you with that decision if this is something you're thinking about also.
If you are interested in having five wives or something like that, you may want to know what the legal implications of that are. Could it negatively impact our rights or cause us legal troubles down the road, depending on which state we live in, or where we live in the world? So we're going to dig into that quickly also, which is good to note.
Ultimately, this is an episode where we look at some more advanced relationship skills, navigating more complex relationships. Honestly, I think this applies to pretty much all relationships today. We can't have enough of relationship skills. They're getting more and more complex just because of the pace of social change, the pace at which we change ourselves. So to keep relationships strong and in tact, we really need to be on top of our games.
Today's guest is Elisabeth Sheff, PhD. She is one of the world's foremost experts on polyamorous families, and one of the top experts on polyamory from academic and legal points of view in the U.S. today. She's led a 15-year long study on polyamorous families to understand their dynamics, and all of this is summarized in her book: The Polyamorists Next Door: Inside Multiple-Partner Relationships and Families.
She is a frequent writer and has her own column at Psychology Today (The Polyamorists Next Door). To give you an idea of the kind of perspective she brings, this is from one of her recent articles there, which was entitled: Why Monogamy Isn't: The Death of Compulsory Monogamy and Viewing Monogamy as Only a Social Good. In this article she states, "Years of research evidence indicates that monogamy can be great for some people, but truly horrific for others. It is long passed time that we as a society stop pretending that monogamy is an unqualified social good and recognize that, for some people and in some families, it is an abject disaster." So, that's basically just saying that, by default - that means unqualified as she stated - we just think that monogamy is the right way to go because it's kind of the default, but that's not necessarily true. Of course, we dig into tons of details in this episode.
Great episode! Hope you enjoy it as much as I did.
Don't Miss New Dating Skills Podcast Episodes
Specifically, in this episode you'll learn about:
Elisabeth's perspective on her academic work of polyamorous families (07:10)
Configurations of a polyamorous family (10:03)
How married couples get into polyamory, and open relationships (13:58)
Crossover between sexual communities (e.g. BDSM, polyamory, swinging, etc.) (16:05)
The organization and complexity of maintaining multiple relationships (20:15)
What is more suitable for you: from monogamy to deciding to be polyamorous versus swinging (23:05)
Areas where polyamory works better for some people than monogamy (28:00)
Maintaining "quality" in a polyamorous relationship (31:40)
Other polyamorous family advantages, from the polyamorists perspective (35:58)
Concern regarding the spread of sexually transmitted infections in polyamory (36:55)
Communicating and negotiating boundaries within polyamorous relationships (38:18)
Exploring new parts of yourself and meeting your needs through multiple partners (40:24)
Elisabeth's studies show the perspective of the child regarding the advantages and disadvantages of being in a polyamorous family (41:09)
The disadvantages of living the polyamory family lifestyle, including the legal aspect (43:48)
Dating and relationship strategies in polyamory that are beneficially applicable to other relationships (50:34)
What monogamists can learn from polyamorists (56:28)
The best ways to connect with Elisabeth to learn more about her and her work (59:00)
Recommendations for quality advice in polyamory (59:46)
Top recommendations for guys starting out to improve their relationships (1:02:21)
Items Mentioned in this Episode include:
Books, Courses and Training from Elisabeth Sheff
Comment Rules: You know that James Bond factor? The "cool" factor. That's how we're gonna be - cool. Critical is great, but if you're rude, we'll delete your stuff. Please do not put your URL in the comment text or use your business name as your name, as it looks like spam. Have fun and thanks for adding to the conversation!
Help Us Improve DSR Podcast Interviews for You
DSR Podcast is a weekly podcast where Angel Donovan seeks out and interviews the best experts he can find from bestselling authors, to the most experienced people with extreme dating lifestyles. The interviews were created by Angel Donovan to help you improve yourself as men - by mastering dating, sex and relationships skills and get the dating life you aspire to.
Help us improve the quality of interviews by sending us feedback about what questions you'd like answered or who you'd like to see interviewed.
Contact: [email protected]
"Listen In As We Share The Top Takeaways From The Best Dating Products Ever Created... Shave Years Off Your Learning Curve As You Discover What Really Creates Success With Women"
Here's just a few things we reveal in this info-packed interview:
The surefire products that are proven to work - based on 15+ years coaching men to dating success.
Why we dubbed this one product 'idiot-proof' and how it can transform a woman's reaction to you almost immediately.
Feel anxious about approaching women? Discover how to bypass that and set up a stream of dates with gorgeous women in as little as 20 minutes a week.
Dating Skills Review has been featured or quoted in: