The Ultimate Guide to Text and Phone Game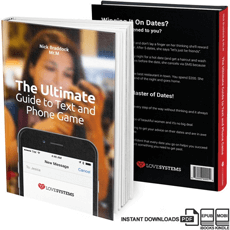 DSR Editor Rating
Go to Product Site
Editor Review
23 of 24 people found the following review helpful
"Comprehensive and Innovative Advice. Best in Class for Texting and Phoning Women."
Ease of Implementation
9.0
Packaging/ Customer Service
9.0
The Good
Highly effective. Very comprehensive. Probably as easy to implement as it gets - lots of examples, lots of easy rules to follow, clear and simple system to apply.
The Bad
Virtually nothing to say. It's not great value for money if you are already good with texting and phone game. Love Systems could do some things to 'perfect' this product. That's it.
The Bottom Line
Pretty much everyone, no matter who you are will get a lot of value from this product. I would be very surprised if it didn't improve your results in some way.
Beginners and even intermediates will get a whole system to follow, while guys of an advanced level will find new things to try out and apply to what they are already doing to take it to new levels.
This is a great product, which clears up a lot of the uncertainty of what to do with numbers. It was high time someone tackled this frustration point for guys properly - Awesome!
FULL DETAILED REVIEW
This is the first comprehensive product to come out on what you do between meeting a girl and getting her phone number and meeting her the second time (going on a date). Also known as 'time bridging'.
It fills a much needed void in the dating advice market. One of the biggest issues for guys once they learn dating advice is that they can get phone numbers but don't seem to be able to meet the girls afterwards to take the relationship further. It's a huge source of frustration, so a book like this has been a long time coming.
To bring out a good product on the subject isn't easy because for one thing there is so much uncertainty involved. When you're texting or phoning a girl you really don't know what is going on in her life at that moment and as a consequence there are a lot of unknowns to deal with.
In short - this product was going to have to really do a good job for it to be good.
So, what's the verdict?
An Excellent Product - a System
I'm betting that for the vast majority of guys "The Ultimate Guide to Text and Phone Game" will cover a lot of material that you hadn't thought of. It includes virtually everything I've ever come across with respect to using texts and phoning women, and a lot more.
It contains a neat system which you can apply to take a lot of the uncertainty out of what you are doing.
Easy to Follow - But No Less Comprehensive
A big challenge with this subject was to make it easily implementable. Love Systems has outdone itself here by creating some really solid, but simple concepts and drumming them in through out the book. These include areas such as calibration (short, medium and long fuses) and The advice is very well structured. Braddock and Mr. M have written a book that flows with a slow and steady build up of simple concepts reinforced with plenty of practical examples. The care taken in making it usable by the reader really shows through. This goes down to how they have kept the content simple, with five or so main themes to keep in your head when texting and phoning women. It doesn't get overly complicated which is a typical issue with dating advice.
For those who have read Love System's core product the Magic Bullets Handbook, you will also find that the material is supplementary and fits with the rest of their approach to dating. Understanding their 'emotional progression' model and other items properly will undoubtedly reinforce your ability to use this product and apply it effectively, since is built on top of these core concepts.
No Fluff - Real Solid Clarity
Beyond using many practical examples, this ebook doesn't let up from giving you 'hard rules' to go by. There are many times where I was thinking about how something isn't relevant in all situations - and bang - every time they would put a note or firm rule at the end telling you when not to use it.
This is invaluable. It goes as far as giving 'do - do not' lists to make things really easy for you to follow in more complex sections such as 'sexualisation'.
There are a lot of subtleties that go into calibration of texting, which could very well take years of experience to understand - it was a long process for me. The ebook has captured many of these - again, really essential if you want to get good at this stuff.
This was by far not an easy subject to make clear, and the efforts to do it really come through in the book. This is truly a great product from this point of view and I'm looking forward to hearing how it impacts students results. I'm sure it's going to do well.
Expelling Limiting Beliefs - Persistance
I'm sure this ebook will destroy quite a few limiting beliefs for guys. A key example is how it is possible to have nothing happen with a girl over a long period of time, a month, or even a year, and despite this, through some good text and phone game, make it work in the end. There are quite a few examples of Braddock and Mr. M going though this 'slow burn' type of game.
Caveat: Keep in mind that there are also many girls who will simply disappear in those situations, and that the examples in the book show the positive outcomes to demonstrate what is possible.
Many guys give up too early and don't persist enough or in the right way - the book tackles this subject well.
Trying to Find Faults
These are the few pitfalls or areas to be aware of before you buy and implement - just so that you don't get potentially disillusioned. These are really the only negative things I have to say about the product and only because I'm being critical in an idealistic manner.
1. Phone Game: The book is entitled 'the ultimate text and phone game', however in reality 95% of the content relates to texting. There is good reason for that focus, however I would've liked more time spent on discussing the subtleties of being on the phone with women. There is room to add more detail here to the same level of 'capturing subtleties' as has been done with texting in the book. It is covered well, however, not to the superior level of the rest of the book.


2. Advanced Non-Essential Material Warning: Towards the end of the ebook there is a large section dedicated to 'Sexualization'. It's good material, but for most readers this won't be immediately usable and even 'dangerous' to their results. Braddock and Mr. M give several warnings about this, well done, however I imagine that the emphasis on it will still lead many students to jump on it, especially as it looks exciting. In reality, such content is less important than the rest of the book - only useful for certain dating situations. It was not mentioned in the book but it is actually great for existing relationships (not sure why this wasn't mentioned). If you buy the book don't get overly involved in this section, thinking because it uses up many pages it is an important part to get things working for you. In most situations it really won't make the difference between a bad and good result. In others it will sabotage your efforts. Be mindful of this if you aren't at an advanced level.


3. Make it More Visual: There are no diagrams or visuals in this ebook. It's pure reading. It's a shame, because just a few diagrams could have captured and communicated the message and advice that much more clearly. I hope to see some in future revisions, because that will make it even easier to use.
If Love Systems tackles these issues, it would turn this from an Excellent to a truly Outstanding product.
Overpriced?
When I see an ebook priced at nearly $100, I take a hard look at it to see if it is worth that money. There are only a few premium products in the market which charge this price.
This book is relatively narrow, looking at a small area of the overall dating skillset. So at first glance you may ask "Why so much given that it doesn't cover many subjects?".
I would say this. If this is an area of your skillset that is not working for you - it will be good value. This isn't an optional add on to meeting women, it is an essential part of the puzzle. And it isn't covered in other products anywhere near as extensively although it may be touched upon. The value is in its ability to change your results.
The one caveat: If you are just looking for a few tips to improve something that you already do well, and $100 is a lot of money for you - it most likely won't be worth you buying it.
I'd personally be happy with the purchase, and I've read a lot and considered that I was already pretty damn good in this area...
The Bottom Line
I can only say
Get this product
if you are either not entirely sure what to do with phone numbers of women once you have them or you are getting phone numbers, and having those numbers 'blur' (i.e. never lead to meet ups)? I know this is the case for many guys.
So, pretty much everyone, no matter who you are will get value from this product. Beginners and even intermediates will get a whole system to follow and guys of an advanced level will find new things to try out and apply to what they are already doing (I know I'll make some tweaks and try some new stuff out). Bonus: You'll possibly spend a lot less time thinking about what to do with numbers, and can put that time to other endeavours...
This is an excellent product. It was high time someone tackled this frustration point for guys - Awesome!
Help other users find the most helpful reviews
Was this review helpful to you?
Product Information
"The Ultimate Guide to Text and Phone Game" is a comprehensive guide to phone and text game by dating coaches Braddock and Mr. M of Love Systems.
The guide addresses everything from how to take the number, to what and when to text, when to phone, and how to set up another date.
Bonus items include:
- Revitalizing old phone numbers
- Anti-flaking
- Situations and Scenarios
---
Skillsets:
Attracting Women
Experience Level(s):
Intermediate
Release Date:
January 21, 2010
---
Feedback
If you have a question or problem, ask us:
Table of Contents/ List of Topics Covered:
Chapter 1 – Turning Her Phone Number Into A Date
- Changing Your Mindset: What It Means To 'Get Her Phone Number'
- The Aims (Goals) Of Text And Phone Game
- The Basics Of Turning A Phone Number Into A Date
- Key Points Of This Chapter

Chapter 2 - Basic Concepts In Text And Phone Game
- Mindsets And Setting Realistic Expectations
- Callback Humor
- Investment Building
- Key Points Of This Chapter

Chapter 3 – First Contact
- Text Or Phone Call?
- Sending The First Text
- 3 Common Mistakes To Avoid In The First Text
- Early Text And Phone Game – After The Initial Reply
- The Structure Of Good Text Messaging
- Key Points Of This Chapter

Chapter 4 – Introduction To Dynamite Theory
- Introduction - Explaining Dynamite Theory
- Short Fuses
- Medium Fuses
- Long Fuses
- Key Points Of This Chapter

Chapter 5: Strategies For Each Fuse
- Short Fuse Strategies
- Medium Fuse Strategies
- Long Fuse Strategies
- Key Points Of This Chapter

Chapter 6 – Further Text And Phone Game Tactics
- The Ideal Days To Text
- The Ideal Time To Text
- Pinging
- Baiting
- Playing Roles
- Messages For Short Or Medium Fuses On Pause
- Pull Back On The Reins (Correcting Bad Behavior)
- Voicemail
- Key Points Of This Chapter

Chapter 7 - Building Value And Generating Attraction
- Using The Eight Attraction Triggers
- Told Versus Observed
- Examples Of Texts For Each Attraction Trigger
- Tempo
- Frame Setting
- Getting Her To Take Positive Action
- More Text Message Attraction Strategies
- Qualification Over Text Message
- Key Points Of This Chapter

Chapter 8: Sexualization
- Introduction
- The Pro's And Con's Of Sexualization
- Proper Sexualization
- The Key Concepts Of Sexualization
- Baiting And Mirroring Her Sexual Intent
- Sexual Hoops For Text And Phone Game (Credit Dahunter Original Sexual Hoops Concept)
- False Barriers
- How To Use False Barriers
- Booty Call Phone And Texting
- Sexualization On The Phone
- Key Points Of This Chapter

Chapter 9: Meet Up Strategies
- A Few Common Mistakes
- The Basic Structure Of Going For The Meet Up
- The Distractor Technique (Credit Dahunter)
- Meet Up Strategies Based On Fuse Length
- Key Points Of This Chapter
- Closing Remarks
- Further Education
- Free Resources To Improve Your Game
- Terms And Conditions
---
What You Get:
eBook
---
Guarantee / Terms:
30 Day Money Back Guarantee
User Reviews of The Ultimate Guide to Text and Phone Game
Most Helpful User Reviews
View Other Home Study Courses (Books, DVDs, CDs, MP3/ Video)
"Listen In As We Share The Top Takeaways From The Best Dating Products Ever Created... Shave Years Off Your Learning Curve As You Discover What Really Creates Success With Women"
Here's just a few things we reveal in this info-packed interview:
The surefire products that are proven to work - based on 15+ years coaching men to dating success.
Why we dubbed this one product 'idiot-proof' and how it can transform a woman's reaction to you almost immediately.
Feel anxious about approaching women? Discover how to bypass that and set up a stream of dates with gorgeous women in as little as 20 minutes a week.
Dating Skills Review has been featured or quoted in: