Love Systems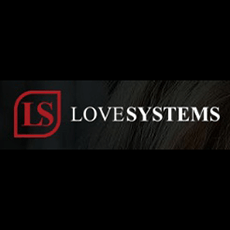 Love Systems is one of the oldest and largest pickup artist training companies in the world. It's origins are tied to the U.S. where it was founded by Nick Savoy and Erik von Markovik (Mystery) in 2004.

Love Systems was formerly "Mystery Method Corporation", but later rebranded to Love Systems after Erik von Markovik left and Nick Savoy took complete control of the company. As of June 1, 2016, Nick Savoy has sold and retired from Love Systems.

The company currently has the largest PUA instructor headcount, one of the most extensive ranges of homestudy advice products and runs bootcamps in many of the largest cities in the world.
Contents
Trademark Advice & Dating Systems
Love Systems Triad: Love Systems' system for developing sexual or romantic relationships with women. It comprises three dimensions: Emotional, Physical and Logistical.

The concept is that to succeed with a beautiful woman, you need to make an Emotional connection, a Physical connection, and you need to get the logistics right. Ideally, you progress along all three of these dimensions simultaneous. The rest of Love Systems breaks down how to do that in progressively more granular levels of detail (Learn more about it here.)

Emotional Progression Model: The 7 phases through which any interaction with a woman must go through in order to succeed. These are presented in Love Systems' Magic Bullets Handbook and include Approaching (Chapter 5), Transitioning (Chapter 6), Attraction (Chapter 7), Qualification (Chapter 8), Comfort (Chapter 9), Seduction (Chapter 10) and Relationship.
Emotional Momentum: This concept states that most interactions need to move forward through the phases of the Emotional Progression Model or they die. Staying in one particular phase will bore or frustrate most women and they will become disinterested.
Dynamite Theory: Explains how to calibrate to women when you are texting and phoning them using long/ medium/ short fuse categories reflecting how likely they are to respond positively. (Product: Ultimate Guide to Text and Phone Game
Service Innovations
Love Systems was the first company to offer "infield" stripper game workshops.
History of Love Systems
Love Systems was originally founded by Nick Savoy as "Mystery Method Corporation" in 2004. This was based on an initial partnership with Mystery (Erik von Markovik) and marketing the Mystery Method. Mystery left the company in 2006.
In 2008 Nick Savoy changed the name of the company to Love Systems.
The Brand
Love Systems has developed a strong brand thanks to its long history in the market (as one of the oldest dating / pick up artist bootcamp training companies) and some high level media exposure.
Their first major breakthrough was on a Canadian TV show named "Keys to the VIP" where one of their master instructors Derek Cajun competed with other men to pick up women in a night club while being secretly filmed. He won out over the other competitors (Watch video).
Other notable appearances on well known TV shows include Dr. Phil and the Tyra Banks Show. (See media footage)
The Team
The company built up the largest team of instructors in its early days and has been able to maintain this headcount lead over other companies.
Many of its master instructors have been with the company since or soon after its creation in 2004.
Love Systems' master instructors are senior instructors with more experience who head up content and advice creation for the company and train the other instructors. They include: Big Business, Braddock, Derek Cajun, Fader, Future, Keychain, Nick Savoy himself, Tenmagnet, The Don and Daniel Vercetti.
Recent departures of the senior instructors who no longer work with the company include Mr. M, The Don and Jeremy Soul.
Some of the original instructors of its first 2 years who trained students on bootcamps for over 5 years include Derek Cajun, Future, Dahunter, Mr. M and Braddock.
The company has also taken many new instructors on board despite a relatively lengthy apprentissage requirement. Part of this is due to "Project Rockstar" from which many of its newer instructors were bred.
Bootcamp City Network
The company today has one of the largest, if not the largest, network of dating bootcamps around the globe.
Today, Love Systems runs bootcamps routinely in many of the largest cities in the world across the U.S., Canada and Europe. See more information on bootcamps here
Major Yearly Events
Love Systems runs several major events year in year out where a large number of its instructors congregate to train students. These include the Playboy Mansion Bootcamp, Project Rockstar and Love Systems Super Conference.
Playboy Mansion Bootcamp (June - July)
Once per year Love Systems runs a special bootcamp at Hugh Heffner's Playboy Mansion in Los Angeles where students get the chance to try their dating and pick up skills on an atypical audience of highly attractive women - many of them models.
This is a large event where a large number of Love Systems' instructors congregate. Learn more here.
Project Rockstar (Typically Summer)
Project Rockstar was created by Mr. M, one of the master instructors in 2007 and takes place every year for a duration of around 2 months. It is an ambitious project designed to transform the lives of a small group of men (typically 6 to 8 candidates) by putting them through an intensive full immersion 'pick up' and lifestyle training program over 2 months.
The men are selected from a pool of applicants based on their motivation and outstanding success in other areas of their lives (e.g. entrepreneurship, career).
Training is provided 'for free' by Love Systems instructors and often their extended network of pick up artists trainer friends outside of Love Systems. The best of the "Rockstars" that meet requirements and past tests later become instructors themselves.
Project Rockstar takes place in London, although some parts of the program are often held in other countries (e.g. U.S., Europe). In 2008 a journalist followed the Project and published a book of his account: Myths and Masters of the Game.
Love Systems Super Conference (October)
The biggest event for Love Systems is the yearly
Love Systems Super Conference
where it brings its 'master instructors' as well as other instructors together to speak on the full range of dating topics for students.
At the event Nick Savoy also presents internal company awards to Love Systems instructors - including the top ranked Love Systems instructor award given yearly to the instructor that performs the best during the year (in terms of training/ student feedback and developing new advice).
The event takes place in Las Vegas.
News & Media Exposure
Books, Courses & Coaching from Love Systems
Help Us to Improve this Profile
The information in this company profile and wiki is verified by Dating Skills Review's Editors to be as objective, complete and close to the truth as possible.
Help us improve this profile of Love Systems by sending us any information you believe to be missing, wrong or lacking detail. Please state sources where possible to make our job easier to verify the correctness of the information.
Contact: [email protected]
"Listen In As We Share The Top Takeaways From The Best Dating Products Ever Created... Shave Years Off Your Learning Curve As You Discover What Really Creates Success With Women"
Here's just a few things we reveal in this info-packed interview:
The surefire products that are proven to work - based on 15+ years coaching men to dating success.
Why we dubbed this one product 'idiot-proof' and how it can transform a woman's reaction to you almost immediately.
Feel anxious about approaching women? Discover how to bypass that and set up a stream of dates with gorgeous women in as little as 20 minutes a week.
Dating Skills Review has been featured or quoted in: