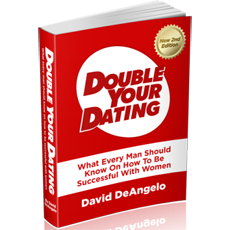 DSR Editor Rating
Go to Double Your Dating eBook
Editor Review
97 of 101 people found the following review helpful
"Good Starting Point for Beginners, Advice a Bit Dated Now "
Ease of Implementation
8.0
Packaging/ Customer Service
8.0
Reviewed by


Syboh Seven
Last Update:
November 18, 2019
The Good
One of the most popular dating products out there for many years. Great advice on women's psychology and the ideal attitudes for dating success. Clear explanations in simple language, easy to understand and relate to for any guy, no matter how little experience or success you've had with women.
The Bad
A bit dated at over 13 years old with some irrelevant advice. Not as advanced as many of the newer products out there. Does not teach much about cold approaching women.
Cocky and funny, the technique emphasized for attraction, is good for beginners but becomes a liability if overused for intermediate or advanced level guys (better ways to attract women now available)
The Bottom Line
This book has been a good starting point and provided a great foundation for beginners for over a decade.
It is written with the beginner's perspective in mind, so you do not need any previous experience to understand it. It takes you by the hand and leads you through the basics of attraction and women.
If you are unsure about this whole dating advice thing, you will feel comfortable with this. It is down to earth, takes a very 'self development' approach and will definitely open your eyes to many things you did not understand before.
However, there are better alternatives available today. If you are a complete beginner the Conversation Escalation course teaches you the most practical tips on talking to women to get started.
If you already have a bit of dating experience, you can instead go straight to the Make Women Want You with practical attraction techniques.
FULL DETAILED REVIEW
A Classic, Most Advice Still Relevant
The original Double Your Dating ebook came out in 2001 and was one of the first ebooks to give real, quality dating advice to men.
Since then many more advanced dating products have been released. Compared to what you COULD learn about women and dating, this could be considered basic. Yet, this ebook is still one of the most popular "first reads" for beginners. It is still being described as life-changing by many. It is also the first book that many "advanced", experienced guys recommend to their friends who are just getting started.
Simple Language, No Nonsense Approach
The reason for this is its simple language and no nonsense approach. The author,
David DeAngelo
, explains everything in a way that any guy can relate to. All the points and theories build on each other, and the reader is taken by the hand on a journey of awakening.
Bit by bit, he learns about women's psychology and why most guys do not understand it. Common mistakes are pointed out. Counter-productive beliefs and attitudes are explained in detail.
Every point makes sense and is easily acceptable and applicable to any guy, no matter how little experience he has with women.
"Acceptable" is an important word here, because many advanced products are a bit too "out there" for beginners (Swinggcat's Real World Seduction comes to mind). Many people like (or NEED) to get into dating advice gradually, and this is why this book is still popular today.
A great deal of the book is about psychology. From the female perspective: how women work and what women want. From the male perspective: the mindset you need to become successful with women and the behaviors to avoid. This is all well explained and most of the big psychological dynamics are covered.
On the practical side, the book relies mostly on the "Cocky & Funny" approach, which works but is a bit limited. For advice on cold approaching, sustaining great conversations, and dating strategies, better products are out there, although the content presented here is still good.
A Note on Cocky & Funny Techniques
"Cocky & Funny" is David DeAngelo's trademark advice. It is a conversational technique to be used to generate attraction with women. The approach is very well suited for beginners, because it tends to correct exactly the bad approaches to conversation that they have been using with women.
However, at an intermediate or advanced level, when you have improved your other dating skillsets, using Cocky & Funny can actually hurt your success with women.
A particular issue is where men use Cocky & Funny as a crutch, and use it all the time in their conversations with women - this tends to be over the top and actually drive women away. So if you are of intermediate or advanced level, we don't recommend getting this ebook. You have in a sense, already moved beyond its usefulness.
As a beginner, however, the total opposite is true. Using cocky & funny techniques help to compensate for other things you are doing wrong, but are unaware of, and are more subtle and complex. So men who are beginners and apply the technique get very good responses for women, and become a lot more attractive, which is a great start on your path to dating mastery.
Nonetheless, to learn about attraction, you are now better off looking at the more recently published in 2013 "Make Women Want You" book, which has more practical advice on how to attract women - without the flaws that the cocky and funny approach has.
Self Development Approach to Dating Advice
If you are unsure about this whole dating advice thing, and it seems weird or even a bit creepy to you, you will feel comfortable with Double Your Dating.
David DeAngelo has become a self development guru over time, and has himself approached dating advice from a very down to earth angel. As a result, this dating advice is very easy to accept and not as extreme as other dating advice. As a result, men tend to find it easy to start from David DeAngelo's products.
The eBook Bonuses - Disappointing
The bonuses contains some very basic advice which is less useful than the main ebook. If you are truly a beginner to all this you will find some practical advice on sex and relationships. However, anyone who is of intermediate level, or has read other books probably won't find much at all.
Also, the "8 Personality Types that Naturally Attract Women" ebook doesn't contain any information that is of practical use. And arguably could even be misleading - skip this bonus book, better to put your time in rereading the main ebook again.
The Bottom Line
This book continues to be a good starting point, and a great foundation for beginners teaching female psychology.
It is written with the beginner's perspective in mind, so you do not need any previous experience or success with women to understand it.
If you are a complete beginner, rather than this somewhat dated ebook, we now recommend the Conversation Escalation course because it teaches you the most practical tips on talking to women to get started - and get results quickly.
For more practical advice on attraction however, take a look at Make Women Want You instead.
Help other users find the most helpful reviews
Was this review helpful to you?
Product Information
David DeAngelo's first ebook published in 2001 and which has remained the main starting course for Double Your Dating.
The ebook provides an overall explanation of how female psychology works, what most guys do wrong and how they can improve their dating life.
It includes a detailed explanation of David DeAngelo's Cocky & Funny approach to conversation and attracting women.
Are you a non-native English language speaker? You can get other language versions here:
- Doublez Votre Drague
- Verdopple Deine Dates
---
Skillsets:
Female Psychology
Attracting Women
Experience Level(s):
Beginner
Release Date:
January 01, 2001
---
Feedback
If you have a question or problem, ask us:
Table of Contents/ List of Topics Covered:
The book is broken down into three parts and 9 chapters:

Part 1: How To Think About Success With Women
Chapter 1: Women Don't Make Sense
Chapter 2: How I Discovered What Works With Women

Part 2: How To Communicate With Women
Chapter 3: How To Develop A Personality That Is Irresistible To Women
Chapter 4: How To Use Communication And Humor To Attract Women
Chapter 5: On Looks and Body Language

Part 3: Exactly What, When, And How
Chapter 6: The Basics Of Style and Class, Plus More On How To Fascinate Women
Chapter 7: Where and How To Meet Women
Chapter 8: Getting Physical
Chapter 9: Keeping Her Attracted To You, Or "How To Have a Long Term Relationship"
---
What You Get:
The Double Your Dating e-book + 3 bonus e-books


Bonus e-books are:

- Bridges

- Sex Secrets

- The 8 Personality Types that Naturally Attract Women
---
Guarantee / Terms:
7 days return policy before you get charged for the purchase of the ebook.
User Reviews of Double Your Dating eBook
8.2 out of 10 stars
Share your thoughts with other users:

Most Helpful User Reviews
View all user reviews
View Other Home Study Courses (Books, DVDs, CDs, MP3/ Video)