66 Texts That Make Her Chase You For Sex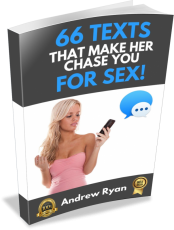 DSR Editor Rating
Go to 66 Texts That Make Her...
Editor Review
54 of 70 people found the following review helpful
"Solid Program With A Lot Of Clear Examples On How To Effectively Text Women"
Ease of Implementation
8.0
Packaging/ Customer Service
7.0
Reviewed by


Lesedi Phaahla
Last Update:
December 03, 2023
The Good
Very informative product that takes complications that arise from texting and offers real world, applicable solutions. Many examples are displayed throughout the product so as to show the relevance of the techniques. Almost all of the techniques are likely to get positive reactions from women.
The course content is based on concepts that are used in real life like teasing, flirting etc. Learning the techniques in the course may make you more socially adept when talking to women in real life also.
The Bad
The course content is slightly disorganized, a beginner may not understand the value of the techniques and when they're applicable. This all relates to calibration, and the product assumes the reader has calibration as it does not tell the reader when specific techniques should be used for maximum effect.
The course also assumes a playful/dominant style of game. Those who aren't accustomed to this style may find difficulty executing the content in this product.
The Bottom Line
This is a product that is largely insightful on the art of texting. You are almost guaranteed to improve your results if your text game is considered your sticking point. You will begin to spot patterns over text and begin to implement these texts without even thinking.
66 Texts also teaches you how to approach a woman online, attract her and get her to meet up in person. A lot of the text examples shown are for situations where you'd be messaging a woman via an online dating site or app, or even social media.
This is a very practical product that focuses on showing you what texts to send women, rather than spending time on theory. If you want a simple, straight-to-the-point resource on how to attract women via text so they meet up with you, this is worth checking out. If you want something more comprehensive with live video and presentations, How2TxtHer by Christian Hudson is the top texting program we recommend.
FULL DETAILED REVIEW
66 Texts That Make Her Chase You For Sex is Andrew Ryan's guide to texting liberation. Andrew makes the statement in the beginning of the product, "Over 90% of women admit they do not meet guys at bars anymore, they meet through friends or online. And the only way they communicate is through messaging apps and texting".
This is mostly true, the rules of dating have changed. Many approaches are now done from behind a screen and the fact of the matter is, if you don't know how to interact with women over text your results may suffer. This product aims to get a new girl in your life and in your bed as early as today.
Andrew does a good job of demonstrating how to portray to a woman that you are an alpha male in the opening chapters. Specifically chapters 2 and 3 titled "I'm Not That Easy" and "Give Her Points And Take Them Away".
This dissolves the mentality most men have when it comes to attracting women, which is the man must do the chasing. The entire aim of the product is for you to think and text as a true alpha male would.
Course Content Of 66 Texts
The course is an E-Book with 66 Chapters. Although it sounds daunting, the chapters have been made concise with relevant examples. No chapter exceeds 5 pages in length. Each chapter will present a technique and an explanation of how and why it works with an example. Some chapters have screenshots of Andrew's texts with women.
Some texts are aimed at turning the girl on and getting her to come over to your house, whereas some texts are aimed at building comfort and others are aimed at building attraction and romance.
Why Texting Has To Be Interesting For Women
Andrew illustrates throughout the product that even the least attractive women have options. Most women receive hundreds if not thousands of texts a month. Andrew shows you how to text in a way that gives the woman the impression that you're different to all the other guys on her contact list.
The chapters in the beginning of the product assert a very playful frame and he stays away from the typical boring first texts most guys send. At the same time he demonstrates how to be interesting and funny, specifically chapter 1 "The 5 Most Irresistible First Messages Ever". He dives deeper into what women find attractive in subsequent chapters.
States Of Emotional Change
Andrew places emphasis on the ability to make a woman feel positive emotions towards you. One such chapter that discusses this in detail is chapter 46, "The Emma Watson Method". He shows you how to elicit a range of emotions from a woman including arousal, curiosity, admiration, and adoration.
The product also challenges you to be aware of what the woman is feeling e.g. at the beginning of the interaction you should be flirty and playful, not sexual, at least not yet. He also shows you how to revive a conversation with a woman that went cold by sparking her curiosity.
It is evident that emotions play a key role in the seduction process. There's heavy importance on excitement, more specifically the woman's excitement at the prospect of meeting you.
Does This Style Complement Yours?
There are a range of styles that are found in the dating community. The style undertaken in this product can be described as playful. For the guys out there who take on a genuine frame more often, this may not be the course for you as it may come across as incongruent.
Many of the techniques in the book focus on fun, humor and arousal as opposed to seriousness, authenticity and romance.
This is not to say that the product shouldn't be used by men who generally take on a genuine frame. Many of the concepts in the product can be adapted and amended for different styles because the key to texting as described by Andrew is "remaining an alpha male and never reclining into the beta male role."
Marketing vs Reality
The sales page of the product begins with a promise to get a new girl in your life and in your bed as early as tonight. While that's certainly possible to achieve, this will differ for every man based on other variables. If you're a beginner or haven't had much success with texting up until this point, realize that there'll be a learning curve as you practice this new skill and you shouldn't expect instant results.
The sales page also states that 66 Texts is explicit, expensive and not for everyone. This product is only for men who are willing to put themselves out there and talk to women.
It promises to get you sex on the first date. However, men without the skills necessary to successfully attract a woman to the degree where she is comfortable with the prospect of sex on the first date, will have slowed results. This product merely teaches you how to text with a woman, it doesn't teach you how to escalate physically and logistically.
The first bonus, The Most Irresistible Dating Profile Ever, promises to get women talking to you within 5-10 minutes of updating your dating profile. This simply isn't true as there are a variety of factors that go into the woman making the first move.
Bonuses
"The Most Irresistible Dating Profile Ever" by Andrew Ryan is the first bonus offered with 66 Texts. It is worth noting that this bonus is meant to be used in conjunction with 66 Texts, since the techniques taught in that are geared toward attracting women online.
Since many guys are clueless on how to set up their dating profile, Andrews shows you what type of photos you should be using and what type of bio you should be writing. Dating applications discussed in this bonus include: Tinder, Bumble and OkCupid.
However, the principles taught can be applied to other applications. I only encountered one issue with this bonus and it was the length of the prescribed dating profile biography, dating applications like Tinder and Bumble cap your biography at 500 characters. The prescribed biography is over 1000 and as such, it can only be used on OkCupid.
The product makes mention of a condensed form of the prescribed biography but it isn't shown anywhere in detail. It is worth noting that this bonus cannot be bought separately as it is a 66 Texts exclusive bonus.
"The Perfect Date Blueprint" is the second bonus you get with 66 Texts. Much like the first bonus, if you combine this with 66 Texts, your results will be better. Andrew shows you the different types of dates you can take a woman on, the emotional relevance of these dates on a woman and the biggest obstacles to avoid on a date.
My Personal Experience With The Product
I read 66 Texts first before I got to the bonuses, which in my opinion, isn't the right way to go about it. The bonuses should be read first and the strategies present in the bonuses should be implemented first. This is because I found myself using the texting techniques in 66 Texts on women I already knew. 66 Texts doesn't show you how to meet new women online, whereas the bonuses do.
Only after I read the bonuses and changed my dating profile did my inbox start getting busy with messages from new women. None of the texts received a bad reaction, all of them moved the interaction forward and got the woman more interested in me.
I slept with 2 women after reading through the entire product and got 30% more Tinder matches after implementing the advice in 'The Most Irresistible Dating Profile Ever'.
After approaching and being approached by several women online I've begun to see the patterns in texting. From the onset I can predict what kind of woman I'm speaking to and how to get her engaged in the fastest way possible.
After getting women engaged I have learned how to successfully get women 'addicted' to texting me. Now it may not be addiction as we know it, but there is a change in behavior in these women that indicate they would do almost anything to please me. This is achieved with successful use of all the techniques, particularly 'The Candy Crush Technique' found in chapter 66.
The Bottom Line
This is a solid product that executes its main aims. There are parts of the product that can be defined as 'fluff' such as chapters 56 and 66 "The New Orleans Gumbo Text" and "The Dead Air Trick". However, the product is mostly technique based and helps you develop an alpha male personality over text.
There are several examples laced throughout the product that show you how women think and how you can anticipate their responses. This product is excellent for a beginner and an intermediate. Advanced guys may find the product redundant.
If you're looking for word-for-word examples of texts that you can largely copy and paste to women, this is the product for you. If you'd like to learn about effective texting on a deeper level, and want a more comprehensive program, then you're better off with How2TxtHer by Christian Hudson.
Help other users find the most helpful reviews
Was this review helpful to you?
Product Information
A collection of word-for-word texts designed to make girls sexually chase you.
---
Skillsets:
Attracting Women
Experience Level(s):
Beginner
Release Date:
October 01, 2017
---
Feedback
If you have a question or problem, ask us:
Table of Contents/ List of Topics Covered:
66 different texts you can copy and paste.
---
What You Get:
-eBook for main product
-Bonus #1: Most irresistible dating profile ever
-Bonus #2: The perfect date blueprint
---
Guarantee / Terms:
60 day money-back guarantee
User Reviews of 66 Texts That Make Her Chase You For Sex
View Other Home Study Courses (Books, DVDs, CDs, MP3/ Video)