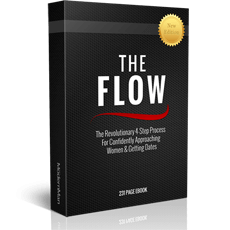 DSR Editor Rating
Go to The Flow
Editor Review
10 of 10 people found the following review helpful
"Good Overview And Explanation On How To Become More Successful With Women And Dating"
Ease of Implementation
8.0
Packaging/ Customer Service
9.0
The Good
Offers a mature and easy to understand approach to dating. Provides a lot of specific examples of what to say and do for most sections. Applicable if you just want to casually date girls or have a serious relationship.
The Bad
Some of the examples aren't great. There's a section on phone game that completely neglects the topic of texting. Constantly promoting their other products throughout the book.
The Bottom Line
This is a good introductory book for beginners on how to be more attractive to women. There isn't anything really original here, but it's taken some of the best available ideas and tried to simplify them. If you like dating advice without complicated theory and jargon, then you'll appreciate this product.
The main themes revolve around how to banter and be playful with women, how to play your masculine role and how to convey higher status. If you're fairly new to learning about dating skills and want something that focuses on the core principles that lead to success, this is a solid product.
FULL DETAILED REVIEW
The Flow is written by Dan Bacon, of Australian-based dating company The Modern Man. It's intended for beginners and aims to teach you the core fundamentals you need to meet, attract and date new women.
It's written using plain, everyday language and doesn't contain any of the industry-specific jargon that you see in a lot of dating and pickup products. So if you're new to learning about dating skills then this is a good book bring you up to speed that's easy to wrap your head around.
The Flow first covers mindsets, attitudes and how to apply what you learn, before diving into the techniques and methods of how to meet and attract women. There's some good information here, although some of it is easier to implement than others.
For instance, there's advice on how to keep a journal of your progress that will help you get results faster. This is worth doing and will help you keep track of the things you're doing well and the things that you need to spend more time working on. Especially for beginners, this is strongly recommended.
Then there's advice on how to improve your mindsets, which is a bit harder to implement. The advice pretty much boils down to just replace your negative thoughts with positive ones, which is a lot easier said than done. Ultimately to achieve this you're going to have to go out and get new positive reference points for yourself and this is a continual process.
But overall the first few chapters here are a solid introduction on how to prepare yourself for success as you start the journey of improving your success with women.
The 4 Steps Of The Flow
The four different steps of the flow are designed to be part of every stage of the interaction with women. So you can use it when you first meet a woman, when you're on the phone, when you're on a date etc.
So those steps are:
1.Start an interaction
2.Spark attraction
3.Develop a connection
4.Take it to the next level
This isn't anything really original, and in fact most dating formulas use some kind of modification of this basic idea of meet, attract, connect, close. Each company or coach will put their own spin on it, but it's the same idea dressed up with slightly different names.
For beginners, this is a good place to start though as it doesn't over-complicate things and give you too much to think about it. As you gain experience and become more advanced, then the model is somewhat limited and inhibitive.
Most of the focus of the book is on the first two steps, starting an interaction and sparking attraction.
Starting An Interaction
This section covers the mental aspects of approaching women, the role that your body language plays in how girls will perceive you as well as how it influences your own thoughts and emotions, and lastly what to actually say to women.
So there's some info on dealing with approach anxiety and the most common thoughts guys have that prevent them from talking to women. You'll also see Dan talk about the right mindset and attitude to have from the very start of the interaction that seems to automatically create attraction. It seems like a pretty simple shift in mindset but it does make a big difference when you do it correctly.
You'll get some tips on different things you can do in a physical sense to help control your mind and feelings. When you feel nervous and anxious, your body will respond by assuming posture that reflects how you're feeling. This also works in reverse, where if you adopt body language that reflects confidence and positivity, your internal state will start to reflect this.
For what to actually say, there are three types of conversation starters taught here. Most of the examples revolve around approaching women in a bar, but there's also suggestions for a bookshop and supermarket. The ideas for these last two are fairly average and I would've liked to have seen stronger examples here.
There's also a section at the end here where you're taught how to develop your own conversation starters, based around where you're most likely to meet women. There's a number of different places mentioned as to where you might meet a woman, but it would've been good to show more examples of how to craft conversation starters for specific situations. As it is, you'll have to come up with your ideas and do a lot of trial and error.
Sparking Attraction
This section is the longest part of the book, and also the area that guys typically have the most trouble with. One of the main principles that drives everything here is that you should be communicating high status when interacting with women. This is talked about in terms of you mindsets, body language and what you say.
The other main idea that's present throughout is that you should be playing the dominant, masculine role in the interaction. That for attractive, feminine women to be attracted to you, you must be a confident, masculine man.
Dan goes into detail on how a lot of guys lower their status and don't act in a strong and masculine way because they think by being nice and polite it'll make women realize what a gentleman they are and how good of a catch the guy is.
None of these concepts are anything new, but they are explained in an easy to understand way. So for beginners this is a good overview of some of the most important points for what it takes to naturally create real and lasting attraction in women.
If you want a more advanced look into the role that status plays in sexually attracting women, then check out The Social God System by Jason Capital. For an advanced look at the importance of playing the masculine gender role, take a look at the Way of the Superior Man by David Deida.
Dan talks about nine personality traits that are attractive to women and spends some time going into detail on each of these with examples. Some of the things here are likely to work better for you than others, so you'll have to experiment a bit and see what you get the best results with.
One thing to keep in mind is to be careful about going overboard with the banter and cocky humor that is talked about here. It's effective when done right and in the right doses, but can become tiresome when you overdo it. Dan and his coaches are based in Australia, where in general girls are a lot more used to guys teasing and making fun of them. Depending on where you live and the culture, you might need to tone it down somewhat.
When it comes to humor it's a very individual thing and you'll have to find what fits your personality so you can be congruent with what you're saying. There's many examples here and some of them are good and some are fairly weak. For example, in response to a girl asking what your name is answering 'Bond. James Bond.' is pretty lame, as are some of the other suggestions here.
At times it veers too far towards trying too hard to be funny and not answering any questions a girl has seriously. This is very similar to the early techniques of David DeAngelo, which is clearly an influence here, and many guys can struggle to find the right balance of banter and being normal. You're going to have to try it out until you find that perfect balance for you.
Another potential issue is that when giving examples the girls are typically responding in positive ways, both in this section and the starting the interaction section. So by this I mean they are shown to be receptive to the approach, laughing at everything you say and just generally making things pretty easy for you. In reality you'll end up in situations where the girl responds either neutrally or negatively, and there isn't really anything here that addresses what to do when this happens.
Aside from these few issues, this is a really solid resource on what it takes to attract women and if you're new to learning dating skills you'll pick up a lot of great ideas here. Even if you've got some experience, there'll likely be some things here and there that'll be of particular use for where you're at.
Connection And Taking It To The Next Level
In the model here, after you've attracted a woman you need to develop a connection with her. There's some good advice here on how to do that, and everything is explained in a way that is easy to understand.
Some of the topics here include talking from your perspective, vibing, and active listening. If you follow the advice here you'll improve your ability to connect with women and make them feel like they have known you for a lot longer than they really have.
After connecting comes taking it to the next level, and this could be getting a phone number, arranging a date, or leading the interaction towards sex. Part of what is taught here is how to recognize when a woman is interested, so you don't miss the window of opportunity in moving things forward.
There's details and examples on what to do so that you can escalate physically and make sure things are headed in a romantic or sexual direction. Overall this is a solid section with advice that is well tailored to the beginner level.
The one thing that wasn't covered was texting when it comes time to call the girl. Dan talks a bit about handling the phone call and what tactics to employ here, but it was strange texting was completely neglected when it's such a common way to communicate these days.
Especially if you're a beginner, texting can make things easier as you don't have to worry about nerves when calling or saying the wrong thing on the phone. So if you purchase The Flow it's recommended you get a product that will cover this area for you, and the one we recommend is The Ultimate Guide to Text and Phone Game by Love Systems.
Is This Product For You?
The quality of the information in The Flow is of a high standard, and gives a good broad overview of how to be successful with women and dating. There's not a lot of originality here, so if you've read other dating advice products you might feel you've heard most of these ideas before.
If you're a beginner and you want something that gives you a good mix of mindsets and attitudes combined with actionable steps and techniques, then this is well worth checking out. It's not the most complete system guide out there, but it's certainly enough to get you started.
The Flow is kept fairly basic, as the company also has products that are tailored to men who have more experience. In fact it seems like every few pages of The Flow they are promoting the same two courses over and over again, which got pretty repetitive and was a bit unnecessary.
If you like your information fairly simple and easy to digest, this is for you. If you prefer more detailed systems and models, and like more of an analytical approach to learning then products like Magic Bullets or Three Second Sexual Attraction 2.0 might be better for your needs. Be aware though that these are a lot more complex and generally guys who already have a certain amount of experience find them easier to understand and implement.
The Bottom Line
This is a good introductory book for beginners on how to be more successful with women and dating. There isn't anything really original here, but it's taken some of the best available ideas and tried to simplify them. If you like dating advice without complicated theory and jargon, then you'll appreciate this product.
The main themes revolve around how to banter and be playful with women, how to play your masculine role and how to convey higher status. If you're fairly new to learning about dating skills and want something that focuses on the core principles that lead to success, this is a solid product.
Help other users find the most helpful reviews
Was this review helpful to you?
Product Information
This ebook teaches you about what women really want in a man and how you can quickly get the results that you want with women. The second phase is learning how to use the program itself, which is designed as a revolutionary, 4-step process that causes women to automatically feel attracted to you and want to get to know you.
The Flow helps you to smoothly move from a conversation, to a phone number, to a date. It includes a number of word-for-word conversation and flirting examples, as well as perspective shifts and insights about success with women.
Bonuses include:
Product Sample Pack
- Dating Power
- Mastery Methods & Mindsets
- The Ultimate Guide to Conversation
Instructions on how to use The Flow
Discount Links
---
Release Date:
January 04, 2008
---
Feedback
If you have a question or problem, ask us:
Table of Contents/ List of Topics Covered:
- 27 funny things you can say to a woman
- How to take things to the next level
- How to avoid awkward silences
- How to keep conversations going
- Why bad boys attract women more than nice guys
- How to avoid being seen as a nice guy by women
- How to handle a woman canceling a date with you
- The right way to make eye contact with a woman
- How to bring more adventure into your life
- Overcoming any initial barriers of interest
- How to create fun and interesting conversations
- How to easily get phone numbers from women
- 6 reasons a woman might respond unfavorably to you
- How to improve your appearance and presentation
- 100 things you can do that will make women addicted
- 15 things you can do to get women in the mood for sex
- 18 body language and status cues that attract women
- Why women often decide to cheat on their men
- What to do when you kiss a woman on a first date
- 11 ways to make yourself feel less nervous in any social situation
- How to keep a woman interested once you've started dating her
- The right and wrong ways to approach a group of women
- A great exercise to help you work out what sort of woman you want
- The right and wrong way to compliment a woman
- 3 things you can say to get alone with a woman you've just met
- Phone techniques that make women want to keep talking to you
- 8 nervous behaviors that absolutely kill a woman's attraction for you
- How to initiate touch between you and a woman you've just met
- How poor body language can have a devastating effect on attraction
- What women really think when men attempt to impress them
- 3 crucial mistakes guys make when they become more confident around women
- Getting rid of your fear of rejection and feel confident around any woman
- How to ensure that you have the power in the interaction/relationship
- Conversation and flirting examples that will make women see you as a potential boyfriend
- The 3 stages of interest that a woman will go through when interacting with you
---
What You Get:
eBook
---
Guarantee / Terms:
30 Day Money Back Guarantee
User Reviews of The Flow
Most Helpful User Reviews
View Other Home Study Courses (Books, DVDs, CDs, MP3/ Video)