Ep. #80 Orgasmic Meditation with Toni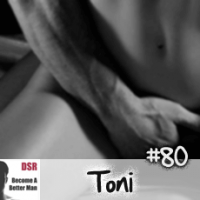 Press Play and Wait up to 10 Seconds for the Interview to Start Playing
Update Required
To play the media you will need to either update your browser to a recent version or update your
Flash plugin
.
This episode is a little bit different. It's about a little project I've had recently, which started in December 2010. Back then I read about the 15-minute orgasm in Tim Ferriss' book:
The 4-Hour Body
. What he talked about was orgasmic meditation, also known as OM or OMing, which is a type of practice taught by a company or community called
One Taste
, and founded by
Nicole Daedone
. Although Ferriss wrote some pretty clear instructions on the technique in his book, as with many things, reading it in a book doesn't really bring it to life.
So, while I tried it with a few girlfriends, I didn't do it that often and it didn't seem that unique, and the feedback from my girlfriends was pretty varied on it. I wasn't really sure if this was all there was too it. I was thinking maybe there's something more. I kind of forgot about it for a while. Then, last November 2014, I randomly met Robert Kandell at a dating conference. Robert had just left the OneTaste organization, but he basically headed up the organization with the founder of the movement Nicole Daedone.
In our chat about orgasmic meditation (OM or OMing), Robert let me know that he thought properly learning OM and practicing it was life-changing on many levels, from developing skills and intimacy with women to life in general. That was enough for me to get re-interested in it, basically. I went on online in the break at that conference and I just booked a workshop in San Francisco. Then I drove up there from Los Angeles just for the 1-day workshop and to hang out with the OM community there, and basically get introduced to it properly. In those workshops you basically have some kind of seminar, a lot of talking about it, consisting of both males and females, and you get to practice at the end of it.
So I went back to Los Angeles and participated in the OM community. I got to know it a bit better and put it into practice. It's something I'm continuing to explore in London, now that I'm here. It's a worldwide organization, so there are many places in the world where you can join and get involved in this.
I think orgasmic meditation, having experimented with it for a little while, can be a useful tool for men's development when it comes to intimacy, sexual confidence, communication skills, and relationships. I would not recommended it for all men. I think it depends on where you are coming from and where you're currently at; whether it's the right thing for you and it's going to help you develop and get more out of your life in general, and your relationships with women.
We get into this a bit in today's discussion with Toni. Toni has been a member of the OM community for a few years. It's become an important practice for her; practicing a few times a week. She's also a straight talker, which you know I'm a huge fan of. I just like people to tell it how it is. So she's great for an interview.
We explore everything from what OM is, to what it means to women and men, and also how to get started if you think it's for you.
Don't Miss New Dating Skills Podcast Episodes
Specifically, in this episode you'll learn about:
What is orgasmic meditation? (05:07)
How Toni views orgasmic meditation (OM, OMing) compared to normal sexual activities in terms of having to let go of your perceived mindset (08:13)
What is an OM circle? (12:22)
Toni's first steps and entrance into OM (14:55)
What guys can get out of the OMing practice (25:10)
Whether or not the experience of OMing depends on the dynamics of the couple involved, or on what's going on in your personal life, or other things (29:30)
The benefits of OMing for women (32:50)
The OM lifestyle and the frequency of doing OM (37:00)
Downsides of OM and what to be aware of (39:45)
A perspective on the OM approach involving likely sexually inexperienced men with a 'nice guy' mindset (47:45)
Explanation of an OM Turn-on: a re-creation of an OM experience with word games (fully clothed) (49:00)
Do (labeled by observation) 'nice guys' often come to the OM community, and is it an environment in which to develop confidence and self-awareness? (51:18)
Taking the first steps to get involved in OM (51:18)
Top three recommendations to help men improve their dating lives as fast as possible (58:52)
Items Mentioned in this Episode include:
Comment Rules: You know that James Bond factor? The "cool" factor. That's how we're gonna be - cool. Critical is great, but if you're rude, we'll delete your stuff. Please do not put your URL in the comment text or use your business name as your name, as it looks like spam. Have fun and thanks for adding to the conversation!
Help Us Improve DSR Podcast Interviews for You
DSR Podcast is a weekly podcast where Angel Donovan seeks out and interviews the best experts he can find from bestselling authors, to the most experienced people with extreme dating lifestyles. The interviews were created by Angel Donovan to help you improve yourself as men - by mastering dating, sex and relationships skills and get the dating life you aspire to.
Help us improve the quality of interviews by sending us feedback about what questions you'd like answered or who you'd like to see interviewed.
Contact: [email protected]
"Listen In As We Share The Top Takeaways From The Best Dating Products Ever Created... Shave Years Off Your Learning Curve As You Discover What Really Creates Success With Women"
Here's just a few things we reveal in this info-packed interview:
The surefire products that are proven to work - based on 15+ years coaching men to dating success.
Why we dubbed this one product 'idiot-proof' and how it can transform a woman's reaction to you almost immediately.
Feel anxious about approaching women? Discover how to bypass that and set up a stream of dates with gorgeous women in as little as 20 minutes a week.
Dating Skills Review has been featured or quoted in: