Research Desk
Podcast
Ep. #21 Dating Japanese Girls and Understanding their Culture with Smash and Johnny Rocket
Ep. #21 Dating Japanese Girls and Understanding their Culture with Smash and Johnny Rocket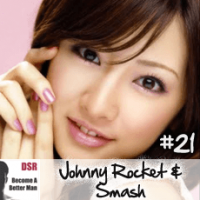 Press Play and Wait up to 10 Seconds for the Interview to Start Playing
Update Required
To play the media you will need to either update your browser to a recent version or update your
Flash plugin
.
Tips on approaching Japanese women to avoid getting ignored (Hint: When you approach within their social context they feel comfortable talking to you) (4:30).
How to avoid a Japanese girl breaking off the interaction with you after 5 minutes (when she seemed initially interested - very common mistake).
How important is learning to speak Japanese to dating Japanese women in Japan? When should you invest in learning it and when shouldn't you? (17:00).
Debunking Popularized Myths: Japanese girls are either all sweet and innocent or "Yellow Cabs" (33:00).
The signals Japanese girls give you to let you know they like you and want you to escalate the relationship romantically/ physically and what is considered the man's responsibility in Japan (39:00).
Japanese male host, recruiters and street pick up culture and what you can learn from them. (41:00).
What a Japanese girl will do if she isn't interested in you romantically (47:00).
Japanese girls in foreign countries and some simple rules to follow to make meeting them easier (1:00:00).
Books, Courses and Training from
Comment Rules: You know that James Bond factor? The "cool" factor. That's how we're gonna be - cool. Critical is great, but if you're rude, we'll delete your stuff. Please do not put your URL in the comment text or use your business name as your name, as it looks like spam. Have fun and thanks for adding to the conversation!
Help Us Improve DSR Podcast Interviews for You
DSR Podcast is a weekly podcast where Angel Donovan seeks out and interviews the best experts he can find from bestselling authors, to the most experienced people with extreme dating lifestyles. The interviews were created by Angel Donovan to help you improve yourself as men - by mastering dating, sex and relationships skills and get the dating life you aspire to.
Help us improve the quality of interviews by sending us feedback about what questions you'd like answered or who you'd like to see interviewed.
Contact: [email protected]
"Listen In As We Share The Top Takeaways From The Best Dating Products Ever Created... Shave Years Off Your Learning Curve As You Discover What Really Creates Success With Women"
Here's just a few things we reveal in this info-packed interview:
The surefire products that are proven to work - based on 15+ years coaching men to dating success.
Why we dubbed this one product 'idiot-proof' and how it can transform a woman's reaction to you almost immediately.
Feel anxious about approaching women? Discover how to bypass that and set up a stream of dates with gorgeous women in as little as 20 minutes a week.
Dating Skills Review has been featured or quoted in: