#127 Can You Date Safe? with Mike J. Domitrz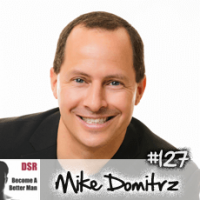 Press Play and Wait up to 10 Seconds for the Interview to Start Playing
Update Required
To play the media you will need to either update your browser to a recent version or update your
Flash plugin
.
Today's guest is Michael J. Domitrz. He heads up an organization called
The DATE SAFE Project
, for which the basic goal is to eliminate the chance of people having sexual encounters which they're later going to regret. More specifically, to provide ideas and teachings on how to communicate around dating scenarios and avoid the risk of making the other person feel uncomfortable, or getting either person into a sexual situation that either one may regret in that moment or later.
So, this of course relates to the whole college campus sexual assault and rape stories, and situations that have been covered in the news and media a lot recently. As a guy, this is probably something that has put you a little on edge. What is appropriate? What is not appropriate? These are the kinds of things, which can make you hesitate and make you feel uncomfortable in dating situations, which is not good for anyone.
You've probably received a lot of conflicting advice on how to get physical with women on dates, how to move to kiss or have sex with a girl, and the whole topic of sexual assault probably makes you a little uncomfortable. You don't have any concrete or clear rules to follow to ensure that you never step into that kind of territory – sexual assault territory – or indeed the sketch in where your girl is not having a great, happy, awesome time; where she feels totally comfortable and in for it.
The interview with today's guest was a great discussion. I'm not sure anyone has all the answers to this evolving topic, but I hope you get some clear takeaways from it. If you're left with any questions afterwards, please do comment on the episode by finding it at datingskillsreview.com/podcast and choosing the episode. You'll find the comments at the bottom. Just comment in there your questions or your opinions, or whatever and today's guest or I will get back to you.
So, Michael J. Domitrz, our guest today, he has a lot of experience in this topic. He has been working on it for over a decade and speaking about it everywhere with diverse sets of audiences, answering their questions, answering opinions, and asking their thoughts on this topic. So he's really covered a lot of ground in that time.
You'll find in today's episode that he's really able to discuss and tackle all of the biggest questions around it. I thoroughly enjoyed discussing today's tricky topic with Michael, and hope you do too, as well as taking some clear takeaways with you that will improve your dating life.
Don't Miss New Dating Skills Podcast Episodes
Specifically, in this episode you'll learn about:
What is sexual assault? The difference between consent and arrogance (06:42)
How to view sexual contact (07:59)
What is The DATE SAFE Project? (08:56)
The importance of discussing sexual assault in these current times (14:17)
Drinking and not being of sound mind: normalizing sexual assault (17:03)
The cultural "norms" and pressures regarding sexual assault (31:13)
A worldwide perspective on sex education (35:00)
Michael's approach to dating, physical intimacy, and sex (36:19)
Open-minded sexual communities have a higher degree of consent (39:00)
The psychology of initiating your move to communicate (41:17)
The advantages of finding out what your partner likes or dislikes intimately: developing sexual confidence (44:16)
What about the serendipity and the romance? (47:15)
Our cultural is being taught that romance means control, instead of learning to communicate sexually (47:45)
Sexual fantasies: communicating and establishing the boundaries of domination (51:21)
The biggest issues to overcoming the fears of consent (53:19)
Understanding body language for intent purposes only (54:48)
Meeting for the first time / dating scenarios: Things to keep in mind (59:05)
Facing each other's sexual inhibitions through communication (1:04:40)
How to connect with Michael to learn about more about him and his work (1:07:40)
Recommendations for quality advice and knowledge in the area of dating, sex, and relationships (1:08:08)
Recommendations for guys starting from the beginning to improve their dating life (1:09:48)
Items Mentioned in this Episode include:
Michael recommends reading the following books:
Books, Courses and Training from Michael J. Domitrz
Comment Rules: You know that James Bond factor? The "cool" factor. That's how we're gonna be - cool. Critical is great, but if you're rude, we'll delete your stuff. Please do not put your URL in the comment text or use your business name as your name, as it looks like spam. Have fun and thanks for adding to the conversation!
Help Us Improve DSR Podcast Interviews for You
DSR Podcast is a weekly podcast where Angel Donovan seeks out and interviews the best experts he can find from bestselling authors, to the most experienced people with extreme dating lifestyles. The interviews were created by Angel Donovan to help you improve yourself as men - by mastering dating, sex and relationships skills and get the dating life you aspire to.
Help us improve the quality of interviews by sending us feedback about what questions you'd like answered or who you'd like to see interviewed.
Contact: [email protected]
"Listen In As We Share The Top Takeaways From The Best Dating Products Ever Created... Shave Years Off Your Learning Curve As You Discover What Really Creates Success With Women"
Here's just a few things we reveal in this info-packed interview:
The surefire products that are proven to work - based on 15+ years coaching men to dating success.
Why we dubbed this one product 'idiot-proof' and how it can transform a woman's reaction to you almost immediately.
Feel anxious about approaching women? Discover how to bypass that and set up a stream of dates with gorgeous women in as little as 20 minutes a week.
Dating Skills Review has been featured or quoted in: