#126 Is Feminism a War on Men? with Suzanne Venker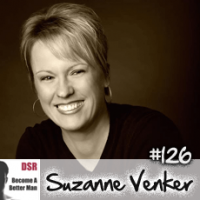 Press Play and Wait up to 10 Seconds for the Interview to Start Playing
Update Required
To play the media you will need to either update your browser to a recent version or update your
Flash plugin
.
The topic today is feminism. As I said, there is really a lot going on in the social media these days on the topic of feminism. I find that there are a lot of myths and misunderstandings, and this is causing a lot of conflicts.
I've got today's guest, who is Suzanne Venker, to come and break it down for you. She's a nationally recognized expert on America's gender war, which is this whole feminism topic, and she's written books such as The War On Men, and The Flipside of Feminism: What Conservative Women Know – and Men Can't Say. Just recently in February 14, 2017, she released the The Alpha Female's Guide to Men & Marriage.
She's really trying to help women and men come together and avoid this war. She's got some very strong views on this and we're going to dig into these in this interview, and I hope it helps you a lot. This new book helps women own their femininity, or find it in a beta, so they can in turn find peace and passion with a man, which is of course what we all want, right – quality relationships, peace, and passion.
Don't Miss New Dating Skills Podcast Episodes
Specifically, in this episode you'll learn about:
Suzanne's journey and background (05:00)
What is feminism? (09:13)
Differences between men and women since the feminist movement (11:51)
The widespread phenomenon of feminism (16:30)
The affect on men as a result of the feminism cultural shift (18:00)
Different types of feminism and labels (21:43)
What women want from relationships today (25:17)
If men are happier because feminism has made them less accountable, are they willing to return to traditional ways of marriage? (31:37)
The affects of the hookup culture, its growth, and its relation to feminism (33:40)
Other noteworthy impacts on male and female interactions, or relationships (36:44)
How men can connect with women who are less feminist minded (40:03)
The demographic trend of U.S. men preferring foreign women because they are less competitive / feminist minded (46:27)
Healthy communication and leading styles for men to avoid some of the issues caused by feminism (49:30)
How men can deal with feminist minded women (51:32)
Therapy as a means of dealing with feminist issues in a relationship (52:27)
How to connect with Suzanne to learn about more about her and her work (55:14)
Recommendations for quality advice in relationships between men and women (55:40)
Top recommendations for guys to improve their dating life (56:25)
Items Mentioned in this Episode include:
Books, Courses and Training from Suzanne Venker
Comment Rules: You know that James Bond factor? The "cool" factor. That's how we're gonna be - cool. Critical is great, but if you're rude, we'll delete your stuff. Please do not put your URL in the comment text or use your business name as your name, as it looks like spam. Have fun and thanks for adding to the conversation!
Help Us Improve DSR Podcast Interviews for You
DSR Podcast is a weekly podcast where Angel Donovan seeks out and interviews the best experts he can find from bestselling authors, to the most experienced people with extreme dating lifestyles. The interviews were created by Angel Donovan to help you improve yourself as men - by mastering dating, sex and relationships skills and get the dating life you aspire to.
Help us improve the quality of interviews by sending us feedback about what questions you'd like answered or who you'd like to see interviewed.
Contact: [email protected]
"Listen In As We Share The Top Takeaways From The Best Dating Products Ever Created... Shave Years Off Your Learning Curve As You Discover What Really Creates Success With Women"
Here's just a few things we reveal in this info-packed interview:
The surefire products that are proven to work - based on 15+ years coaching men to dating success.
Why we dubbed this one product 'idiot-proof' and how it can transform a woman's reaction to you almost immediately.
Feel anxious about approaching women? Discover how to bypass that and set up a stream of dates with gorgeous women in as little as 20 minutes a week.
Dating Skills Review has been featured or quoted in: