Research Desk
Podcast
#125 Avoiding and Managing Sexually Transmitted Diseases with Jenelle Marie Pierce
#125 Avoiding and Managing Sexually Transmitted Diseases with Jenelle Marie Pierce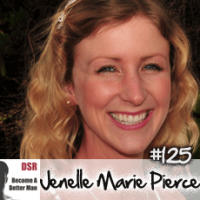 Press Play and Wait up to 10 Seconds for the Interview to Start Playing
Update Required
To play the media you will need to either update your browser to a recent version or update your
Flash plugin
.
Today's topic is really an important topic, and it's not a fun topic. Today we're breaking down the current reality of STD risks. How you can contract STDs, what they are, and how to avoid them, and so on, and so forth. This is knowledge that absolutely everyone should have from their teens onwards. Unfortunately, when I was a teenager they didn't have any of this stuff available anywhere, not even on the internet, which as we'll see contains a lot of myths and misinformation out there. So it's not necessarily helping you guys out there, you younger guys, or anyone whose googling for that matter, right now as much as it could.
After listening to this episode, you'll understand STDs better than 99% of everyone out there, which is important because most of what people say on this topic, in my experience, is BS. So in this episode we cover everything from what the 30+ STDs are, how to reduce your risk of getting them, how to get tested, and the pitfalls of testing, and how to manage and deal with an STD if you get one; so that it doesn't negatively impact your life, your dating, your relationships, and so on.
Today's guest is Jenelle Marie Pierce. She's the founder and executive director of The STD Project. She's an adjunct professor and very active in this space, helping to get clear and accurate information out there. She tri-chairs the communications action group for the National Coalition for Sexual Health (NCSH), is a member of The International Union against Sexually Transmitted Infections (IUSTI), The American Transmitted Diseases Association (ASTDA), the National Coalition of STD Directors (NCSD), and the National Viral Hepatitis Roundtable (NVHR).
The takeaway from all of that is that she's really super-active in this STD space and, as you'll hear in the interview, has a wealth of information to share on it.
Don't Miss New Dating Skills Podcast Episodes
Specifically, in this episode you'll learn about:
Jenelle's background and The STD Project: from inception to now (04:04)
How Jenelle contracted her STI as a teen (08:24)
How Jenelle manages her relationships, sex life, and life in general with an STI (10:28)
The difference between an STD and an STI (15:26)
The most common STIs (18:24)
Pubic lice: shaving and treatment (23:05)
More common STIs (25:50)
The scope of risks in transmitting an STI (e.g. blood transmission, skin to skin) (28:28)
Exposure risks in oral sex and when sexually protected (e.g. using condoms) (33:28)
Sores, outbreaks, and the rise of syphilis (39:25)
The rise of STIs and how information is surveyed, gathered, and reported (44:32)
The inconsistency of getting tested for STIs / STDs (48:20)
Recommendations for testing and when depending on your sexual lifestyle (52:52)
Testing as a commitment to your relationship and sexual health (57:57)
Concerns about kissing and transmitting STIs (59:20)
Statistics of the number of people with Herpes (1:01:00)
What to do when discovering you have an STI: the importance of dealing with the social stigma and educating yourself (1:01:50)
How to have an STI conversation with your partner (1:04:40)
Common misunderstandings about STIs (1:15:55)
The social pressure of talking about protective sex and being responsible to talk about it (1:17:35)
How to connect with Jenelle to learn about more about her and her work (1:19:45)
Recommendations for quality advice and knowledge in the area of STDs, dating, sex, and relationships (1:20:20)
Recommendations for guys to improve their dating life (1:21:23)
Items Mentioned in this Episode include:
Comment Rules: You know that James Bond factor? The "cool" factor. That's how we're gonna be - cool. Critical is great, but if you're rude, we'll delete your stuff. Please do not put your URL in the comment text or use your business name as your name, as it looks like spam. Have fun and thanks for adding to the conversation!
Help Us Improve DSR Podcast Interviews for You
DSR Podcast is a weekly podcast where Angel Donovan seeks out and interviews the best experts he can find from bestselling authors, to the most experienced people with extreme dating lifestyles. The interviews were created by Angel Donovan to help you improve yourself as men - by mastering dating, sex and relationships skills and get the dating life you aspire to.
Help us improve the quality of interviews by sending us feedback about what questions you'd like answered or who you'd like to see interviewed.
Contact: [email protected]
"Listen In As We Share The Top Takeaways From The Best Dating Products Ever Created... Shave Years Off Your Learning Curve As You Discover What Really Creates Success With Women"
Here's just a few things we reveal in this info-packed interview:
The surefire products that are proven to work - based on 15+ years coaching men to dating success.
Why we dubbed this one product 'idiot-proof' and how it can transform a woman's reaction to you almost immediately.
Feel anxious about approaching women? Discover how to bypass that and set up a stream of dates with gorgeous women in as little as 20 minutes a week.
Dating Skills Review has been featured or quoted in: