Research Desk
Podcast
#120 Why You Have Sex (and Why You Should Check Your Motivations) with Rachel Hills
#120 Why You Have Sex (and Why You Should Check Your Motivations) with Rachel Hills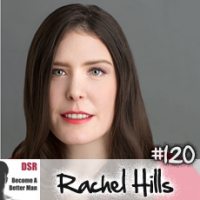 Press Play and Wait up to 10 Seconds for the Interview to Start Playing
Update Required
To play the media you will need to either update your browser to a recent version or update your
Flash plugin
.
Why do you have sex?
This sounds like a really silly question, but after this episode I think you're going to thinking differently about it. It's likely your perception of what is normal for sex is not necessarily what's really going on out there in the world. The reality of our sexual lives, the sex people are really having in the world, in our communities around us, is often exaggerated or hidden in many ways.
That becomes a problem when we compare ourselves to the standards that we've learned from these sources. We're judging ourselves on these standards by what we think is going on in the rest of the world; with our friends, the media, the people we look up to, TV shows, and so on. We compare ourselves to false standards, ones we've learned from others, and not standards that are chosen because they actually contribute to our own happiness and satisfaction.
In today's episode we're going to look at some practical examples of this from someone who's been doing research in this area. As we walk through the details of everything outside of us that influences how we think and act about sex, I'd encourage you to think about how your approach to sex has worked out for you so far.
Are you a slave to your sexuality or does your sexuality really contribute to the quality of you and your partner's life for that matter?
I've personally taken both paths and I know which one has worked out better for me. This is more of a mental game episode and I know some of you may want to brush over it because you're looking for the quick takeaways. But remember, the end game is happiness and I think this episode will be really valuable to many of you as you pursue that goal to be better informed about what's going to lead to that actual happiness for yourself.
At this point I've recorded hundreds and hundreds of hours of interviews with amazing guests on this show, so I can see how that would be a little bit overwhelming if you want to get started and you're new to us. So if you want to get started in a more summarized approach of some of the top things, go to datingskillsreview.com/gettop13 and you can download an audio there. One of my coaches and I talk about the top 13 pieces of advice we've come across over the last 15 years, so great takeaways to start with there.
Today's guest is Rachel Hills. She is author of the recent book The Sex Myth: The Gap Between Our Fantasies and Reality, for which she carried out research over many, many years; interviewing more than 200 men and women about the details of their sex lives, and spending many months combing through research journals to pull out scientific research on the topic.
Rachel also has a really successful blog with over 100,000 subscribers, which is named Musings of An Inappropriate Woman.
Don't Miss New Dating Skills Podcast Episodes
Specifically, in this episode you'll learn about:
What triggered your interest in this topic and your book The Sex Myth? How it got started and how it developed? (03:59)
The kind of research that was involved in writing the book (05:45)
How Rachel reached out to the people that were interviewed for the book (06:57)
Rachel's current lifestyle in terms of relationships and social life (09:00)
Why do we have sex? (10:20)
Interview examples of some of the influences of sexual behavior that were more social, coming from more of the external environment that Rachel came across (12:15)
Interview examples of men who were very sexually active to get an idea of their influences (14:12)
Reasons people hook up with other people that they are not necessarily attracted to (19:20)
The big gap between our fantasies and realities, from a cultural perspective (25:20)
Perceptions people currently have about sex - norms and standards (26:30)
The biggest gaps between peoples' perceptions regarding sex and actually what is going on around them (29:25)
Perceptions surrounding the types of sex people are having - a cultural shift (32:43)
How the gap between our perceptions of reality is created overall, and what people can do to have a realistic view of their sexual activity, which reflects the actual reality (38:15)
Has sex become more important for our status over time? (41:05)
Are men being pushed towards a type of standard regarding sex? (48:27)
Specific anxieties and stress around sexuality for men (52:33)
How guys can get more satisfied and fulfilled in their lives in spite of existing external pressures (58:20)
Practical and useful takeaways to ensure sex contributes to the quality of life (59:10)
How to develop your own sexual standards independent of social pressures (1:02:20)
How to connect with Rachel to learn about more about her and her work (1:04:45)
Recommendations for quality advice and knowledge in dating, sex, and relationships (1:06:00)
Recommendations for guys starting out without any prior knowledge to improve their dating life as fast as possible (1:08:00)
Items Mentioned in this Episode include:
Books, Courses and Training from Rachel Hills
Comment Rules: You know that James Bond factor? The "cool" factor. That's how we're gonna be - cool. Critical is great, but if you're rude, we'll delete your stuff. Please do not put your URL in the comment text or use your business name as your name, as it looks like spam. Have fun and thanks for adding to the conversation!
Help Us Improve DSR Podcast Interviews for You
DSR Podcast is a weekly podcast where Angel Donovan seeks out and interviews the best experts he can find from bestselling authors, to the most experienced people with extreme dating lifestyles. The interviews were created by Angel Donovan to help you improve yourself as men - by mastering dating, sex and relationships skills and get the dating life you aspire to.
Help us improve the quality of interviews by sending us feedback about what questions you'd like answered or who you'd like to see interviewed.
Contact: [email protected]
"Listen In As We Share The Top Takeaways From The Best Dating Products Ever Created... Shave Years Off Your Learning Curve As You Discover What Really Creates Success With Women"
Here's just a few things we reveal in this info-packed interview:
The surefire products that are proven to work - based on 15+ years coaching men to dating success.
Why we dubbed this one product 'idiot-proof' and how it can transform a woman's reaction to you almost immediately.
Feel anxious about approaching women? Discover how to bypass that and set up a stream of dates with gorgeous women in as little as 20 minutes a week.
Dating Skills Review has been featured or quoted in: