#119 How Do You Date A Girl Who Is Not Over Her Ex?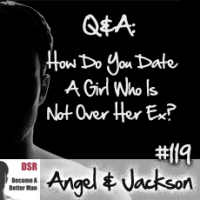 Press Play and Wait up to 10 Seconds for the Interview to Start Playing
Update Required
To play the media you will need to either update your browser to a recent version or update your
Flash plugin
.
Hey Guys!
Welcome to another episode of the DSR podcast. If you have a unique question or something that you really need answered, maybe it's about one specific girl or one specific challenge you have, then you can just call me on (323) 747-5006. That's of course a U.S. number. So if you're outside the U.S., you can still call that number and leave me a voice mail. Just add a +1 in front of it. There, you just leave me a voicemail. Let me know what your question is. You don't have to leave your name if you don't want to, and we'll get it answered in one of the future episodes of the podcast for you.
We got a question from one of you guys in the audience today. It's from Colin. He's 31 and he lives in Denver, Colorado. This is his question… let's dive straight into it.
Don't Miss New Dating Skills Podcast Episodes
Specifically, in this episode you'll learn about:
How do you date a girl who is not over her ex? (01:40)
Understanding women and why they do the things they do (04:42)
Creating a situation during the dating phase that you actually wanted to avoid (10:18)
The importance of giving a woman a new emotional experience (17:00)
How your dating experience affects your behavior in the early stages of dating a woman (21:21)
The "neediness" of clinging to a past relationship and the ability to let go and move on (26:45)
Takeaways to help you deal with the reality of dating women (29:45)
Items Mentioned in this Episode include:
NA
Comment Rules: You know that James Bond factor? The "cool" factor. That's how we're gonna be - cool. Critical is great, but if you're rude, we'll delete your stuff. Please do not put your URL in the comment text or use your business name as your name, as it looks like spam. Have fun and thanks for adding to the conversation!
Help Us Improve DSR Podcast Interviews for You
DSR Podcast is a weekly podcast where Angel Donovan seeks out and interviews the best experts he can find from bestselling authors, to the most experienced people with extreme dating lifestyles. The interviews were created by Angel Donovan to help you improve yourself as men - by mastering dating, sex and relationships skills and get the dating life you aspire to.
Help us improve the quality of interviews by sending us feedback about what questions you'd like answered or who you'd like to see interviewed.
Contact: [email protected]
"Listen In As We Share The Top Takeaways From The Best Dating Products Ever Created... Shave Years Off Your Learning Curve As You Discover What Really Creates Success With Women"
Here's just a few things we reveal in this info-packed interview:
The surefire products that are proven to work - based on 15+ years coaching men to dating success.
Why we dubbed this one product 'idiot-proof' and how it can transform a woman's reaction to you almost immediately.
Feel anxious about approaching women? Discover how to bypass that and set up a stream of dates with gorgeous women in as little as 20 minutes a week.
Dating Skills Review has been featured or quoted in: