#111 FetLife as a Tool to Explore Your Sexuality with John Baku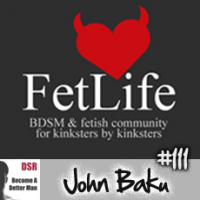 Press Play and Wait up to 10 Seconds for the Interview to Start Playing
Update Required
To play the media you will need to either update your browser to a recent version or update your
Flash plugin
.
We're going to get pretty damn freaky! If you ever wondered what people get up to in BDSM - bondage, domination, sadist, masochist - today is where you're going to learn about how it all goes down. We're going to be looking into many, many more sexual fantasies, and fetishes, and kink. It is probably going to surprise some of you, and for some of you it's going to be really damn shocking.
So, not all of you today are going to be taking some immediate "take homes". Maybe the kink / BDSM area doesn't interest you as much. However, this is an interesting topic for everyone because there is a part of every woman's mind that is interested in this. Since "Fifty Shades of Grey" came out, there's a lot more women who are exploring this side of their lives and are interested in it. So, potentially your girlfriend, or the next girl that you're going to be with, has this part of her mind and she's interested in this, interested in kink. She has her own little fantasies. If you reject that, if you kind of stick to the norms and you don't feel comfortable with those kinds of desires, or maybe you feel a bit judgmental about them and you may project that judgment on her when she brings them up (or when it comes up at some time), that doesn't help the relationship. It doesn't build trust, and it definitely doesn't help to help you to explore your sexuality, and for her to feel comfortable in her sexuality.
So, this is a great episode and I'd also like to recommend a book to accompany this episode. It's not a book from today's guest, in fact. It's just a book that I think goes well with today's topic that I've read recently. It's called "A Billion Wicked Thoughts: What the World's Largest Experiment Reveals about Human Desire". Why this book is really cool is it really goes into the nit-and-gritty of what people's real desires are.
If you think about it, a lot of research is biased. Even when we have academics on here, often they're using surveys. And as we know, people aren't always 100% truthful in all of these surveys because they're embarrassed, even when it's anonymous. This book is about the one source of information we can trust a bit more - that is the internet and what people search for. "A Billion Wicked Thoughts" has captured what people are searching for online and all of the types of communities and websites that have sprung up to serve this demand. So it really looks at the reality of what people's sexual desires are about men and women.
So it's really educational. It's quite detailed, and tough to get through, so maybe you'll just want to stick to this episode instead. But for those of you who would like more detail, and to really explore topics (and this topic in general), I'd really recommend it. It's a bit of an eye-opener.
Today's guest is John Baku. He launched FetLife.com in January 2008. Now FetLife, if you don't know what it is - I mean, not a lot of people do - it is basically the Facebook of BDSM, fetish, and kink, and alternative sexual expression. So it has a home for pretty much any sexual desire on this site. And it's not a dating site. It's not like OKcupid, or Match.com, or anything like that. It's not set up to specifically provide you a dating service. It's a social network for people to talk about these topics, for them to explore their sexuality. And, of course, dating can come as a side effect of that. So Facebook, it really is a good anecdote for what this is. You use it pretty much the same way as you would Facebook groups, and so on.
John talks today about everything that there is in FetLife and how it evolved over time, why it came into being. Perhaps most interesting for you guys, the different demographics and the interests that you'll find inside FetLife. If you feel some of the sexual expression discussed today, the ones that are a bit more on the fringes versus the standard norm, you may find that it's useful to go to FetLife.com and start exploring that, and talking with people there.
Don't Miss New Dating Skills Podcast Episodes
Specifically, in this episode you'll learn about:
John's overview of FetLife (08:40)
Why John introduced FetLife to the world (10:52)
How FetLife has evolved and where it is today (19:23)
The kink community structure, and why people are interested in it (20:35)
Is FetLife based on personality and interests? (29:54)
Changing fetishes over time (32:00)
Discussing different types of fetishes (32:55)
The journey of sexual exploration and the FetLife lifestyle (37:52)
Approaching kink style activities and events (43:30)
FetLife's 2012 "naming abuser" issue and the legal parameters of identifying abuse (46:05)
What else people should know about FetLife (52:48)
Typical objections to the kink lifestyle and FetLife (54:10)
The best place to connect with John and FetLife (57:34)
Give some love to
John on Twitter
to thank him for the advice in this interview.
Click Here
to let him know you enjoyed the show!
Items Mentioned in this Episode include:
FetLife.com: Created by John, FetLife is the largest social network site for the BDSM & fetish community. He relates all the different types of sexual expression you'll find, and how to navigate and use FetLife as a tool to explore your sexuality. To contact John: [email protected]
ALT.com: John noted this website while discussing his introduction into the BDSM lifesyle. ALT.com offers alternative erotic sex and BDSM, bondage, and fetish in sexual encounters, online and in person.
A Billion Wicked Thoughts: What the World's Largest Experiment Reveals about Human Desire. Angel recommends this book to help understand people's real desires.
Fifty Shades of Grey: Referenced during the podcast, this internationally known book is about a daring, passionate, physical affair between a literature student and a young entrepreneur.
Comment Rules: You know that James Bond factor? The "cool" factor. That's how we're gonna be - cool. Critical is great, but if you're rude, we'll delete your stuff. Please do not put your URL in the comment text or use your business name as your name, as it looks like spam. Have fun and thanks for adding to the conversation!
Help Us Improve DSR Podcast Interviews for You
DSR Podcast is a weekly podcast where Angel Donovan seeks out and interviews the best experts he can find from bestselling authors, to the most experienced people with extreme dating lifestyles. The interviews were created by Angel Donovan to help you improve yourself as men - by mastering dating, sex and relationships skills and get the dating life you aspire to.
Help us improve the quality of interviews by sending us feedback about what questions you'd like answered or who you'd like to see interviewed.
Contact: [email protected]
"Listen In As We Share The Top Takeaways From The Best Dating Products Ever Created... Shave Years Off Your Learning Curve As You Discover What Really Creates Success With Women"
Here's just a few things we reveal in this info-packed interview:
The surefire products that are proven to work - based on 15+ years coaching men to dating success.
Why we dubbed this one product 'idiot-proof' and how it can transform a woman's reaction to you almost immediately.
Feel anxious about approaching women? Discover how to bypass that and set up a stream of dates with gorgeous women in as little as 20 minutes a week.
Dating Skills Review has been featured or quoted in: