Double Your Dating (DYD)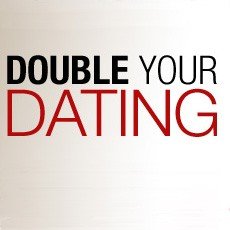 Double Your Dating (also known as "DYD") was the second dating company to appear in the market (after Ross Jeffries' Speed Seduction). Today it is the largest dating company with a wide range of products.

It is unusual amongst the dating companies in that it only has one dating coach, David DeAngelo himself (real name Eben Pagan).
Contents
Trademark Advice & Dating Systems
Double Your Dating made a name for itself with its "Cocky & Funny" approach to attracting women.
It was a big feature of the first product, the Double Your Dating ebook.
"Cocky & Funny" featured prominently in many of the company's products and its newsletter up until 2007. At this time the company's products and seminars took more of an 'Inner Game/ Confidence' focus, such as "Man Transformation" and "Becoming Mr. Right".
History of Double Your Dating (DYD)
Double Your Dating was founded on the back of its email newsletter and its first eBook the "Double Your Dating eBook".
The book continues to be its most popular and well known product. It is the entry point for people wanting to start studying "Double Your Dating" dating advice.
The DYD email newsletter was the main driver of the company's growth from its early beginnings. In the email newsletter, David DeAngelo answers questions from readers in a mailbag type situation. A lot of the advice is focused on how to attract women.
DYD was Eben Pagan's first step to building a small Internet marketing empire with annual revenues of over $30 million and over 80 employees as of 2010. Double Your Dating remains the largest part of the business, accounting for over $20 million in revenue.
Eben (David DeAngelo) no longer actively manages, runs seminars or produces new content for Double Your Dating. He has formally moved on to new interests leaving the running of Double Your Dating to management he has put in place there.
Books, Courses & Coaching from Double Your Dating (DYD)
Help Us to Improve this Profile
The information in this company profile and wiki is verified by Dating Skills Review's Editors to be as objective, complete and close to the truth as possible.
Help us improve this profile of Double Your Dating (DYD) by sending us any information you believe to be missing, wrong or lacking detail. Please state sources where possible to make our job easier to verify the correctness of the information.
Contact: [email protected]
"Listen In As We Share The Top Takeaways From The Best Dating Products Ever Created... Shave Years Off Your Learning Curve As You Discover What Really Creates Success With Women"
Here's just a few things we reveal in this info-packed interview:
The surefire products that are proven to work - based on 15+ years coaching men to dating success.
Why we dubbed this one product 'idiot-proof' and how it can transform a woman's reaction to you almost immediately.
Feel anxious about approaching women? Discover how to bypass that and set up a stream of dates with gorgeous women in as little as 20 minutes a week.
Dating Skills Review has been featured or quoted in: