Future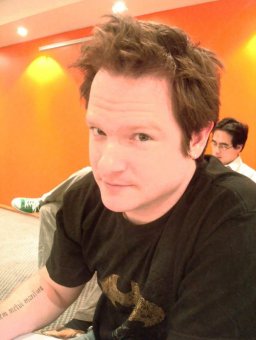 Future, in his early 30s, is the oldest dating instructor at Love Systems. In addition to his dating coach lifestyle he performs in stand-up comedy.
Wiki Contents
Personal Data
Commercial Alias Name:
Future
Real Name: Thompson
Nationality: American
Date of Birth: February 18, 1981 (Age 40)
Height: 5"10
Profession(s):
Pick Up Artist (PUA)
Dating Coach
Affiliated Dating Companies: Love Systems
Trade Mark Advice
Future developed the concept of Breakthrough Comfort with
Sinn (Jonathan Lee)
in 2007. Later in 2009 he pioneered the course
Breakthrough Comfort
.
Future's Big 10
1. You Are Going To Get Rejected
2. Talk to Girls.
3. Keep Talking, Even When It Gets Awkward.
4. No Judgment.
5. Break Your Wrist Taking Notes.
6. Baby Steps.
7. Don't Ask Permission to Talk to Anyone.
8. Everything I Say is Right, and Everything is Going According to Plan.
9. Discover Boundaries, Don't Determine Them Ahead of Time.
10. Have Fun!!
Personal Quotes
"I want you, with every molecule in my being, but I don't need you"
"What need have I to fear--so soon to die?"
"Let me work on, not watch and wait in dread."
"What will it matter, when that I am dead."
"That they bore hate or love that near me lie?"
"'Tis but a lifetime, and the end is nigh."
Biography
Personal Life
Future (Thompson) was born on February 18, 1981 and currently resides in New York, U.S.
Growing up he originally wanted to be a Presbyterian priest. However, that didn't workout and he joined the United States Marine Corps instead.
Pickup Artist Career
During Future's service as a NCO (Non-Commissioned Officer) in the US Marine Corps., he broke up with his unfaithful girlfriend. After that he remained single for a relatively long period and admits that he was frustrated with his lack of success with women.
At age 24, in 2005, Future discovered Love Systems when his frustration drove him to research how to overcome his problems with women. He soon booked a Love Systems Bootcamp and began to improve his "Game" a lot as a result.
He became a Love System's dating coach a few months after that, when Nick Savoy saw his potential. By the end of 2005 he was getting solid reviews from bootcamp students.
He created the seminar program Breakthrough Comfort and was given the Love Systems Super Conference 2009 #1 top instructor award partly as a result.
Notable Media Appearances
Books, Courses and Coaching & Future Reviews
Help Us to Improve this Profile
The information in this coach profile and wiki is verified by Dating Skills Review's Editors to be as objective, complete and close to the truth as possible. It was created by Angel Donovan.
Help us improve this profile of Future by sending us any information you believe to be missing, wrong or lacking detail or good quality images we don't have. Please state sources where possible to make our job easier to verify the correctness of the information.
Contact: [email protected]
"Listen In As We Share The Top Takeaways From The Best Dating Products Ever Created... Shave Years Off Your Learning Curve As You Discover What Really Creates Success With Women"
Here's just a few things we reveal in this info-packed interview:
The surefire products that are proven to work - based on 15+ years coaching men to dating success.
Why we dubbed this one product 'idiot-proof' and how it can transform a woman's reaction to you almost immediately.
Feel anxious about approaching women? Discover how to bypass that and set up a stream of dates with gorgeous women in as little as 20 minutes a week.
Dating Skills Review has been featured or quoted in: