Jeffy (Jeff Allen AKA JLaix)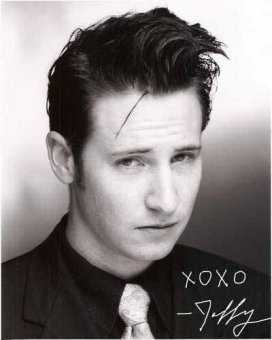 Jeffy appeared on seduction community forums in 2001 and quickly made a reputation for himself for with Field Reports about his attempts to pick up women.
At the end of 2003 he became one of the earliest dating coaches/ pick up coaches when he joined as the 3rd member of Real Social Dynamics (the first two being the founders Nick Kho and Owen Cook).
Since then Jeffy has remained one of the most well known and regarded instructors at Real Social Dynamics, releasing some of his own products in the form of books and appearances in DVDs of his conference speeches.
Wiki Contents
Personal Data
Commercial Alias Name:
Jeffy (originally JLaix)
Real Name: Jeff Allen
Nationality: American
Date of Birth: January 16, 1976 (Age 46)
Height: 5"11
Profession(s):
Pick Up Artist (PUA)
Dating Coach
Dating Author
Affiliated Dating Companies: Real Social Dynamics (RSD)
Trademark Advice
Jeff Allen has an aggressive straightforward approach to pick up and meeting women. This was always part of his style and character. Over the years he has absorbed some of the Real Social Dynamics inner game philosophies created by primarily by Owen Cook.
Biography
Personal Life
Jeffy was born and lived most of his life in San Francisco. He worked in a hotel as part of the management team before becoming a dating instructor.
He has taken part in some theater and 'contemporary' dramatic performances as a hobby.
Pickup Artist Career
Jeffy appeared under the name of Jlaix in 2001 on some pick up artist and seduction forums. He rapidly acquired a reputation for himself with Field Reports about his attempts to pick up women. These reports stood out from the many others as his typically involved him being very drunk, trying outlandish things out without fear and making them pretty humorous.
He also stood out for his near obsessive commitment to learning to get good with women - he would post nearly every day and most days would post about something he had done that day or the day before. This meant he was in the field practicing an unusually high amount of time.
In 2002 he met TD (Owen Cook) and Papa (Nick Kho) when they visited San Francisco while touring the U.S. From there Jeffy would work increasingly with them and was the first of the original team members for Real Social Dynamics recruited by TD and Papa.
Shortly afterwards he gained a reputation in the community for 'threesomes' where his girlfriend, he named "Chess Club", would pick up women together. At this time he was working part time for Real Social Dynamics.
When this relationship came to an end, he moved to Barcelona to permanently work for Real Social Dynamics. He worked on bootcamps in Europe while training up Ozzie, a now senior member of the Real Social Dynamics team.
Jeffy is one of the few dating coaches to have published an auto-biographical account of how he learned his dating skills. His account distinguishes itself from others in its 'pure authenticity'.
In it he exposes both the dark side and the light side of learning to get good with women, with some significant lows on his way to success and more satisfaction. It is entitled 'Nineball'. This was later released in paperback version and rebranded to Get Laid or Die Trying.
Jeffy (Jeff Allen AKA JLaix)'s Credentials & Experience
Pictures of Jeffy with Women
Notable Media Appearances
In February 2013 Jeffy's OKCupid online dating activities were
exposed on Jezebel
by one of the girls who flaked on a date with him.
Books, Courses and Coaching & Jeffy (Jeff Allen AKA JLaix) Reviews
Help Us to Improve this Profile
The information in this coach profile and wiki is verified by Dating Skills Review's Editors to be as objective, complete and close to the truth as possible. It was created by Angel Donovan.
Help us improve this profile of Jeffy (Jeff Allen AKA JLaix) by sending us any information you believe to be missing, wrong or lacking detail or good quality images we don't have. Please state sources where possible to make our job easier to verify the correctness of the information.
Contact: [email protected]
"Listen In As We Share The Top Takeaways From The Best Dating Products Ever Created... Shave Years Off Your Learning Curve As You Discover What Really Creates Success With Women"
Here's just a few things we reveal in this info-packed interview:
The surefire products that are proven to work - based on 15+ years coaching men to dating success.
Why we dubbed this one product 'idiot-proof' and how it can transform a woman's reaction to you almost immediately.
Feel anxious about approaching women? Discover how to bypass that and set up a stream of dates with gorgeous women in as little as 20 minutes a week.
Dating Skills Review has been featured or quoted in: