Lovedrop (Chris Odom)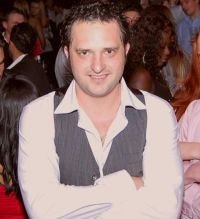 Lovedrop (Chris Odom) has been one of
Mystery
's wings since around 2001. He was originally the IT guy who set up and managed the original Mystery's Lounge. Today, he is one of the co-founders and lead instructors of
Venusian Arts
. He has also co-authored with Mystery, most of his books.
Wiki Contents
Personal Data
Commercial Alias Name:
Lovedrop
Real Name: Chris Odom
Nationality: American
Date of Birth: October 16, 1975 (Age 45)
Height: 5"8
Profession(s):
Pick Up Artist (PUA)
Dating Coach
Affiliated Dating Companies: Venusian Arts
Biography
Personal Life
Chris Odom lived in Los Angeles working as an IT developer for many years before becoming involved commercially in dating coaching.
Pickup Artist Career
Lovedrop was an early member of the pick up artist community and met
Erik von Markovik (Mystery)
around 2001.
He quickly became friends with Mystery and supported some of his early projects with his IT skills - this included setting up and maintaining the original Mystery's Lounge private forums that Mystery and other esteemed Pick Up Artists used.
His involvement with the dating industry became commercial when he began helping Mystery to write up his methods and techniques. Mystery, whilst being very adept at presenting his techniques, had been procrastinating and unable to write them up into a formal book that students could use. Lovedrop bridged this gap, by taking on the role of writer.
Their first collaboration was "The Venusian Arts Handbook", Mystery's first publication capturing his method and techniques at the time.
It was a success, and since this moment Chris has written all of Mystery's published works, and in more recent publications he has begun adding his own content making "Revelation", the latest work, a collaboration of Mystery's and Lovedrop's additions to the Mystery Method.
When Mystery Method Corporation was formed Lovedrop began coaching alongside Mystery and Matador in bootcamps. Then when Mystery left Mystery Method Corporation, Lovedrop went with him and became a co-founder of his new company, Venusian Arts.
At Venusian Arts Lovedrop has taken on a more visible role as a lead instructor and appears in a significant part of the latest DVD educational program, Revelation DVD.
Lovedrop (Chris Odom)'s Credentials & Experience
There is little evidence available on Lovedrop's dating skills currently.
Books, Courses and Coaching & Lovedrop (Chris Odom) Reviews
Help Us to Improve this Profile
The information in this coach profile and wiki is verified by Dating Skills Review's Editors to be as objective, complete and close to the truth as possible.
Help us improve this profile of Lovedrop (Chris Odom) by sending us any information you believe to be missing, wrong or lacking detail or good quality images we don't have. Please state sources where possible to make our job easier to verify the correctness of the information.
Contact: [email protected]
"Listen In As We Share The Top Takeaways From The Best Dating Products Ever Created... Shave Years Off Your Learning Curve As You Discover What Really Creates Success With Women"
Here's just a few things we reveal in this info-packed interview:
The surefire products that are proven to work - based on 15+ years coaching men to dating success.
Why we dubbed this one product 'idiot-proof' and how it can transform a woman's reaction to you almost immediately.
Feel anxious about approaching women? Discover how to bypass that and set up a stream of dates with gorgeous women in as little as 20 minutes a week.
Dating Skills Review has been featured or quoted in: