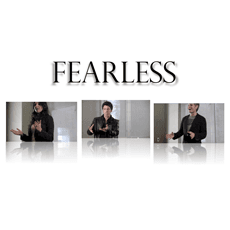 DSR Editor Rating
No Editor Review Available Yet.
Product No Longer Available.
Product Information
Fearless was a seminar run by The Social Man in early 2011 in partnership with other dating coaches. These are the video recordings of that seminar. This is an inner game product that targets enabling you to overcome your fears - which The Social Man says is essential no matter what techniques you have.
---
Skillsets:
Inner Game & Confidence
Learning Format:
DVD (Video)
Release Date:
August 17, 2011
Product No Longer Available.
---
Feedback
If you have a question or problem, ask us:
Table of Contents/ List of Topics Covered:
I. Introduction
II. Awareness
III. Dropping Hooks
IV. Expression
V. Physical Polarity
VI. Pause & Buffer
VII. Relate & Connect
VIII. Conclusion
IX. Expert's Panel
X. Fearless Mind
---
What You Get:
DVDs (to come)
---
Guarantee / Terms:
30 Day Money Back Guarantee
User Reviews of Fearless
Most Helpful User Reviews
12 of 18 people found the following review helpful
"Worst Scam Never Bought"
Ease of Implementation
2.0
Packaging/ Customer Service
2.0
Reviewed by
Josh
September 06, 2012
This people has to stop promising the world and delivering scams.

In the sales page they talk about becoming fearless with no doubt, after you finish the program you will go and pick up with no problem, they say...

The videos instead are delivered from people that shows no confidence.

This type, Nick Sparks, doesn't look confident at all, in my opinion he just looks effeminate.

He starts talking about being fearless and he moves the arms like a 3 years scared child, scared to talk in front of people.

Not to talk about the other so called gurus...

The content is absolutely nothing of particualar value.

They promise 100 in the sales page and they deliver 10

This products makes you loose faith in the industry.

The worst hype i bought.
7 of 12 people found the following review helpful
"CLUELESS"
Ease of Implementation
10.0
Reviewed by
bill
September 01, 2012
What a SCAM product this company puts out !!! purchased the Dollar try out for a week; Canceled because of the POOR filming and information. Only instructor that had any relivent information and didn't bore me to death or put me to sleep was Josh Pellicer. Canceled the Dollar Tryout within the tryout period and they still charged me full price
[email protected]
#tards!!!! than gave me the runaround till they only charged half the price and have yet to confirm this knowing what
[email protected]
#tards this company ( The social man ) The SMAM Man.
Wished the product was better because alot of guys need proper training. Beware!!!
6 of 7 people found the following review helpful
"Decent material, but nothing revolutionary"
Ease of Implementation
5.0
Packaging/ Customer Service
7.0
Reviewed by
Paul
June 10, 2014
This is an okay course, but there are many better out there.

There a lot of good things about this course. Nick Sparks, the main presenter, is energetic, passionate, and highly interested in making people better. I like his approach, and I really like how he demonstrated things in front of the seminar. Overall, well done on his part. The material is good, but a little bit repetitive. The majority of it focuses on things like body language, tonality, and talking to everyone, not just the girl you're interested in.

Good stuff in terms of paying attention to her, which some material doesn't teach. Rather, you're told to "plough on" without regard for her emotional state. A lot of emphasis on calibration, which is generally very good. Also, good showing of how a rejection isn't entirely due to you. There are factors that you can't control.

Some good body language stuff, but pretty basic. Not highly revolutionary. Rob Judge and Josh Pellicer give good but short talks that expand upon what Nick had talked about.

Now the bad: some of the guest presenters absolutely suck. Marni is boring and repetitive. Fortunately, she only makes one real appearance, and during that appearance, I struggled to stay awake. She's really not very interesting, and most of her material isn't very good. Also, much like Kezia, it's very tough for a woman to understand a man's perspective in this area.

The modules are repetitive, and Nick often recapitulates what he said in the last module for the first 5-10 minutes of the next one. After awhile, it gets boring hearing the same things over and over again. The last module, about connecting with women, isn't very good. While you should relate and personalize things, he makes it sound as though it's all you should do, which would make you appear highly needy.

All in all, an okay program, but nothing really special. There are better programs on minimizing fear, but the only way to really do it is to go out and approach women.
View Other Home Study Courses (Books, DVDs, CDs, MP3/ Video)